With student loan forgiveness quashed, NH graduates on the hook more than most
State ranks second behind Vermont for in-state costs for four-year public colleges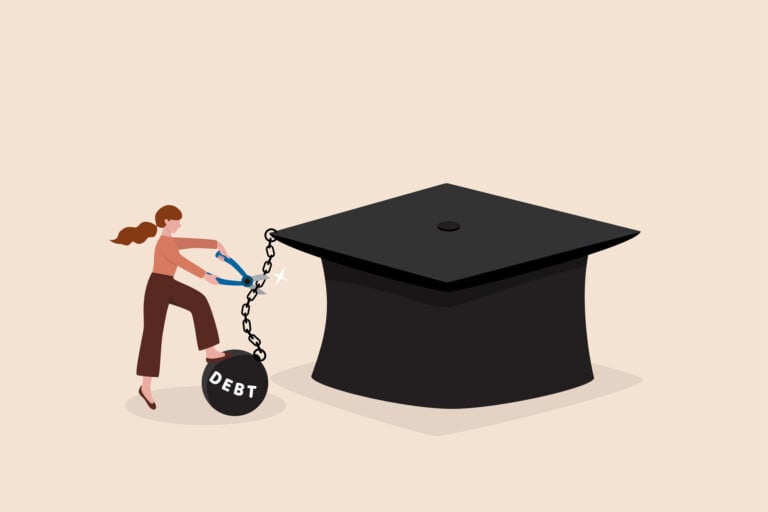 When President Joe Biden announced plans to forgive student loan debt last fall, nearly 200,000 New Hampshire borrowers could have been eligible for repayment relief. But the promise was short-lived after the U.S. Supreme Court last month struck down the president's program, putting graduates back on the hook for loan payments that will resume in October.
It's not the first time a relief forgiveness plan has come and gone in New Hampshire – a state that has the second-highest in-state tuition, where average debt sits at $35,000 per graduate, and state contributions to higher education are among the lowest in the country.
Loan forgiveness
The Biden administration's plan set out two paths for loan forgiveness. The first focused on Pell Grant recipients – students who received a federal grant to go to a college or university based on their family's annual income, but still had to take out a loan on top of that funding. The second, focused on borrowers whose individual income was less than $125,000 or $250,000 for households.
For Pell Grant recipients, of which there are almost 60,000 in New Hampshire, the federal government would have forgiven $20,000 of loans. Other borrowers could have seen up to $10,000 erased.
A different student loan forgiveness plans came to the table in New Hampshire last year by way of state officials. Gov. Chris Sununu and Business and Economic Affairs Commissioner Taylor Caswell, who led the state's economic recovery initiatives following the pandemic, proposed using $17 million in federal American Rescue Plan Act funds to forgive up to $20,000 in loans for more than 1,000 students if they agreed to work for four years in the Granite State upon graduation.
With a nationwide worker shortage, which can be felt acutely in New Hampshire throughout school districts and health care, the plan would have incentivized a younger workforce in an aging state. However, the Legislative Joint Fiscal Committee unanimously rejected the proposal.
For some lawmakers, the plan provided an unfair advantage to recent graduates with debt, compared to previous students who paid off loans with no assistance or workers who did not attend college. Others worried it would discourage high school graduates from enrolling in the military or other programs, knowing that their debt would be paid off if they worked in the state regardless.
After both the state and federal programs failed, little assistance is available to the nearly 200,000 graduates in New Hampshire that have some of the highest debt loads in the country.
Costly price tag
For every 10 graduates in the class of 2019, at least seven of them completed a degree program from a New Hampshire college or university with unpaid loans. The average amount of debt these graduates incurred was almost $40,000. Compared to other states, these averages are the highest in the country.
Students looking for a lower-cost option by attending a state school find little relief in the Granite State.
At the University of New Hampshire's main campus in Durham, the total cost of attendance for in-state residents sits close to $35,000 a year, when housing, fees and tuition are complied.
For an out-of-state student, this price is closer to $51,000.
Despite attempts to keep college more affordable and attainable for its residents, New Hampshire is the second most expensive state for a four-year public education in 2022, behind Vermont, according to the College Board.
For the fifth year in a row, the University System of New Hampshire board of trustees voted to keep tuition rates the same for in-state residents at the University of New Hampshire, Keene State College, Plymouth State University and Granite State College.
Beginning in 2017, the University System also introduced the Granite Guarantee, which ensures that any first-year student from New Hampshire who is eligible for a Pell Grant will pay no tuition.
When the program was introduced, it was estimated that 21 percent of all New Hampshire undergraduates were Pell grant-eligible. In 2017, UNH expected the Granite Guarantee would help 285 students.
Currently, UNH officials say the program is helping more than 800 students.
This article is being shared by partners in The Granite State News Collaborative. For more information, visit collaborativenh.org