With new incubator, Kid Galaxy founder aims to bring innovations to market
Big Idea Group in Bedford works with hopeful innovators to bring their ideas from scribbled napkins to customers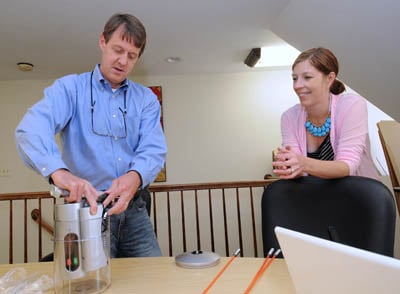 Often, even before the sun has risen, Michael Collins, founder and CEO of Big Idea Group, enters his nondescript office just off Route 101 in Bedford to begin another workday of turning innovative concepts into reality.
The serial entrepreneur began his startup career in 1995 when he founded Kid Galaxy, the company that created Bendos toy figurines. Today, Collins works with his team at the Big Idea Group, or BIG, to help other innovators bring their ideas from the back of an envelope and off crumpled restaurant napkins to customers.
In 2010, business and innovation incubation became the primary service of BIG, which originally acted as an invention licenser and promoter. The shift began when BIG partnered with Arra David to launch Rebound Driveway Marker, an easily installable and durable driveway marker that is now sold in most hardware stores.
Since then, BIG helped establish, and maintained partial ownership of, four other companies — Dighire, IQ Communications, Launch Angels and Disruptive Capital Partners.
In an effort to add two new companies a year to his portfolio, Collins hosts free 30-minute consultations for hopeful innovators, providing them with feedback about the challenges and possibilities of their ideas.
In those consultations, Collins describes that feedback as "blunt."
"They don't come to me to be their friend, right? Their mother can tell them their idea is great," he said.
The BIG man
Collins, a Wisconsin high school basketball player, was enticed to the east with an opportunity to play ball and study at Dartmouth, where he met his wife, shot 65 percent from the field in a single season, and received a degree in engineering science. (It was also at Dartmouth where Collins made ESPN, after a young University of North Carolina star named Michael Jordan dunked over him.)
After graduating in 1986, Collins worked for the venture capital firm TA Associates before going to Harvard for his MBA. With his master's in hand, he traveled back to Wisconsin to work for the Pleasant Company, maker of the American Girl doll.
It was there that Collins met his business partner Beth Obermiller, who followed him back to the East Coast to launch Collins' first company, Just Pretend.
photo by jodie andruskevich
Just Pretend began as a toy catalog company, selling a line of dress-up clothes and a line of wooden vehicles. The vehicles, though well-constructed, looked flat when photographed, so the entrepreneurs decided to place figurines in the cars.
When Collins realized that the models for the photo shoot were more interested in the bendable drivers than the cars, he quickly pivoted, telling his team, "Screw the vehicles."
It wasn't long before freight containers full of bendable firemen and police officers were streaming in, trying to keep up with the overwhelming demand.
The figurines, called Bendos, would eventually account for over $3 million in total revenue for the company, which changed its name to Kid Galaxy.
"It was fun. My first big hit," said Collins.
In 1999, with pressure from a dot-com-eager board, Collins sold the company to Lung Cheong International and set out to start another business. In an 8-by-8 windowless office accompanied by a Home Depot door placed on two file cabinets to form a desk, BIG was launched.
Refinement and experimentation
Collins said he continually meets with different innovators, searching for someone who has noticed an interesting problem with a marketable solution.
"Good innovators really become experts at a problem," he explained.
Once the problem has been identified, a long period of brainstorming, researching and prototyping begins. This process can take years, and its success, according to Collins, has more to do with continual refinement and experimentation than any one "eureka!" moment.
When a product or service is deemed to have potential profitability, Collins and his team begin the process of branding a company, appointing a CEO and raising seed funds. Ideally, with an initial investment ranging between $200,000 and $400,000, a company can graduate from the BIG program and launch.
BIG then oversees the companies, holding conference calls once or twice a week to ensure they stay on track. Collins emphasizes that the startups stay lean, concentrating more on profit than growth.
With over 15 years in the startup sector, Collins is sure his methods work.
"I know this niche," said Collins. "I couldn't tell you how to grow roses, but I can tell you about startups."
The companies
One of those startups is Dighire, which is positioning itself in the newly emerging market of digital hiring. ("The whole idea of having a resume, mailing it out — that's the past. Now, it's about digital interviewing," Collins explained.)
Dighire is working on both hardware and software to support the new trend, which is already gaining a foothold with LinkedIn and other similar professional services.
The company's first product, the Swan Light, provides portable professional lighting to prospective employees being interviewed via webcam. Dighire is also building a series of software programs to allow companies to conduct the preliminary rounds of interviewing digitally.
Like Dighire, most of Collins' ventures evolve well after being established. He considers this process – which he calls "pivoting" – to be one of the most important strategies for a new business.
IQ Communications is currently in a similar pivoting process. The company produces three-minute explanatory videos that resemble moving whiteboard animations for companies in place of stagnant PowerPoints. Using these videos, the company is developing seminars for older executives to explain the most current social media trends.
Collins remembered being flabbergasted by a chief technical officer who hadn't heard of Pinterest. He went on to say that while these executives are busy running their businesses they need to be aware of the constantly changing social interface.
A BIG idea is not only large and robust, but imaginative, sitting somewhere on the fringe of an unfound market frontier
Another BIG company, Launch Angels, is building a platform to help inexperienced or time-crunched investors participate in the exploding equity division of crowdfunding, which will soon welcome average investors to the previously exclusive venture capital sphere.
Launch Angels will scour all of the equity deals throughout the country, allotting its clients' funds into 10 companies that the board believes have the greatest chance of success.
Essentially, Launch Angels creates a diversified and well-managed portfolio for investors within the high-risk/ high-reward venture sector.
Sometimes the big idea is reconsidering a previously established market, like Wall Street.
Disruptive Capital Partners, another BIG portfolio company, is a hedge fund that trades in pairs, identifying "disrupters" and "disruptees" in large corporations. For example, DCP would go long (invest) in Amazon because it is disrupting book distribution while going short (betting against) Barnes & Noble because its business model is being disrupted.
Collins said that on the horizon for BIG are an eyeglass solution and a very clever IOS app, both of which take aim at redefining long-established markets. After all, a BIG idea is not only large and robust, but imaginative, sitting somewhere on the fringe of an unfound market frontier.
M.G. Guruge is a senior at Wheaton College in Norton, Mass. who was an NHBR intern.