Why Wi-Fi is a must for any restaurant's menu
Being a "hot spot" takes more than great food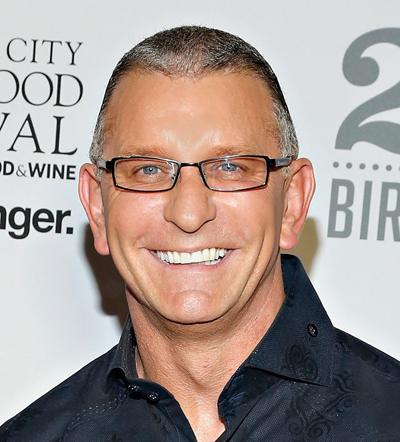 As a restaurateur, chef and entrepreneur, I'm passionate about making the customer experience better so that restaurants can be more successful. And while the food is always the number one focus, believe it or not, technology isn't far behind.
I see it every day in my work, helping struggling restaurants turn their businesses around. Many have failed to embrace technology and the critical role it plays in making the customer happy and improving their restaurant's performance. The effective use of technology can make your business faster, leaner and ultimately, it can help you deliver an experience your customers will want to come back for again and again.
One of the most important technologies you can incorporate into your business is Wi-Fi. Offering Wi-Fi to restaurant customers has become a necessity. From the front of the house, to the back of the house, Wi-Fi creates a better experience for your customers and increases efficiency to help drive your restaurant's success.
It takes more than just great food to attract and keep customers. Today, everyone is constantly using their smartphones and tablets and they expect connectivity. In a restaurant, guests want free access to a Wi-Fi hot spot to connect to social media, check emails and surf the Web right from their table. Taking selfies and sharing photos of a great dish or bottle of wine is part of today's dining experience that guests have come to expect and enjoy. And it serves your business as well – instant, positive reviews attract more customers.
In fact, Wi-Fi is so important that many customers won't come back if a restaurant doesn't offer it – and I agree with them. This is especially important for business customers. Many of them have told me, whether they are considering holding a meeting or business event in a private room, or an informal breakfast or lunch with a few colleagues to share ideas, not having Wi-Fi is a deal-breaker.
Offering Wi-Fi also helps restaurants increase covers because it keeps people at the restaurant longer, spending more money. It gives guests peace of mind; they can enjoy a meal and do work so they're never missing a beat. If their customers, bosses, family or friends are trying to contact them, they're reachable. Even if they have poor or no cellular service in the building, they can count on Wi-Fi.
Back of the house
All of this is supported by the Small Business Wi-Fi Survey, conducted by Bredin Research for Comcast Business, which found that nearly 80 percent of businesses offering Wi-Fi say it helps keep customers happy while they wait, 65 percent report it has encouraged repeat business and 55 percent say it has brought in new customers.
But it isn't enough to just offer Wi-Fi. It has to be fast and it has to be able to support a full house of customers connecting to the Internet at the same time – all downloading large amounts of content and data – without a hitch.
For many guests, slow Wi-Fi is no Wi-Fi. The level of frustration a slow connection creates ends up backfiring and keeps them from returning.
Successful restaurants are also embracing Wi-Fi as an important tool for their servers. The growing use of tablets and other tableside mobile devices is making servers more efficient and improving the customer experience.
More and more restaurants are realizing that by giving their servers mobile devices to take customer orders instead of paper and pen, they can instantly send orders to the kitchen. Servers can also have information about the menu, specials and ingredients at their fingertips so that they can answer guests' questions on the spot, without ever leaving the table.
Guests are happier, everything is moving faster, there aren't many mistakes and orders aren't getting lost. And the server can move on to the next table.
When it comes time to pay the bill, these same devices can be used to accept credit cards right at the table. It's more secure, since the server doesn't have to leave the table with the customer's credit card, which is a huge area of concern for customers these days. It's also faster, as guests don't have to wait for servers to run back and forth to the payment system – it's all done through Wi-Fi.
So where do you begin?
The first step is to get fast, reliable Internet service. You need a high-speed network to support all of these connections and devices. Without the right network, everyone may not be able to connect simultaneously.
Having separate private and public Wi-Fi networks is also a good idea. That way you can have secure Wi-Fi access for your staff for back-of-the-house transactions, while at the same time offering a separate public Wi-Fi network for guests. Restaurant transactions remain secure and are processed quickly and efficiently, while your guests get reliable, fast Internet connectivity that they expect.
It's an exciting time to be in the restaurant business, but if you aren't leveraging technology, you're not really in business. Don't get left behind. Make sure you're up to speed on how to take advantage of emerging technologies to give customers want they want, and help improve your restaurant's performance.
Celebrity chef Robert Irvine is host of he TV show "Restaurant Impossible" on the Food Network.