Why it's time for a new secretary of state
Competition for this office is overdue and healthy for our democracy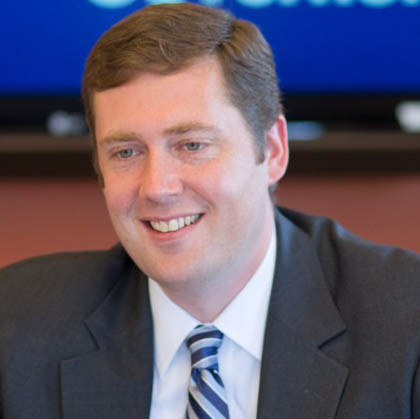 Hopefully we won't have another blizzard on town meeting day in 2019. But the next time we do, public safety decisions about the timing of voting day should begin with our local officials, not a rigid state bureaucracy.
It's just one example of how we can bring new cooperation, modernization and a renewed focus on secure and fair administration of state services to the secretary of state's office. Every small business owner who has registered a trade name or needed a certificate of good standing in the past decade knows there are many other similar examples.
To modernize this office, and to protect free and fair elections against the increasing political attacks we've seen in the past year, I plan to ask incoming lawmakers next fall to consider me as a candidate to be New Hampshire's first new secretary of state in 42 years.
Here is our nonpartisan platform:
First: we must modernize and secure business creation services and election support alike. The secretary of state's office serves our small businesses and our economy 365 days a year – not just on election days. Mom-and-pop businesses can't afford to stand in line in Concord or wait weeks for a reply for basic services that can be better modernized and digitized.
Similarly, we must modernize support for local elections officials, including proactive cooperation as well as tools like electronic checklists and secure automatic voter registration to decrease voting lines. We will secure accurate state voter checklists and restrict unsecured, out-of-state storage. We must maintain 100 percent paper ballots and add random audits of votes to confirm machine counts.
Second: we must stand up for voting rights for all eligible voters. New Hampshire should not further complicate the registration process for eligible voters like senior citizens, college students, members of the military or those who have recently moved. We also must reject false political attacks – like stories of imaginary buses of voters from Massachusetts – which distract from our state's need to cooperate better with local officials and Homeland Security officials alike.
Third: we will set an example for the nation by cleaning up our own elections. We must end partisan gerrymandering by creating an independent redistricting commission that favors neither Democrats nor Republicans. We will work to ban all corporate donations to New Hampshire political campaigns, and update executive branch ethics rules.
Fourth: we will always, always, protect our first-in-the-nation presidential primary. New Hampshire voters moved candidate selection out of the backrooms and into the voting booths 102 years ago, and our nation is better for it. Our current secretary of state's vigilant protection of the primary is a model for many Secretaries of State to follow for decades to come – and today, our state law requires exactly that. But our democracy is equally threatened by corporate, political, and even foreign interests, and it is under the strain of outdated bureaucracy.
The best way we can protect our primary for another 100 years is to bring needed energy and commitment to this office's other, equally important roles – like securing voter lists, increasing transparency, modernizing business services and protecting free and fair elections. Competition for this office is overdue and healthy for our democracy.
Change never comes easy. No one is entitled a public office, even after 42 years, and we will pursue this effort exactly as our democracy intends: through grassroots organizing, coalition-building, and working to elect a legislative majority who share our dedication to this platform of a free and fair New Hampshire.
In 1916, the Boston Herald wrote this about New Hampshire's new direct primary law: "The idea of the primary was to give everybody an equal chance, and the poor man a better chance than anybody else. Bosses were to be eliminated … and the old convention system would pass away and carry with it all the bribery, proxy-swapping, ward-yellow-dog corruption, and injustice."
We would do well to remember those words in 2018.
Colin Van Ostern of Concord served as a state executive councilor from 2013-2017 and was the Democratic nominee for governor in 2016.