White supremacists target state's diversity efforts
Manchester conference stirs 'NH Nationalist' threats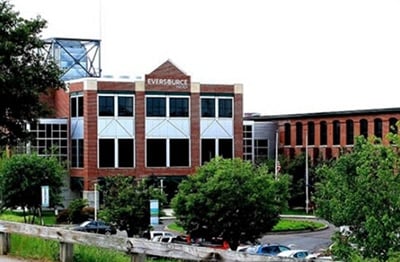 A shadowy neo-Nazi group has labeled top New Hampshire governmental, business and charitable leaders and the state's largest utilities as "anti-white" for supporting efforts to diversify the state's workforce.
And at the head of list, which includes photos and contact information, is Gov. Chris Sununu himself, called the "top cuck," a neo-Nazi insult indicating weakness when it comes to fighting liberals and minorities.
The list, posted on a site called "New Hampshire Nationalists News," appears to be generated by a partial list tweeted by the NH Union Leader as part of its coverage of a July 26 conference looking at diversity as a way to tackle the state's labor shortage. The conference was hosted by Eversource at its headquarters in Manchester.
The idea behind the conference is that the state's population — being one of the whitest and oldest in the nation — is on the decline, and needs to welcome and retain minorities for economic reasons.
"We must collectively create a welcoming and supportive environment," Will Arvelo, director of the NH Department of Economic Development, said at the conference. "We must also ensure that diversity is inclusive of not just race, ethnicity and gender differences, but of people of diverse religious beliefs, those with disabilities, those in addiction recovery, veterans, older workers and the formerly incarcerated."
While the conference generated excitement among many of the participants, it also generated backlash.
A New York Times article the next day, with the provocative headline, "New Hampshire, 94 Percent White, Asks: How Do You Diversify a Whole State?" set things off. It prompted Fox News' right-wing host Tucker Carlson to weigh in: "According to the New York Times, Americans have an obligation to change their culture to suit foreigners and not the other way around."
The Union Leader, in its editorial, "NH is too white? 'Diversify or die' the new motto?" expressed similar concerns, saying: "deliberately 'diversifying' lily-white New Hampshire ought to be watched closely," adding, "Without some sensible regulations as to who gets in, New Hampshire and the nation are going to face more of the problems that are troubling and dividing Europe."
'Egregious' comment
However, when Anthony Schinella, the state Department of Education's communications director, expressed such concerns in cruder language on his personal Facebook page, he drew a strong rebuke.
"We don't want or need NH to become any kind of cesspool," he wrote, providing the "extreme example" of "1,300 illegal alien Dominican drug dealers moving from Lawrence to, say, Concord" resulting in "more crime, higher taxes."
The group calling itself "NH Nationalists" has called officials from the following organizations "anti-white" for their support of greater diversity in the state's workforce and posted their pictures and contact information:
• The governor
• The Governor's Diversity Council
• The state Division of Economic Development
• The state Department of Health and Human Services
• The state Department of Education
• Attorney General's Civil Rights Unit
• The Regional Economic Development Center
• Community Development Finance Authority
• Eversource (several officials and the entire company)
• NH Bankers Association
• New Hampshire Manufacturing Extension Partnership
• The Greater Nashua Chamber of Commerce
• Manchester Health Department
• Easterseals
• Santander Bank
• Eastern Bank
• Harvard Pilgrim Health Care
• Ascentria Care Alliance
• Endowment for Health
• UNH Manchester
• Keene State College
• The Community College System of New Hampshire
• Nashua Community College
• Saint Anselm College
• The United Way
• The Foundation for Healthy Communities
• NH Charitable Foundation
• American Association of Retired Persons
• NH Catholic Charities
• Welcoming New Hampshire
• Diversity Workforce Coalition
• The National Association for the Advancement of Colored People
• Black Heritage Trail NH
• New American Africans
• New Hampshire Alliance for Immigrants and Refugees
• Strafford County Sheriff's Department
• Cheshire County Sheriff's Department
• Sandwich Police Department
Education Commissioner Frank Edelblut, calling the comments "egregious," threatened disciplinary action that might include termination and Gov. Chris Sununu called them "unacceptable and wrong." Schinella countered that his words had nothing to do with race.
But there was no mistaking the racist language contained on the NH Nationalists News website. The nationalists championed Schinella as the "average Joe who had the guts to stand up for the White People of New Hampshire" and added both Edelblut and Sununu to its list of "anti-whites."
Sununu's press office did not respond to questions about the site.
The website, which has prominent hyperlinks to Adolf Hitler's "Mein Kampf," American Nazi Party founder George Lincoln Rockwell's "White Power" and several books by white supremacist David Duke, didn't start in reaction to the diversity meeting.
The site's first posts were put up in October, and Ryan Murdough, a former Republican candidate for the NH House, took credit for it shortly before Thanksgiving.
"I created New Hampshire Nationalists so white men and women can work together to fight for their rights, survival and those they love," he wrote in The Laconia Daily Sun.
Murdough, formerly the state chairman of American Third Position — a far-right group that later became the American Freedom Party — attracted some national attention in 2010 when he sought the Republican nomination to represent Grafton County District 8. But local party officials denounced him as a "despicable racist," and he placed last, out of five candidates for three seats, with 11 percent of the vote.
Uncertain origins
However, after contacting the website via email, NH Business Review was told, "Ryan the founder is no longer affiliated with us." The person who responded identified himself this way: "You can call me Trevor."
According to "Trevor," NH Nationalists is a "collaborative group of people all over New England and specifically New Hampshire who have decided that we don't want to become like every other 'diversified' area in the nation … Diverse simply means less White and we oppose that very much. New Hampshire will be just fine being 94% White."
"Trevor" refused to say how many people were involved in the "club" or what exactly it does. But the site often highlights the arrest of black people, sometimes calling them "n—–s" or "diversities." It also labels white women arrested with black people as "mudsharks" and white men in a similar situation as "white scumbags."
Ethnic Jews don't fare much better. After renowned TV host and chef Anthony Bourdain died last month, a post on the site read, "Good Riddance Kike," and added, "We are all very glad this Jew is dead." Bourdain's mother was a secular Jew and his father was Catholic.
It's not certain when the "anti-white" list was first compiled, but the names of about half of the 80-plus people on the list comes from a partial typewritten list from the diversity meeting held July 26 at Eversource, which the Nationalists dubbed the "attendee list for the meeting of white genocide in New Hampshire."
The Union Leader tweeted the list as part of its regular social media coverage, explained Trent Spiner, executive editor.
"Our reporters routinely seek out source material to provide context for our readers in the newspaper, on UnionLeader.com and our social media channels. Examples of source material can be a photo from the scene of a fire, raw video of an interview and original documents, like agendas, minutes or participants in a public event," he said in a statement.
The "anti-white" list includes more names, including the Governor's Council on Diversity, the New American Africans, Catholic Charities and, despite the Nationalists' stated affinity for law enforcement, two sheriffs and a police chief. Unlike the Union Leader list, almost every person's listing includes photos, emails and phone numbers.
When asked the purpose of the contact information, "Trevor" tweeted that it was "a public service for the people of NH. We meant to clearly identify who is selling out the people of NH so that its citizens can make informed decisions regarding the future of their state."
Threatening calls
Aside from Arvelo, the list contains a number of other officials from the state Division of Economic Development and Eversource (as well as the "entire Eversource company") both of which declined to comment, even when asked whether they were still committed to workforce diversity.
Others on the list told NH Business Review that they feared any comment would be giving a fringe group more publicity than it deserves. A few said they were afraid that it would result in them being further targeted by that group or other white nationalists.
Some on the list have received threatening calls. The executive director of the Black Heritage Trail of New Hampshire, told two news outlets that an anonymous female caller threatened to kill her children, and if there is a race war, "you are going to lose because we will kill you."
The NH Department of Justice said it has received a number of complaints about phone calls, emails and blog posts related to the list.
"We have reviewed those messages and are monitoring the posts," said Elizabeth Lahey, director of the Civil Rights Unit. "We will refer any criminal activity to local law enforcement."
Lahey, who is also on the list, said the office had not opened an investigation.
A few people listed did have something to say about being labeled "anti-white."
"It is disheartening to know that a small, vocal and apparently organized group has decided to publicly dox individuals who attended a recent workforce development program," said Loretta L.C. Brady, a psychology professor at Saint Anselm College and one of the organizers of the conference. Brady also co-authored "A Seat at the Table," a column on diversity that ran for several years in NH Business Review.
Brady, who said, "I will not be silenced," added that, "as a public figure who has engaged in diversity and inclusion in the state since the 1990s, I can unequivocally state that there has never been a time before November 2016 when I faced such hate, targeting or harassment. I am laying the climate and atmosphere firmly at the feet of our white supremacist president and those supporters who turn away their eyes to the realities this environment has created."
Another person on the list is Tracy Hatch, president of the Greater Nashua Chamber of Commerce.
"Certainly, I don't consider myself or our organization in any way discriminatory against anyone," she said. "I still see tremendous potential that we have in welcoming newcomers, and I stand by the work we are doing to be a welcoming community."