White-collar crime in NH: a look back at 2018 cases
An overview of cases heard in state and federal courts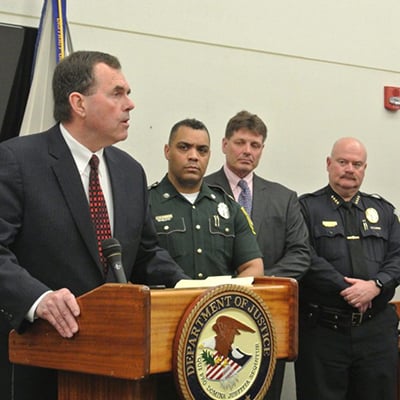 In 2018, more so than in other years, white-collar criminal investigations and prosecutions have occupied our country's attention and received widespread national media coverage, partly because of the Mueller investigation and the related cases in the Southern District of New York. But overall, it seems as if our courts have seen a heavy dose of white-collar cases over the course of the year.
It certainly was an active year in Massachusetts: Federal prosecutors charged state troopers following an overtime abuse investigation; the mayor of Fall River was arrested; a jury convicted "the Codfather" of unlawfully smuggling fishing profits to Portugal; the New England Compounding Center litigation and Insys racketeering cases continued; Pfizer agreed to pay $23.85 million related to a kickback scheme; and state and federal prosecutors brought dozens of other fraud cases.
In New Hampshire, although prosecutors didn't necessarily develop any headline-grabbing white-collar cases, both the U.S. Attorney's Office and the Attorney General's Office prosecuted a fair amount of white-collar crime across the state.
Opioid crisis
In 2018, the U.S. Attorney in New Hampshire, like many other districts, prioritized its response to the opioid crisis. "Opiate enforcement efforts are a major part of our focus in the white-collar context," according to Mark Zuckerman, assistant U.S. attorney and chief of the criminal division. Following through, this past year, the office investigated and prosecuted medical professionals based upon their prescribing practices.
In May, a former pharmacist pleaded guilty to tampering with a consumer product and obtaining a controlled substance by fraud and was sentenced to two years in federal prison. Additionally, the government entered into a pre-indictment plea agreement with a licensed nurse practitioner related to healthcare fraud and prescription fraud charges under the Medicare program. And a physical therapist was sentenced to three years of probation for submitting fraudulent billing entries to Medicare.
In United States DOJ v. Michelle Ricco Jonas, a case pending in U.S. District Court, the Drug Enforcement Agency is seeking to compel the state to produce documents related to its Prescription Drug Monitoring Program, or PDMP, which compiles and maintains data from New Hampshire dispensaries related to certain controlled substances.
One of NH Attorney General Gordon MacDonald's top priorities is to focus on elder abuse and financial exploitation.
The DEA subpoenaed information from the PDMP, but the state refused to comply, contending the DEA is required to obtain a warrant or court order. In November, a federal magistrate judge ordered the state to produce the documents. The state is challenging that order.
If the DEA ultimately prevails, it is likely that the agency, and other federal law enforcement agencies, will routinely subpoena information from the PDMP to gather evidence in criminal cases against patients that abuse the process, but also against professionals with authority to prescribe or dispense controlled substances.
"The opioid epidemic remains a top priority" for the New Hampshire attorney general as well, said Kate Spiner, director of communications for the AG.
She explained that "[t]he Administrative Prosecution Unit has seen a fair share of professional misconduct cases involving substance abuse issues, particularly with licensees of the healthcare related boards."
According to data compiled by the AG, that unit litigated 29 emergency license suspensions from those boards in 2018 — 16 related to diversion of, or impairment by, opioids, and another 30 cases resulted in another form of disciplinary action.
The AG has also brought suit against two drug manufacturers alleging that each engaged in unfair and deceptive marketing of their opioid products.
The U.S. Attorney also continued to work with federal law enforcement agencies to prosecute other crimes related to healthcare.
Notably, a prosecutor from the Office of Chief Counsel for the Food and Drug Administration partnered with the New Hampshire office to prosecute at least two cases this past year. One involved a scheme to distribute over 2.4 million prescription drugs, many misbranded; and another case, currently ongoing, involves allegations of selling counterfeit drugs over the internet.
Financial crimes
As for financial crimes, one of the AG's top priorities has been, and will continue to be, focusing on elder abuse and financial exploitation.
A number of individuals were convicted in 2018 of charges related to financial exploitation. In most cases, the accused was sentenced to a prison term. The AG has also worked with the NH Department of Employment Security to enforce unemployment fraud, and through its consumer protection and Medicaid fraud units to investigate cases involving financial impropriety and false claims.
On the federal side, among other financial cases handled this year, the U.S. Attorney prosecuted a man for defrauding more than two dozen clients out of over $5.6 million in investments. Also, an attorney was charged with bank fraud, wire fraud and money laundering for allegedly obtaining loans by providing false information about his business and personal income. The case is scheduled for a jury trial in early 2019.
In addition, a number of individuals were convicted this past year in federal court for making false statements to procure benefits under the Social Security program.
With regard to tax crimes, federal and state prosecutors have worked on cases involving personal income, unemployment, meals and rentals and business profits, among other taxes.
On the state side, Thomas Katsiantonis, a former state representative from Manchester, was sentenced to the New Hampshire State Prison for his part in a scheme to defraud the state tax programs of more than $400,000. And the U.S. Attorney has used the federal wire fraud statute to enforce alleged abuse of the state tobacco tax program.
Of note, the U.S. Attorney also prosecuted a case involving a scheme to cash fraudulent tax refund checks totaling $1.1 million, and, in a separate case, obtained a conviction, in what it believes to be the first federal criminal prosecution arising from a Labor Department wage and hour investigation in New Hampshire.
In the coming year, according to Assistant U.S. Attorney Zuckerman, his office will continue to prioritize efforts to investigate scams targeting retired and elderly people. He added that his office is working closely with the New Hampshire AG to investigate such cases, which are becoming "more sophisticated and insidious."
In 2019, expect to see a steady flow of federal investigations related to investment fraud, Ponzi schemes, bank fraud and identity theft, among other fraud cases.
Additionally, the AG devoted a considerable amount of time and resources to two separate investigations: the St. Paul's School and a fraud case involving Paul Moore, a former state judge. The office was also involved in a few multistate investigations, including a case with the Federal Trade Commission related to alleged fraudulent charities, the data breach suffered at the ride-sharing company Uber and a joint effort with most other state attorneys general and major telecom companies to investigate robocalls and spoofing.
Finally, in Ridlon v. NH Bureau of Securities Regulations, the Supreme Court heard arguments on whether the target of an administrative enforcement action is entitled to a jury trial under the state constitution.
The bureau accused a former investment advisor of a scheme to defraud his clients, and it sought fines, restitution and disgorgement totaling more than $6 million. The advisor obtained an injunction from the trial court ordering that liability for penalties under the Securities Act "must be determined by a jury if [a jury trial is requested]." The Supreme Court's opinion could affect administrative and civil enforcement actions by all state agencies.
Patrick J. Queenan, a trial attorney at the law firm of Sheehan Phinney Bass & Green, represents businesses and individuals in a wide variety of white-collar criminal and regulatory investigations and litigation in both Massachusetts and New Hampshire.