When business is cleaning up
When picking up other people's trash, 'there's never a dull moment'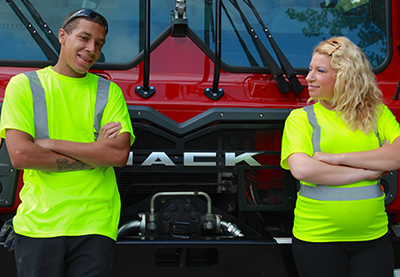 "It's very natural for me, but people see me and they're shocked," says Taylor Barry. "You don't see a lot of pregnant women wearing pink lipstick in the trash business."
Barry is a truck driver for Manchester-based Pinard Waste Management, a family-owned solid waste collection and disposal that serves central and southern New Hampshire and northeastern Massachusetts.
Barry does not look like someone that drives a garbage truck. "I love the trash business," says Barry, "I've been in it since I was 13, when my best friend's mother had her own commercial food waste business in Boston."
"There is a lot of responsibility in driving a truck. I have to make sure that Damon is safe because I am responsible for him."
Damon Rose is the other half of her team. He's the guy who hangs off the back of the truck, jumping on and off, sometimes 900 times a day, picking up curbside garbage and throwing it into the truck.
"I got this job through a temp agency," says Rose, "I started in recycling and then got hired on with Taylor. It's a physical job, it keeps me in good shape, it's good pay and I'm doing a good thing." He puts his heart into it.
Driving a truck and picking up other people's trash is not an easy job. Both require skill and attention to details.
"When you're hanging off the back of the truck, you have to trust your driver," says Rose.
Barry agrees. She uses her outside mirrors to look for trees and low-hanging wires. She earned her commercial driver's license through New England Tractor Trailer Training School, where she learned to be comfortable with a truck that, when full, weighs 60,000 pounds.
"I reverse more than I go forward," she says, "so I have to be really careful. It's like a cat with whiskers. You know what you can go through and what you can't. There are a lot of tight fittings. You have to be careful but at the same time you need to be able to go by. You need patience and alertness. I love what I do because there's never a dull moment."
Scroll down to see more photos