Wheelabrator Technologies files for IPO
Details unclear about Portsmouth-based waste-to-energy firm's plans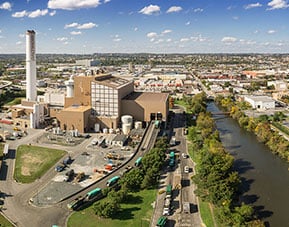 Wheelabrator Technologies Inc., the Portsmouth-based waste-to-energy firm with a long history in New Hampshire, has filed a confidential initial public offering registration with the U.S Securities and Exchange Commission.
The timing and extent of the IPO are still under wraps. Sometimes an IPO means the entire company will be publicly traded. Sometimes it is just selling off a piece of the company to raise funds. The company would not comment further on the proposal.
Wheelabrator, owned by the private equity firm Energy Capital Partners, claims to be the second-largest waste-to-energy company in United States. It has 1,200 employees at 26 facilities in United States and United Kingdom, with 16 waste to energy plants and three under construction in the UK, according to its website. It has to capacity to burn 8.3 million tons of waste to produce 828 megawatts—enough energy to power 772,000 homes.
One of its facilities is in Penacook, the only waste-to-energy incinerator left in the state. It can burn up to 575 tons a day of trash, received from about two dozen communities, mostly members of the Concord Regional Solid Waste/Resource Recovery Cooperative. It produces about 14 megawatts of electricity, enough to power more than 14,000 homes.
That Penacook facility, along with six that generate electricity from plants, would have benefited from the passage of Senate Bill 365, which would have required utilities to buy power from such plants at a higher rate. But Governor Sununu vetoed the bill in June, arguing that it would drive up electricity costs for ratepayers.
A vote on whether to override the veto is expected in September. It is unclear what the effect of the veto would have on the plant, but the IPO is not related to it, said a company spokesperson.
Wheelabrator, once American Foundry Equipment Company, was founded in 1911.It became Wheelabrator in the 1930s, acquired by Rust International in 1968 and after Signal Corp. acquired it in 1983, went public four years later. It merged with Waste Management Inc. in 1990.
At the end of 2014, Energy Capital Partners, a energy private equity firm with offices in New Jersey, Houston and San Diego, bought Wheelabrator from Waste Management for $1.94 billion. In 2016, the company moved its headquarters from Hampton to Pease International Tradeport. It currently employs 146 people in New Hampshire state.