What makes the Monadnock Region tick?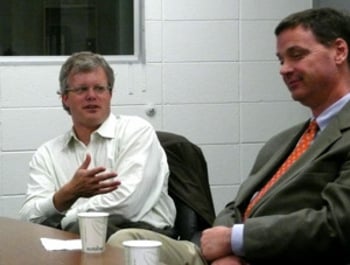 NHBR's editors recently met at the Hannah Grimes Center in Keene with businesspeople from around the region to get their take on how the region's economy is faring during the recession, and what their expectations are for the future.The participants were:• Jack Dugan, president, Monadnock Economic Development Corp.• William S. "Wink" Faulkner, president, Logopak Corp., Keene• Mary Ann Kristiansen, executive director, Hannah Grimes Center, Keene• Art Nichols, chief executive, Cheshire Medical Center/Dartmouth Hitchcock, Keene• Tad M. Schrantz, president, The MacMillin Company, Keene• Gregg R. Tewksbury, president and chief executive, Savings Bank of WalpoleQ. How do things look economically in the Monadnock Region specifically?Dugan: We haven't been as hard-hit as some of the other areas in the state or the country. A lot of that is based on the fact that we have a very diverse range here of different businesses and industries, including the medical center, community banks, optics companies, insurance companies. There are dozens of companies between 50 and 500 employees all doing different things, so when one particular industry is being hit there are two or three that are weathering the storm OK.For example, in downtown Keene there aren't a lot of empty storefronts — I'm not even sure if there are any empty storefronts. Around the perimeter of downtown, we spend a lot of our time focusing our efforts on developing the railroad land, a $40 million project west of Main Street.I think we are able to get a lot accomplished here because of groups like this one right here. I know we partner a lot with Southwestern Community Services and Monadnock Developmental Services, and the hospital is a big player in town and a big piece of the puzzle on the railroad land. This $40 million development is a commitment from the hospital to expand the dermatology clinic into the middle of downtown, which brings new jobs and commerce and brings the medical center into the middle of the community, which is great.Q. At one time, the machine tool industry was a major player in terms of employment in the area, particularly Kingsbury Corp., but the company is nowhere near as large as it was 20 years ago.
Dugan: No, but you're seeing a lot of precision tools manufacturers. What you're seeing are is spinoffs of (Precitech founder) Don Brehm, who some consider to be the father of precision machines — for optics, anyway — they keep spinning off of companies like Precitech and Moore Nanotechnology Systems is building a new building in Swanzey as we speak. So it's diversified and maybe the companies don't have 1,700 employees, but they might have a few hundred, so they are a lot more nimble. They are a lot more able to react to market situations.Q. There certainly does seem to be a strong manufacturing sector in the region, as opposed to other parts of New Hampshire.Faulkner: I think the nature of manufacturing has changed. I'm a perfect example. I'm in the old Kingsbury building as a tenant. Downstairs from us are all these optic companies, which Don Brehm has helped spawn along and have turned into major companies. The manufacturing base is there, but it's changed.Markem is limiting their amount of manufacturing. They toned it down, but they brought in different manufacturing that they didn't have before. These smaller companies are coming in, which adds diversity to our base, and I think that's really important. So you don't have these two or three pillars that if one falls you're done — there are many more small pillars, which I think makes for a very robust community.We plan on manufacturing in three to five years here. We're putting a plan of how we do that. Why did I situate the company here? First off, I come from here but more importantly I knew there are employees here that are experienced, skilled and motivated.Kristiansen: I think the average wage for all our manufacturing sectors in the Monadnock Region is around $45,000, and the average wage in the retail sector is $18,000. So keeping those manufacturing jobs is really important. And trying to increase the productivity in the retail sector is important too.Q. That must have ramifications on the housing market as well.Tewksbury: Real estate really comes down to people's ability to pay mortgages, so higher-paying jobs do allow for real estate to hold value. We haven't seen the unemployment rates the rest of the state is seeing. We're still in the mid-4's, trending higher for sure over the next year or so. So our real estate values have held. We're down, but not nearly as far down as the rest of the state. And certainly not close to what national averages are. Based on the last two years worth of sales, we are down less than 10 percent total. The higher-end houses are down a little more, the lower-end houses aren't down as much.Q. What about the health-care sector?Nichols: Our biggest problem continues to be meeting the demands for our services. We need more primary care physicians. We have literally hundreds of people calling us a month to establish a relationship with a primary care physician. It's a struggle for us to keep up with the demand.The biggest problem for us has been the fact that the state sneezed and we caught a cold in terms of Medicaid reimbursement, so it's more of a macroeconomic problem at the state level rather than a microeconomic problem here in Cheshire County.We actually had to cut back this year because we had to respond to the reduction in reimbursement that we received from the state. Our Medicaid reimbursement rates were reduced by about 25 percent in just one year, so we had to make some adjustments. Arguably it's part of the economic downturn but not related to events in the Monadnock region but to the state.Q. What are some of the other effects of the economic difficulties at the state and national levels?
Schrantz: It really depends on which marketplace you're in. In the Monadnock Region specifically, there's a lot of private spending. We're also seeing some projects being funded by the federal government. So some of that ARRA money you hear about is out there, but it's also a challenge to see that money flow. To actually get it released to start a project is a long and drawn-out process.We have a variety of projects and we feel fortunate that we have as much work going on in the Monadnock region as we do. It's been a variety of different types of work. Some health care, education, municipal.For next year, there's a big project in the region, the Keene Middle School, that I think is an interesting anecdote for the region. Out of all the schools that went out for vote this year in March, we and just a few other locations approved those bond votes, and it's a substantial amount of money that the folks stepped up for. For people to commit to education in our region in such an economic time says a lot about the people. That's sort of an economic indicator.
Faulkner: We had a big show in 2007 and had a lot of people who were very interested in purchasing equipment and working with us. Going into 2008, people started putting the brakes on, and putting them on hard.
Tewksbury: We saw the same thing. We started seeing the signs of weakening in late 2007. That's when we started to adjust and become a little bit more defensive in our practices in preparing the bank for a possible recessionary time.Over the last couple of years it's actually held up very well in terms of credit quality — the bank has been very busy on both the lending and the deposit side. It's only been the last few months that we're starting to see some softness in credit — more on the consumer side, not the corporate side.If you look at what's happening it's job loss. You're not seeing companies shutting down, but not hiring and letting one or two people go. When someone is laid off in a time like this, it is very difficult to find employment in a timely manner. If they are able to find one, it usually comes at a significant reduction in compensation, and in turn their ability to meet their debt demands becomes challenging.In 2005, 2006 and 2007 credit was so easy to obtain that people became very leveraged, so there was no room for error. The sources that people turned to, to keep them very liquid and keep them spending, went away in a hurry. We are starting to see some modest delinquencies. We've done a few foreclosures in the last six months. That's the first time in two years, and during a very economically challenged time.Schrantz: I think the other interesting thing about foreclosures is that the Monadnock region is really not experiencing many at all — we only have a few compared to what seems like hundreds. We really are fortunate in that regard.Q. How about business startups? In similar roundtables there has been talk about the economy prompting an increase in the number of people looking for help starting their own businesses.Kristiansen: Our programs' attendance has gone up 800 percent. We've really increased what we are doing. We started a pre-business class, "Four Things You Should Do Before Starting a Business," because we've found a lot of people want to start a business but don't know what to think about first. It really helps people sort through those things.Feeding out of that, we have a 12-month entrepreneur program for established businesses to go to the next level. We do a revised level of that with a six-month program for new businesses so they can really lay a solid foundation as they are starting. We reached up a bracket and started including larger businesses. I think there was a real need among them to get together and have a confidential place to compare ideas, problems that people are going through that are able to think outside of the box and start thinking about the bigger world too.
Nichols: If we are successful in getting our health insurance system reformed, Mary Ann, you'll see your numbers skyrocket. I'm convinced there are so many people that have to hold back and can't start their own business because of health insurance.Kristiansen: That is the number one reason people don't go into business. That's the one pill they can't swallow. We see people all the time who are running part-time businesses, and the reason they don't push that up is because they have family and it would cost them a fortune. They can't risk their families. It's a cost of doing business that they just can't afford when they are starting up.
Faulkner: Another aspect of that, and I'm stuck in it, is that I have folks working for me part-time. Does their job require full-time hours at this time? No, we're not big enough yet. The problem is no one is going to work for me part-time because we can't offer them insurance. We've hired a person for accounting, and he's looking for a job all over the place because he needs a full-time job with insurance. So I'm going to lose this guy and his experience because I can't afford to hire him full-time. His whole idea is the health issue. He's going full-time to get the health benefits. And I hope he gets that — everyone needs health insurance.Tewksbury: We've had good experience with our health insurance because we are self-insured. Our class of employees, historically, has been a good risk to insurance companies. So we are able to buy our catastrophic or stop-loss insurance at reasonable rates.Generally speaking our insurance over the last two years, we've had no increase in our overall cost for insurance. We are able to keep our employee contribution the same and the same deductibles too.Nichols: We started our enrollment for our staff today for 2010 and made the same announcement that there will be no change in contributions. And we are also self-insured. We've had the same experience as Gregg.Schrantz: We're not self-insured, and what we've had to do in order to moderate our increases is to shop the market more aggressively than we have in the past. We should probably always do that, but in good times you're not as motivated to cut your costs. Now we are finding that we are able to keep things under 10 percent in order to have a flat year in terms of our cost increase, but we'll have to change our deductibles for 2010. Right now we're at a $1,000 deductible for major medical and we'll have to take that to $2,000 in order to maintain zero increase.Faulkner: For us, it's very different because we're smaller. We have five employees. The only thing I could offer was a high-deductible plan which allowed me to support the payment that I make and also make the employees feel it's a good deal to come to work. We have to use the $5,000 deductible. But coming along with that you have a Health Savings Account — basically a medical 401(k). For me, I have two teenage boys, and last April I finished up my deductible. Fortunately I had enough money to support that. The people who work for me are well-compensated compared to others. However, for other folks who make $18,000 to $20,000 – they can't afford that.I'm content because we were informed we actually have a 10 percent in premiums. We still have the $5,000 deductible, but with my employees that's workable. There are different strokes for different folks here.Schrantz: How do a group of smaller companies, depending on the size, figure out a way to take on this real challenge of health-care costs? I know the federal government is looking at it, but really one of the concepts we are trying to push forward is smaller businesses within the community coming together and trying to create our own solution that we think can make it happen faster rather that waiting for the feds.We just started having the conversation, and we were grateful to have Art and a few others to come in and educate us a little bit on the process. We understand that it's a huge challenge, but it's something we have to face. We can't just sit here and talk about it. I'm not sure we'll make any progress but we're all very hopeful that somehow we can figure out a way forward.It's time to talk about this stuff. Out of this very tough recession is the opportunity for change — the ability to look at something a little differently and say, "Why can't we?" Let's make some change now because whether it's out of necessity, good judgment or just things that need to move forward, these are the times to create those opportunities.Kristiansen: We really feel like we could make a difference. We have a community that works together. It feels like very few or none other. We have the Cheshire Medical Center with their 2020 project, which has the goal of making Keene the healthiest community by 2020. It doesn't seem impossible here, to think that we can do something about the cost of health care. Start it here, and if it goes somewhere else that's great and if not, we benefit from it.Nichols: The employers in this area are clearly very interested in our initiative. They're not just blaming the system, they're saying, "OK, what can we do ourselves to try to keep our people healthier?"If the 2020 project is going to be successful it will be so outside of the walls of the hospital. It's really about how we refocus ourselves on our own health and how we introduce individual responsibility, a dash of employer responsibility and really improve the health of the whole county and region. But it's frustrating because every time you think of ideas you are stopped somehow by a regulation or a law.We would love to see economical health-care organizations come into being. It's one of the ideas that have been thrown around, that would say that our hospitals and our physicians and other organizations in the area would provide care for some kind of per-person fee. If we were to do that we would do it in a lot different manner than how we provide health care now — right now, we have to provide health care by doing things that we get paid for. We do a lot that we don't get paid for, but that's part of it and we don't mind it.Health care needs to be revolutionized. It's like any other industry — you used to make a car a certain way, and now there's a new way to make it but no one will pay you for it.Q. Is health care the primary concern among the businesses, at least at this table?Kristiansen: I think that everyone is so sick and tired of having this as a problem. It seems like maybe there is an opportunity to move things along, but there's this incredible level of frustration about it. It seems to get old sitting around tables talking about it all the time.It does seem that the level of knowledge of the problem is going up. I think that will be key. It's so complex, but I think people are really starting to grasp what the issues are. The more people know, the more we can maybe push yield change through congress.Schrantz: I don't think for my industry that it's lessened in importance, but the challenges and other things have really leapfrogged over.Faulkner: We as businesspeople work with issues that we can control and advance. If you can't control something you don't spend time on it. There's no point, you're spinning your wheels. I think health care for the longest of time was one of those things that it was a cost of doing business. And now I think, as the knowledge has gone up, we as businesspeople are realizing how broken it is and how easy — relatively speaking — it is to fix this.Coming up against a regulation, "Why can't we do this?" "Because it's against the rules." Saying that to an entrepreneur is like waving a red flag in front of them. For me, it's frustrating, but I'm so small I'm waiting. But I think that now it's becoming something that we're realizing perhaps we do have some control over it.Q. Is it difficult to recruit employees or businesses to come to the area?Dugan: We recruited a company several years ago from Massachusetts called Len-Tex. They bought one building in North Walpole, and they eventually built another building. We helped fund both of those, but more importantly they were from Massachusetts and they were a growing company and didn't seem like they were getting their due. It took them months to find out how to get a permit to operate in Massachusetts.We have the nimbleness of this state and region in general. For the same permit we had a guy from Air Quality come out and meet them on a picnic table out at the plant and talk about stuff and go through the application. A couple of weeks later, their permit was under way.Nichols: We're always recruiting positions and spousal employment is always an issue for any professional coming to the area. So it is nice to have a broad base, and quite often you'll get lucky and get cooperation from other businesses in the community. You talk to them and say, "You know, I have this individual that might be able to do this kind of work if you can find some way to fit them in." On occasion it's worked. If you can get people that aren't 25 or 28 years old, looking for nightlife, then I think we have a real good chance at landing them.Faulkner: I can speak for three generations that I know directly about growing up in Keene. The fact is when you grow up in Keene you can't wait to get away. And when you get away from Keene, you can't wait to get back.My dad told me he couldn't wait to get out of the town. He has four siblings and they all said the same thing. I have four siblings. We all said we can't wait to get out of this town. Two of us came back, and came back gladly. Now my kids are saying, "I can't wait to get out of this town."But it's a great place to raise a family.Dugan: The community has made tremendous strides to provide big-city amenities in what some would say is a small town. Between what goes on at Keene State and the Colonial Theatre and there's tons of things that you can get involved in. We almost had a minor league baseball team. We're discussing an expo center, which might house a new skating arena, some performance space and a big meeting space — a convention space. Again, it's an effort of a bunch of different groups coming together to see how we can make Keene a better place.
Q. Downtown Keene has certainly changed over the last two decades.Dugan: Not that long ago, we had a lot of empty storefronts. The loss of our downtown Sears, Woolworth, the Colonial Theatre and the ripple effect of the rest of downtown really put a dent in how it looked. Again, I sound like a broken record, but a group of community leaders got together and said, "We can't have this on our downtown main street," and devised a way to raise millions of dollars and use that as capital. But they took some of these empty buildings and brought them back with more diverse usage. It really helped.Kristiansen: Downtown Keene is authentic. It's not chain stores — it's organic and it's very real.
Dugan: The businesses around town belong to one group, the Keene Downtown Group. And again, they are solving their own problems. They're out promoting each other and banding together to make downtown a destination point.
Tewksbury: I have lived on the Seacoast and the Manchester area, and for the past 20 years here in Monadnock Region. It is different. If you want to be entertained or excited in a way, go to New York or Boston — this isn't the area. If you're looking to be engaged, this is the area.There's a person that often times sits around these tables with us that explained it years ago. He said it's like a big sticky ball that rolls around the region and attracts people who are like-minded in terms of wanting to be engaged and improve the quality of life. If that's not your gig, and it's not everyone's, it ends up being a transitional stopping place and you move on somewhere else.The value of this region is the engagement. It's not hundreds, it's thousands, and it's everywhere you go. It attracts like-minded people who generally care about providing a health-care system at a reasonably cost as a community, not as an employer trying to increase my bottom line.One of the concerns that we have from an economic standpoint is that we are so reliant on our non-profits in the community. They represent a tremendous percentage of the employment base. As we look at cuts coming through some of their funding sources, be it the state, federal government or charitable giving, we see a strain over the next couple of years in a very strong and vital part of our community. That's a concern. But we've always been able to sort of rally around and set higher goals for the United Way and meet that. We just come together when we need to, and that's what makes us unique.