What do NH consumers complain about most?
Though weakened, CFPB still serves as sounding board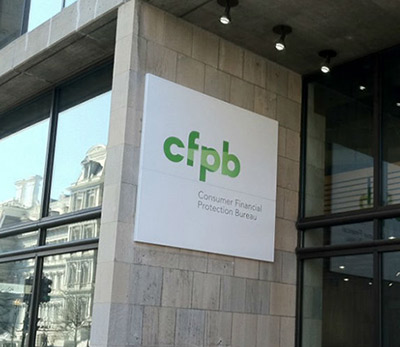 "I have a credit card with Bank of America. I couldn't figure out how I always had a balance carried forward even though I always paid the 'current balance' in full. Then I realized: The bank has set my payment due date BEFORE the end of the finance period. … Is this not dishonest? Sneaky? Possibly fraudulent???"
"I got a call saying I still owed the money and I told them I did not and that I would send them the receipt stating the money was paid. Before I could get the receipt in the mail … it was reported on my credit report again … Equifax had no right to put it back on my report. How do I stop them from harassing me?"
"My problem is that Wells [Fargo] paid the property taxes out of my escrow funds without ever checking if they had already been paid. They have said it is the city's job to reimburse me. I say it is Wells' fault and they should reimburse me and THEY can wait for the city to process the refund."
"Citizens Bank allowed someone to cash a forged, year-old stale check. … Citizens continued to let charges go through until my account was negative, and then charged me ridiculous overdraft fees … they are giving me the run around. I am a single mother and I worked hard for my money."
These excerpts are from four of 4,310 anonymous but public complaints filed by New Hampshire consumers through June 30 with the federal Consumer Finance Protect Bureau (CFPB) since 2012.
New Hampshire consumers complain more than most when you take into account the state's population in the first quarter of 2017, according to the latest comparative figures released by the agency.
And Granite State consumers get more satisfaction than most. About a fifth get some relief and 7.4 percent get money, according to the database. That's roughly twice the percentage nationwide.
Yet CFPB, conceived in the great recession as a brainchild of Elizabeth Warren before she became the Democratic senator from Massachusetts and born during the Obama administration in 2010, is in trouble as it toddles into the Trump era. Although it was supposed to be immune from politics, it's been caught up in it.
Before President Trump's budget director, Mick Mulvaney, became the agency's part-time acting director, he called it a "sick, sad joke." And after he took over, he compared the complaint database as "Yelp for financial services," adding that there is no reason to continue to make complaints public.
"The bureau is far too powerful, with precious little oversight of its activities," said Mulvaney. "The power wielded by the director of the bureau could all too easily be used to harm consumers, destroy businesses or arbitrarily remake American financial markets."
The same direction
Mulvaney took over the agency after a power struggle with Richard Cordray, President Obama's appointee. Since then, enforcement by the agency has stalled. There have been five enforcement actions announced in 2018, compared to 34 in 2017 (and an average of about 30 for the five years before that).
Mulvaney has ordered an internal review, including a survey of financial firms, and a series of requests for information to explore the various burdens that the agency allegedly creates. Kathy Kraninger, Trump's nominee to be permanent director, who now works under Mulvaney at the OMB, has no background in consumer finance. Despite a grilling by Democrats at a July 19 confirmation hearing, the Senate is likely to approve Kraninger, who is expected to continue in the same direction as Mulvaney.
All of this worries consumer groups. In a July 16 response to an RFI about the complaint database, groups, including NHPIRG, asked for more transparency not less. They wanted to know how complaints were resolved, including information about the amounts involved and more outreach to small business owners, who themselves often have difficulties with large financial institutions.
For the most part, New Hampshire complaints are aimed at those large institutions, few of which are located in the state. Bank of America received the most complaints in New Hampshire — 523, mostly mortgage-related but also involving banking and credit cards.
In 2014, the CFPB ordered the bank, which has some 25 financial centers and ATMs in New Hampshire, to pay $272 million to more than 1.5 million consumers who were victims of an allegedly deceptive marketing campaign for add-on products like credit monitoring and reporting services. The bank also paid CFPB $20 million.
BofA did not respond to requests for a comment. Nor did JPMorgan Chase, which was No. 2 in New Hampshire with 222 complaints, again primarily mortgage- and credit card-related, even though the company doesn't have any branches in the state.
The CFPB commenced an enforcement action against the bank in August 2017, ordering it to pay $4.6 million for denying checking account applicants without telling them where they got the information for the denial.
The 218 complaints against Equifax mainly focused on its credit reporting, especially after it revealed a major data breach, compromising 143 million consumers' financial information. Nationwide, it had the most complaints in 2017, which was when the breach was revealed. But CFPB's enforcement action was announced at the very start of that year, alleging that Equifax and TransUnion misstated the usefulness of reporting data by claiming that their scores were similar to what lenders use, when they were not.
The company had to pay $17.6 million in restitution to consumers and $5.5 million to the CFPB.
As for any enforcement action by the CFPB over the data breach itself, that has stalled, according to ProPublica.
"The majority of what we see in the CFPB Complaint Portal reporting as Equifax 'complaints' falls under the category of disputes (vs. complaints) as defined by the FCRA (Fair Credit Reporting Act), and may involve incomplete or inaccurate information from a data furnisher," said Marisa Salcines, senior director, public relations, at the CFPB. "What we've also seen lately is an increasing number of the disputes in the Complaint Portal are actually being submitted by consumer repair agencies, rather than individuals, which adds to the complaint numbers reflected in the database."
'A lot of fraud'
The 214 complaints about Wells Fargo, which also doesn't have a New Hampshire location, were primarily based on the company's mortgage practices as well. Though an investigation of Wells Fargo's treatment of its checking customers has bogged down the agency (along with the Office of the Comptroller of the Currency), according to ProPublica in April. The agency settled a complaint into Wells Fargo's auto loan administration and mortgage practices for $1 billion. The bank inappropriately charged borrowers rate-lock-extension fees that should have been absorbed, according to the consent order.
When asked for a comment about the high number of complaints, Wells had this to say:
"All feedback, regardless of source, is an important metric for us in ensuring compliance and customer satisfaction. We work with each customer in an effort to find solutions that meet their needs and take into account their individual circumstances."
The 206 complaints against Citizens Bank — which has 72 branches in the state — mainly deal with banking practices. Some of those practices were the subject of a joint enforcement action taken in 2015 by the CFPB, the Comptroller of the Currency and the Federal Deposit Insurance Corp. The agencies ordered Citizens to pay $11 million in customer refunds and a $7.5 million penalty, over charges that, from 2008 to 2013, Citizens would ignore errors in deposit slips when the amount was less than a certain amount, first $50 and then $25. Some customers benefited while other customers lost money.
But on the whole, Citizens hasn't had a bad record, considering it has more than a 23 percent market share, argued Joseph Carelli, New Hampshire and Vermont president for Citizens Financial Group Inc.
"As the largest bank in New Hampshire, we would expect to see a volume of customer feedback relative to that market share," Carelli said.
The ratio comes out to 0.84 complaints for every $1 billion deposited.
Even so, Carelli said, "we value feedback from our customers, whether received directly or indirectly, and take evaluating and addressing all concerns very seriously."
A customer care advocate is assigned to each complaint in order to "address customer concerns as quickly as possible, while also identifying opportunities to strengthen our practices and customer experience," he said.
States can take enforcement actions on their own. A few have, but New Hampshire hasn't.
"We don't have the resources to take that on," said James T. Boffetti, chief of the Consumer Protection and Antitrust Bureau at the state's Justice Department. Still, he said, it is good to have someplace, like CFPB, to refer consumers to.
"I hope they don't go away," he said. "They've been diminished in the last year or so. They need to be active, doing things. There is a lot of fraud. The Federal Trade Commission does do some of this, but there is no one else doing it to the extent of CFPB, as far as I can tell."