Venturing overseas
Nigerian educators turn to NH's Knowledge Institute to spread entrepreneurism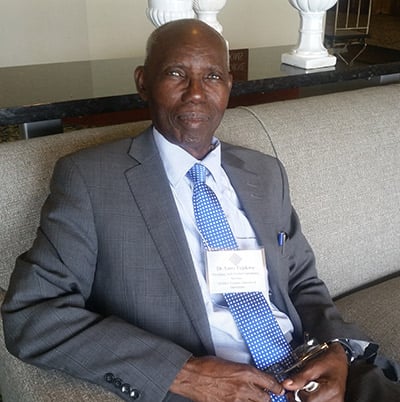 Based in Exeter, the Knowledge Institute for Small Business Development has a history of working across the U.S. – from Native American reservations to inner city schools to New Hampshire's Bureau of Vocational Rehabilitation – helping individuals cultivate their passion and develop it into an entrepreneurial venture. However, its greatest endeavor yet is building a high-level program and pathway for 10 million Nigerian college students to start their own business – a move that could redefine Nigeria's economy.
Last week, Knowledge Institute founders Bill and Deborah Osgood met with a delegation of high-level officials from Nigeria to discuss their efforts, which include a virtual learning platform for undergraduates developed by the Knowledge Institute.
"10 Steps to Venture Success" is a set of interactive exercises that are emailed to a mentor of choice, usually a counselor or teacher, that will lead participants through the steps of evaluating a business idea, evaluating the market and developing market strategy to reach markets beyond their own local communities. Participants can then put together a business plan and prepare a launch. The exercises are being incorporated into a virtual national platform for Nigeria, called the National Entrepreneurship Resource and Knowledge Center.
"This is, in fact, the state-of-the-art learning capability – breaking up long paragraphs to snackable chunks, where you can learn on your phone," said Dr. Bill Osgood. "But the point is it is the only system that it is truly self-directed. It's modular, it's step-by-step, it's interactive, it connects with metrics and it produces very specific results-based outcomes that are repeatable."
"This is exactly the same system we've customized with Vocational Rehabilitation in New Hampshire, because [for] a number of these clients, self-employment is their occupational outcome," said Osgood.
Virtual learning
The Nigerian delegation visited the Vocational Rehabilitation office, under the state Department of Education, to hear how their customers are utilizing the learning platform.
"I call them the 'Doctors of Good,'" said Vocational Rehab program director Lisa Hatz. "They really worked with us to develop this system, to walk our customers through it – [everything from] launching things off the ground to 'What are my financial goals?' For our agency, it's a great option if you want to work for yourself, but it's also an option for people to get off of Social Security benefits. So we've been working with them over the years to refine the system, and we've just had tremendous success."
Using a physical workbook or virtual learning platform, and working with Dr. Deborah Osgood, individuals with mental or physical disabilities complete steps, including a personality exercise, to determine what type of entrepreneurial venture is right for them, and whether its purpose is to provide supplemental income or a full-time paycheck.
Vocational Rehab provides $3,000 to $10,000 to customers starting a self-employed entrepreneurial venture, depending on the level of independence the individual is seeking. Some individuals sell their paintings or work as a photographer, while others become bakers, home inspectors or life coaches.
"We're one of the few human service types of organizations that has a great return on investment," said Hatz. "Our folks not only go back to work, they're paying taxes. They're also sometimes able to give up their public benefits. For every dollar we spend, we get back $7."
"The disability is simply a perception of an obstacle to be overcome," said Deborah Osgood. "So far, the only unique approach to self-employment the Knowledge Institute focuses on is the self first and then the science of employment. The very first obstacle is their filter of what they believe can't be done. I can't tell anybody anything, but I can ask questions; I can introduce tools."
Osgood recalls one woman with autism who insisted she could not do math. Osgood introduced her to an Excel spreadsheet that calculated everything, once the woman input the quantity of items sold and their price.
Osgood herself insists that visually mapping out one's goals is a step that makes them tangible and attainable.
"You slowly start to make this map, and what's behind this is proven science of creative visualization. Olympic athletes have been using this for centuries to win," said Osgood.
It's just one of her "rescue remedies," when individuals get stuck on what they can't do.
After going through the six-step process to focus on the self, she said, "we then simultaneously introduce them to the entrepreneurial steps, and, if they need a QuickBooks training, we'll send them to the Small Business Development Center. If they need a mobile phone solution, we'll send them to Grasshopper."
'Knowledge impact'
In 2012, public universities in Nigeria rolled out entrepreneurship as a program of study. The National Universities Commission, a regulatory agency for university education in Nigeria, brought a group of educators to the UK and to five universities in Atlanta, including Georgia Tech, for training.
The NUC also launched an annual entrepreneurship week, during which groups of five to 10 students compete by identifying challenges in their environment and developing an entrepreneurial solution.
Ibrahim Dan'Iya, deputy executive secretary of the commission, told NH Business Review that it is currently working on developing incubators and accelerators, called Entrepreneurial Development Clinics, at the 45 public universities in Nigeria. The agency hopes to work with small and medium-sized manufacturers as well as companies like Unilever and Coca-Cola, and build up a network of mentors, with the hope that current undergraduates will mentor future undergrads, after they have successfully started a business.
"Everyone inside and outside of academia is thinking about diversifying the knowledge impact for how the average student will stand on their own feet," said Sen. Binta Masi Garba, who is on the Nigerian Senate Committee on Tertiary Education.
"This is not only an opportunity to engage the youth, but also adults who might do better [with access to resources]," said Dr. Folasade Yemi-Esan, permanent secretary of the Nigerian Ministry of Education, noting that the ministry has direct oversight over this program.
'Fulfilled and enriched'
To produce entrepreneurs, though, Nigeria has to change public perception.
Despite the high youth unemployment rate, at 24 percent, parents of educated Nigerians are pushing them to keep trying for white-collar jobs, and there are not enough of them.
Dr. Yemi-Esan told the story of one girl who was successfully running her own business, but was being pressured by her parents to find a large employer to gain financial and job security.
A group of Nigerian educators, government officials and advocates met with Governor Maggie Hassan during a two-day conference with the Knowledge Institute. From left: Dr. Deborah Osgood, Patrick Okolie, Dr. Aboki Samu, Dr. Sola Aliu, Honorable Aminu Suleiman Fagge, Governor Hassan, Senator Binta Masi Garba, Dr. Rukayyatu Gurin, Ibrahim Dan'Iya, Dr. Larry Fejokwu, Dr. Bill Osgood and Chris Maiyaki. (Courtesy photo)
"I said it's actually the other way around, if you know how to run your business properly, then you're secured for life," she said.
Dr. Larry Fejokwu, who discovered the Knowledge Institute and its resources through the internet, originally reached out six years ago, and has made a few trips to meet face-to-face with the Osgoods in recent years.
Addressing the delegation, Fejokwu explained how he was never satisfied with his career in the military, government or universities because he wanted to work for himself.
"I've not believed in working for anybody. Working for myself has made me happier, fulfilled and enriched," Fejokwu told NH Business Review.
Inspiring young entrepreneurs, Fejokwu looked everywhere from Venezuela to an organization in Texas to find entrepreneurial resources, but settled on the Knowledge Institute because of its interest and motivation.
Fejokwu said he views Nigeria's relationship with the Knowledge Institute as the beginning of an economic relationship between New Hampshire and Nigeria.
"We're relying on the generosity and support of the good people of New Hampshire to support this initiative because we see a collaboration. The Nigerian states come here to collaborate in many areas – economic, social, cultural –that is the objective of this relationship," said Fejokwu. "Business is unlimited because of the relationship. We want to see that grow between the two states."
"These people don't usually come together, so this was impressive for them all to come together on this issue," said Deborah Osgood. "This is how committed they are to the need to foster entrepreneurship across the country."