Vapotherm Inc. is moving manufacturing operations to Mexico
As many as 500 worked for the Exeter-based manufacturer of breathing apparatuses at the end of last year.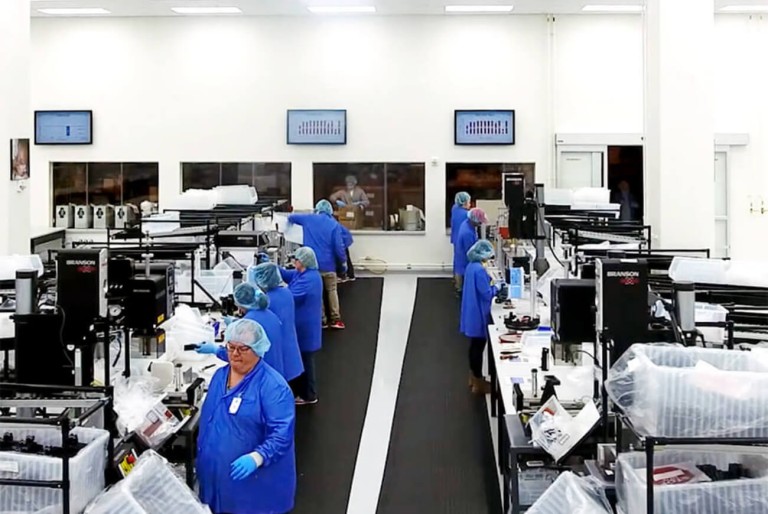 Vapotherm Inc. is moving all of its manufacturing operations from Exeter to Mexico, affecting hundreds of workers.
The publicly traded company, which supplies breathing apparatuses for healthcare providers, has been shifting work to Mexico since the third quarter of 2021, but on April 27 it decided to close down manufacturing here altogether, according to filings with the Securities and Exchange Commission.
On May 27, the company signed an agreement with TACNA services to manage its Mexican operations, and on July 8 signed a seven-year lease agreement for 36,000 square feet in Tijuana, commencing on August 15.
The decision to move was in part because of the need to increase margins, especially in light of a fall in revenue after the initial Alpha Covid-19 surge in 2020 and early 2021.   However, due to the lower virulence of subsequent Omicron surge (as well as the effectiveness of the vaccine and improved treatment), there weren't as many hospitalizations as expected, and therefore, a need for breathing apparatuses declined.
First-quarter revenue fell 33 percent to $21.6 million compared to the first quarter of 2021, resulting in a net loss of $22.8 million, more than double the quarterly loss of a year ago.
Indeed, the company has not made money since it went public in 2018.  In the last three years (2019 to 2021), it posted total losses of more than $160 million, despite about $8 million in federal loans or guarantees, according to Good Jobs First, a watchdog group on public subsidies, and at least $1.2 million in federal Covid contracts as of late 2020.  It also got a $50,000 training grant from the state of New Hampshire.
There is some evidence that shareholders are dissatisfied with the company management.  During the last annual meeting, shareholders voted 10.8 million shares for CEO Joe Army to keep his seat on the board of directors.  That's less than half the outstanding shares, an unusually poor showing, especially for the CEO, who is expected to be on the board.   About a quarter of the shares were cast against him, and the rest either didn't vote or abstained.
The board chairman, James Liken, faced stiffer opposition.  He garnered 10.6 million shares for, with 7.5 million against, and the owner of more than 4 million shares standing on the sidelines.
The capital expense involved in the move to Mexico has hurt profits and will continue to do so during the next year, but should help profitability going forward after that, the company predicted.
"Our Mexico plant will be a key part of our plan to increase gross margins to 60 percent by late 2023, early 2024 and mitigate the risk of higher U.S. inflation in a tight labor market in New Hampshire for the foreseeable future," said CFO John Landry, on a May 8 quarterly earning call.  "We have announced the move to affected employees in New Hampshire."
Of course, some of the workers may have decided not to wait around to be laid off and and have already sought employment, which the company acknowledged in its last quarterly filing.  One of the risks of the move is "that our ability to continue to manufacture product in New Hampshire pending completion of the move to Mexico will be interrupted due to earlier-than-expected departures of New Hampshire manufacturing employees," according to the filing.
It's not clear how many workers remain and how many will lose their jobs and when.  Inquiries to the company were not returned by the end of day on Wednesday.
According to SEC filings, the company employed 512 in the United States, but 316 were employees; the rest were contractors.   It is unclear how many were involved in manufacturing.  About 100 were in sales.
The median employee compensation (including benefits) was $136,149.   That calculation was used to determined the 1:25 ratio between that employee and the $3.44 million made by CEO Joe Army.  (That median figure didn't include Army, but it did include executives such as Laundry, who earned $1.34 million.)
Army himself briefly alluded to the Mexican move when summing up the company's strategy.
"We will improve gross margins to 60 percent by late 2023, early 2024 by spinning up a world-class factory in stable, low-cost Mexico executing on our three-point plan and burning off the expense of inventory caused by massive one-time costs incurred during Covid to meet every customer need," he said in the earning call.
The August 15 date of the Mexican lease gives some indication of when the company plans to ramp up operations in Mexico.  According to the May filing "the company expects to complete the relocation by late 2022 or early 2023."