USDOT awards $5 million for Rogers' Rangers Bridge replacement
New bridge will boost logging traffic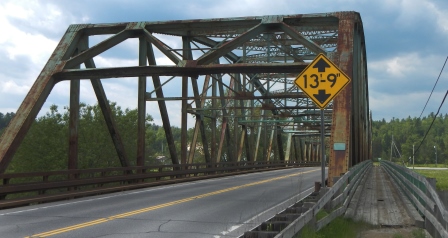 A replacement span is in the works for the Rogers' Rangers Bridge, which links the towns of Lancaster, NH, and Guildhall, Vt., now that the U.S. Department of Transportation has awarded $5 million in funding for the project.
Built in 1950, the current bridge is ranked at No. 4 on the state's Red List of state-owned bridges in poor condition. In addition, the vertical clearance of the bridge is less than 14 feet, which is below the minimum required vertical clearance of 16 feet 6 inches necessary for many logging trucks. The bridge currently carries 3,500 vehicles per day, 10 percent of which are trucks.
The grants were authorized by the 2015 federal Fixing America's Surface Transportation, or FAST, Act.
Transportation Secretary Elaine L. Chao said the grant "will provide greater safety, mobility and economic benefits to the region."
Shaheen said improving the state's infrastructure is critical for job creation, economic growth and public safety. Hassan has been advocating for the project since she was governor. She said a strong, modern transportation infrastructure is critical to New Hampshire's future.