UNH's Paul College adds sales program to the mix
New Sales Center of Excellence will help mentor and train students in the art of selling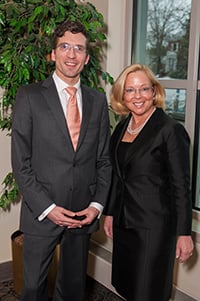 The University of New Hampshire's Paul College of Business and Economics has launched another business center for undergraduates, this one in sales.
The school's new Sales Center of Excellence – funded by businesses, and drawing on their talent – will help mentor and train students in the art of selling, UNH announced Tuesday.
The university has been offering sales courses for five years, often pairing up students with alumni who entered the profession. The program had become so popular that UNH wanted to institutionalize it, said Catherine Blake, founder of Sales Protocol International and an adjunct professor at Paul College, who has been hired to head the program.
"It's putting a structure around what has happened in the last couple of years and makes it official. It takes a fabulous academic program and applies it directly to the workforce," said Blake, who earned her executive MBA from Harvard University's Extension School.
The center will eventually have a research component, like some of the business-related programs at UNH, such as the Center for Venture Research and the Rosenberg International Franchise Center, "but we aren't there yet," Blake said.
"The power of this program is the partnerships we have formed to bring field experience into the classroom, enabling executives to contribute to the professional development of undergraduate students before they begin their first career," added Arnold Garron, interim dean of Paul College. "The quality of training, mentoring and coaching students will receive will be on par with world-class corporate sales and leadership training."
The program will build on the UNH Sales Club and the annual UNH Sales Case Competition, with the latter scheduled for April 12. The competition features about 100 students from UNH and other universities make a sales pitch to various sales professionals to compete for $1,000 cash prize.
The Sales Club is also hosting a March 6 workshop, "Professional Business Etiquette in a Digital World," featuring Daniel Post Senning, great-great-grandson of Emily Post and a co-author of "Emily Post's Etiquette."
Both give students the opportunity to experience a simulated corporate sales environmental, where they learn about the consultative selling model, principled negotiations, public speaking, and professional etiquette, said Blake.
"We carefully select industry experts who exhibit exemplary character qualities to serve as mentors and coaches for our undergraduate students," Blake said.
For more information, call 603-862-5316 or visit paulcollege.unh.edu.