UNH president's compensation for 2014-15: $492,800
Report says Huddleston's package is second highest among public university presidents in New England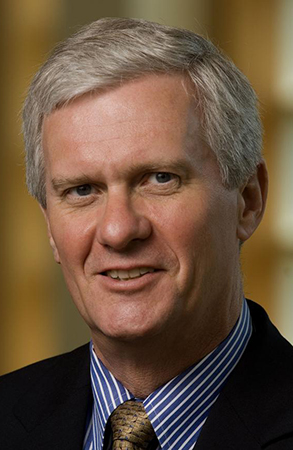 University of New Hampshire President Mark Huddleston's $492,800 compensation package for the 2014-2015 fiscal year was about a fifth higher than the median for public university presidents nationally and the second highest of any public university president in New England, according to a report from the Chronicle of Higher Education.
Susan Herbst, president of University of Connecticut, was paid the most in the region, $645,769, followed by Huddleston, and then Kumble Subbaswamy, head of the University of Massachusetts at Amherst, $483,620. Both the Connecticut and Massachusetts institutions have about twice as many students as UNH.
His compensation also exceeded the compensation of E. Thomas Sullivan of University of Vermont ($459,093), David Dooley, University of Rhode Island ($330,000), and Susan J. Hunter, University at Maine $(250,000). Hunter was the lowest paid president to serve an entire academic year, according to the Chronicle's database.
University of Houston paid its president Renu Khator, the most – $1.3 million.
All told, Huddleston was paid 120 percent of the median compensation, 86th out of 258 institutions and systems, or in the 63rd percentile. As a percentage of UNH's total expenses of $517.2 million, the compensation was at the 65th percentile.
However, when compared to student tuition and fees of $13,675 (among the highest in the nation at public universities), Huddleston's compensation is in the bottom quarter, since his compensation was 36 times the amount a student pays to attend UNH.
Huddleston's compensation package – which increased 2.7 percent compared to the previous year – consisted of a base salary of $385,000 with a bonus of $107,800, but that total did not include nearly $60,000 in deferred compensation and retirement benefits, nor such perks as living at a university-owned house worth almost $1 million or access to a university car valued as nearly $17,000.
Huddleston could not be reached by NH Business Review deadline.
Huddleston also was paid more than Todd Leach, chancellor of the University System of New Hampshire, which also includes Keene State and Plymouth State. Leach was paid $296,875 in 2015, compensation that is toward the low end of the scale.
The Chronicle also keeps tabs on compensation of private college presidents, though the latest figures are from 2012-13. At the time, Dartmouth President Phil Hanlon was paid $669,610, after replacing an interim president who was paid $580,552. Even so, his was in the top fifth of private college salaries for president, about 180 percent of the median compensation package. Steven R DiSalvo, president of Saint Anselm College, the only other private college president listed, was paid $151,611 for the period.