Two NH businesses look to grow through franchising
Morano Gelato and Mr. Mac's take different paths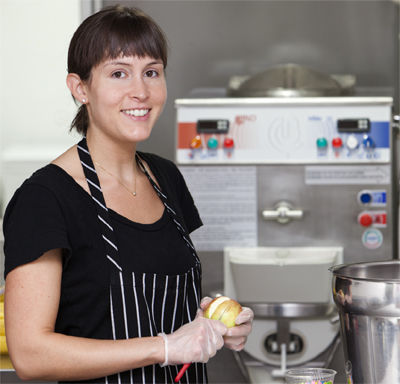 Two successful New Hampshire businesses are taking a giant step toward expansion through franchising.
Hanover-based Morano Gelato was founded in 2010 by Morgan Morano and has grown from a stand at a farmer's market to opening up a second shop in Chestnut Hill, Mass. Manchester-based Mr. Mac's Macaroni and Cheese restaurant was founded by the brother and sister team of Patrick Cain and Valerie Anderson in 2011.
Both owners say the decision to leap into franchising was made carefully and with an abundance of due diligence. "It's been a journey for the business in general and I've grown it very carefully," said Morano of her gelato shops. (For the uninitiated, gelato is Italian ice cream, with less fat, and it's lighter and smoother than American ice cream.) Cain said slow and steady was also the way to go. "From the outside, it seemed like this would be a simple business model, but I can tell you it's not. That's why we spent the past five years listening closely to our customers," he said.
The restaurant on Hooksett Road in Manchester has capitalized on the public's appetite for a quality macaroni and cheese menu, he said. "We thought this would be a successful concept, but we weren't sure at the beginning how easy it would be to replicate. We figured maybe we'd open a second restaurant. You're going to have bumps and bruises before you attempt franchising, and we're very confident we have the right formula."
Both businesses were helped immensely with great and unexpected publicity that highlighted the quality, uniqueness and growing popularity of their products.
In 2011, Forbes declared Morano's the best gelato in America, which immediately put the infant company on the map. Cain believes that the Phantom Gourmet TV show's rave review for Mr. Mac's turned a local favorite into a regional destination and broadened their market reach into northern Massachusetts.
Growing sector
According to a study released earlier this year by the International Franchising Association, their timing may be good for both companies.
"Franchise businesses will have a 3.1 percent growth in jobs, adding 278,000 direct jobs to the economy this year for a total of 9.1 million," the IFA study said. "For the past five years, the average annual job growth in the franchise sector was 2.6 percent, nearly 20 percent higher than all businesses economy-wide. Over the last five years the franchising sector has added nearly 1 million jobs to the economy." Additionally, the report states that in 2016, the number of franchising establishments is expected to grow almost 2 percent, to 795,932. Franchise business output is also expected to increase 5.8 percent, to $994 billion.
Mr. Mac's and Morano Gelato also shared the burden by working with experts who understand the ins and outs, challenges and opportunities of franchising. Morano hired successful industry veteran Troy Taylor, who has more than three decades in the franchise restaurant business.
"I've been asked by many folks over the past few years to become a partner, but it was never quite the right concept or they didn't have the right mentality to succeed," said Taylor, who is now Morano Gelato's vice president of franchise development. "Then I began talking to Morgan and we had hundreds of conversations over a long period." Taylor said he began to appreciate the hard work and dedication to make the best gelato that Morano had already ingrained into the company.
Mr. Mac's owners Valerie Anderson and Patrick Cain in their Manchester location on Hooksett Road. The macaroni and cheese restaurant, which opened in 2011, has signed a three-store development agreement with Nashua-based
Kanjabi 15 LLC.
Photo by Karen Bachelder
"I knew the product was good, but not this good," Taylor said. "She didn't make the mistake of putting the cart before the horse, and she perfected the system."
Cain, who had years of experience as a retail clothing executive but none in the restaurant business until Mr. Mac's, said that for franchising to work it was important to partner with an expert. In this case, it was SMB Franchise Advisors, which he chose after a long process of learning about the company and meeting with the firm's clients. SMB has helped with everything from developing an effective website to being a conduit to potential franchise operators.
"We went to a lot of seminars whenever we could to learn. [Franchising] is a whole different ballgame, but because of our business backgrounds [Anderson had been a longtime hospital administrator], we were prepared," Cain explained. "We have a good business with a solid plan and precise records which helps with financial due diligence."
Market research is also a key. "You need to be able to replicate your business, but obviously you're not going to go in an area where there's macaroni and cheese places on every corner," Cain said. The focus is also on finding owners who will embrace it as a "way of life" opportunity to build the Mr. Mac's brand in their communities.
Different approaches
Cain said Mr. Mac's plans to move slowly and build one step at a time. It has signed a three-store development agreement with Nashua-based Kanjabi 15 LLC. Cain said the new franchise partner is led by area entrepreneur Harry Cheema, who over the next several years will develop as many as three Mr. Mac's locations in southern New Hampshire and northern Massachusetts.
Mr. Mac's General Manager and Vice President of Operations Mark Murphy, center, with (from left) Assistant Managers Desma McNeary-Caine and Kris O'Donnell, Assistant GM Robert Sideman and Assistant Manager Natasha Walsh.
Courtesy photo
"We want to stay in northern New England and keep it a comfortable pace, with one store by the end of this year and two next year," Cain said. "We have a good model and system, and if we see quality or customer service waning at all, we can always pull back and slow down."
On the other hand, Morano Gelato plans to go national as soon as possible. "As I've honed my craft, I've developed an accessible way to bring the Morano Gelato concept to markets around the country," Morano said. Taylor said markets in the South and West will be good starting points, and growth could go as high as 10-15 stores or more annually.
Taylor explained that Morano Gelato franchisees will have the opportunity to enter a marketplace of minimal competition and join a brand positioned to be a major player in the industry. In particular, he said the small footprints of 800 to 1,500 square feet provide an opportunity for real estate opportunities, faster launches with lower construction costs and higher profitability than other food franchises. "Sometimes franchising has a bad reputation, but we are creating a franchise system that will be ethically sound and extremely quality oriented," Morano said.
Morano Gelato produces 12-16 differ­ent flavors of the dense, creamy frozen treats, including rose. Flavors are posted daily on Facebook and Twitter.

The garden veggie mac from Mr. Mac's.
---