Two bills target Sununu's authority over former Laconia State School property
Measures seek to revoke, curb governor's control of sale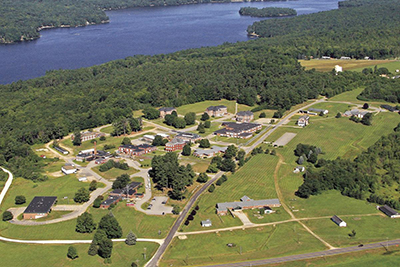 Gov. Chris Sununu's newfound authority to sell the 220-acre former Lakes Region prison property in Laconia with little state oversight is being challenged by two bills this session.
House Bill 1032 would revoke Sununu's control of the sale, which he gained in legislation included in the state budget trailer bill, and resume the standard multi-agency review process.
House Bill 1548 would prohibit him from selling a 17-acre section of the property that contains the state's backup 911 call center and Lakes Region Mutual Fire Aid.
Rep. Gregg Hough, a Laconia Republican and sponsor of HB 1032, told the House Public Works and Highways Committee Thursday that he's concerned the new arrangement, which would allow Sununu to sell the property with the approval of just three executive councilors, will not include Laconia's interest.
"Something may go there that just isn't what they want," he told the committee. "In theory you could put anything there. You could put a garbage dump. You could put in a high-tech business park. But since it's in their backyard, (local officials) should at least have some sort of voice. "
The council has given the state Department of Administrative Services permission to partner with a real estate brokerage firm on developing a marketing plan and said they expect Laconia officials to have a say on how the site is developed. During the hearing, Laconia Mayor Andrew Hosmer said that partnership is happening.
Concerns about the cost of relocating the state's 911 center and Lakes Region Mutual Fire Aid should the property's new owner require them to move prompted House Bill 1548.
Among the bill's co-sponsors is Sen. Bob Giuda, a Warren Republican who represents towns that rely on the mutual fire aid association. He said he'd be willing to reconsider carving out the 17 acres if there was no relocation cost to those towns.