'Trusted contacts': A key defense against scams
They can be an additional layer of protection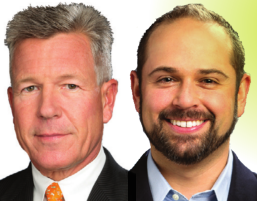 The issue of elder fraud has become increasingly prominent in recent years. Scammers and fraudsters have preyed on older adults who are often seen as easy targets. According to statistics released last year by the FBI, in 2021 there were more than 92,000 victims over the age of 60 who reported losing over $1.7 billion to fraudsters, a 74 percent increase over 2020. With the population of older Americans projected to grow significantly in the coming years, the need to protect this vulnerable population is more critical than ever.
With the first line of defense often being a banker, broker or financial advisor, in September 2021 the financial Industry Regulatory Authority and the North American Securities Administrators Association released a joint press release highlighting the benefits of having a "trusted contact" on an investment account.
According to FINRA CEO Robert Cook, the addition of naming a trusted contact "provides another layer of security on the account and puts the financial firm in a better position to help keep the account safe."
The idea behind this is that by designating a trusted contact — typically a family member, attorney, accountant or other reliable third party — investors can add an additional layer of protection to their accounts.
Financial industry veteran Ron Long told us recently that the trusted contact concept arose from numerous real-world experiences where advisors had clients who were requesting funds from their accounts to pay for obvious financial scams.
"Scammers often rely on victims succumbing to pressure to act fast and to avoid discussing the money disbursement with anyone," said Long, a principal at Long Life Consulting and former head of aging client services at Wells Fargo (and a former colleague of ours). "When an advisor is able to involve a trusted family member, often a son or daughter, they are able to speak with that loved one and successfully break the trance which the bad guy has over their parent. In other instances, the trusted contact acts as an 'in case of emergency' resource where an advisor observes signs of diminished capacity or has difficulty contacting an elder client."
However, while the concept of a trusted contact is a step in the right direction, it is not a substitute for a more comprehensive approach to protecting older adults. For one thing, the circumstances under which a financial firm is authorized to contact the trusted contact are limited and do not cover all possible scenarios in which elder fraud might occur.
As demographics shift and the demands on clients and their advisors expand, we need to evolve our approach to prevent elder fraud. This is especially important given the increasing rates of cognitive impairment among older Americans, who also happen to hold up to 65 percent of all deposits in the United States.
Understanding there is no simple solution to the complex realities of aging and fraud, there are actionable steps the public and various professions can take to defend those most vulnerable.
• A new and improved "trusted contact" should provide latitudes similar to how many fiduciaries have client permission to collaborate with a client's accountant and estate attorney openly. The need for frank open dialogue between a professional and trusted contact when there is reason for concern is critical.
• It can't be overemphasized that education and communication are the keys to helping clients, friends and loved ones. Simple gestures and social interactions amongst friends and family are sometimes enough to prevent or uncover a fraudulent attempt.
• More professions should include various trainings on warning signs of fraudulent activity.
As scammers become more sophisticated and technologies become more complex, the responsibility falls on all of us to stay vigilant.
The financial industry must take additional strides to better protect those at risk, and advisors will continue pushing to enhance and improve these solutions on behalf of their clients and the families they serve.
A trusted contact is only the first step in an evolving regulatory paradigm that must allow an advisor, friend or banker to contact a loved one, attorney or friend, without fear of liability.
"In most instances, a client will never need an advisor to use the trusted contact," Long said. "But like insurance, it is better to have the trusted contact and not need it than to need the trusted contact and not have it."
Tom Sedoric is partner, executive managing director and wealth manager, and D. Casey Snyder is partner, senior vice president and wealth manager of The Sedoric Group of Steward Partners in Portsmouth. They can be reached at thesedoricgroup.com.