Trumbull-Nelson takes the LEED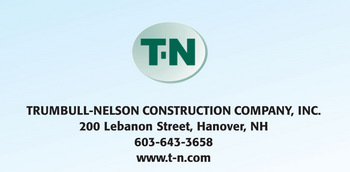 Trumbull-Nelson project manager Todd Thompson is particularly proud of the latest
projects he has managed. Thompson's recent work includes three significant "green" projects: Proctor Academy's newest dormitory, the Peabody House in Andover, N.H.; the new Coop Community Food Market in Hanover; and the AVA Gallery and Art Center addition and renovations in Lebanon.
The Peabody House dormitory used extensive amounts of recycled material, including the flooring from Plymouth State University's old basketball gym, and large portions of the dormitory that previously stood where the new dormitory was built.
In addition, the designs for the new dorm utilized geothermal heating and skylights to provide natural light in lieu of artificial light.
The green design of the new Co-op Community Food Market directs water runoff to gardens that help filter pollutants, and it uses skylights throughout the building to maximize natural light. Lighting is controlled with computers that make adjustments based on the time of the day and intensity of the sun. And benefits occur from geothermal heating and cooling that keep the co-op comfortable and make it energy efficient.
The green initiative for the AVA Gallery and Art Center in Lebanon, a project that earned Gold Certification from the LEED (Leadership in Energy and Environmental Design) program of the U.S. Green Building Council, included efficiency upgrades to virtually all HVAC, electrical, plumbing, a new set of three liquid-propane-fueled boilers, new energyefficient windows and installation of sun shades with light shelves that diffuse natural light toward the ceilings.
In all of its buildings, Hanover-based Trumbull-Nelson fully promotes environmentally responsible construction. It has embraced LEED goals and initiatives, with four of its project managers, Thompson, David Harrison, Edward Friedman and Jason Yehle, recently joining the ranks of nearly 81,000 LEED accredited construction professionals worldwide.
For more information, visit www.t-n.com.