Those lazy, hazy, crazy days of Christmas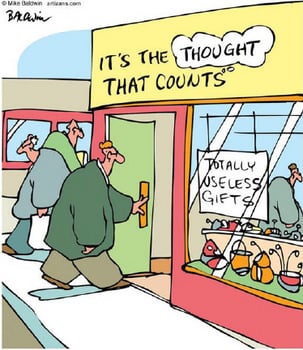 The score: real Christmas cards 2, e-cards 0.
As of this week, I've received two cards by way of the U.S. Postal Service. Of course, we're only in the early innings of the card exchange game. I'm hoping by the time the last card comes in on Dec. 24, the score will be about 50 to 0.
Judy e-mailed me last week asking, "Are e-Christmas cards tacky or acceptable? I just received two and want an opinion before I start sending out Christmas cards."
Judy, DON'T DO IT! I'm no Emily Post, but I have two words for people who send only Internet Christmas cards: Cheap and lazy. Yes, I realize nice cards run about a buck apiece and stamps are 41 cents — but, hey, aren't your friends worth more than a couple mouse clicks? Is it better than sending nothing? Barely.
Besides, do you really want your Christmas card showing up with e-mail solicitations for breast enhancement and Nigerian Lottery offers? At least your paper cards arrive with flyers for department stores and credit card deals.
We are just getting plain lazy when it comes to Christmas. Instead of taking the effort to string lights around shrubs and trees, we're polluting the neighborhood with snowmen in clear inflated plastic bubbles with fake snow blowing around. You want tacky, Judy?
And what's with giving Christmas presents in these five-dollar gift bags? Nothing says, "I just bought this 18 minutes ago," like an unwrapped gift in a bag with cabled string handles. It's like buying a greeting card at CVS, signing it, licking it shut and giving it to the recipient 10 minutes later hoping your spit dries by then. C'mon, is it going to kill you to buy wrapping paper, Scotch tape and some ribbon? OK, I'll let you slide with those press-on pre-made bows.
I need to address holiday food. I realize most of us are stretched way too thin this time of year, but would you rather receive some home-baked brownies or a basket of Hickory Farm summer sausage delivered by the UPS guy? I'm betting brownies, even though the cute UPS guy still wears those brown shorts well into December.
If you must give food or bring it as a gift to the hostess of a holiday party, avoid bringing the ultimate in lazy cuisine, the much maligned fruitcake. You can do better than that. Did you know that, according to a 1991 Harper's index, fruitcake has the same density as mahogany? I checked the FAQ page of a Web site that sells fruitcakes. One question asks, "How long does the DeLuxe (fruitcake) last?" Their answer: "Oh, about 10 minutes after it's unwrapped." Har har har. We all know the real answer: About 900 years.
Now, let's discuss Christmas carols. Are we so strapped for time we can't sing all three verses of "Silent Night?" Feel free, however, to stop after one verse of "Grandma Got Run Over By a Reindeer." Sometimes, lazy is good.
You can hear Mike Morin weekdays from 5 to 10 a.m. on "New Hampshire in the Morning" on 95.7 WZID-FM. Contact him at Heymikey@aol.com.