The Trump effect: trade
NH exporters try to gauge next administration's effect on their business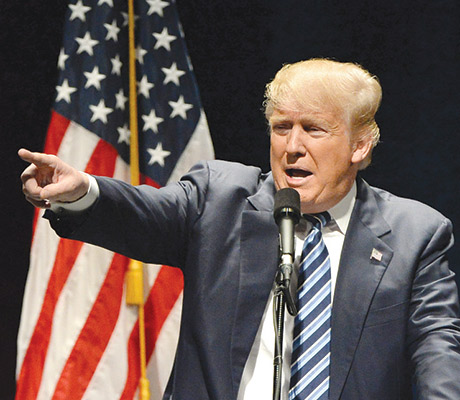 Welch Manufacturing Technologies exports products to Canada that are used to sharpen snowmobile runners. And since Canada is New Hampshire's largest trading partner, the idea that President-elect Donald Trump wants to renegotiate the North Atlantic Free Trade Agreement is cause for concern for Glen Welch, owner of the Laconia toolmaker.
"NAFTA works in our favor," he said, noting how easy it is to trade there, with no tariffs and few regulations.
On the other hand, Welch also makes tools for the aerospace and auto industries, and he faces tough competition from cheaper imports from Latin America and Mexico. Noting that companies seem to get special tax breaks for moving operations out of the country, he wouldn't have a problem of imposing tariffs there. "That will mean more jobs here, which will help grow our infrastructure," he said.
Trump's tough talk on trade makes it all seem simple: renegotiate and perhaps withdraw from NAFTA – "the worst trade deal ever signed in this country"; scrap the Trans-Pacific Partnership, which special interests are using to "rape" our country; and threaten to, and perhaps impose, tariffs, especially on products from China and Mexico. Without imports, there will be more manufacturing jobs in the United States, is the reasoning.
But nothing about trade policy is simple, and how that policy might affect the economy in New Hampshire is even more complex.
New Hampshire exported $4 billion worth of goods last year, about 5.5 percent less than last year, but up nearly 14 percent from 2013. (Preliminary numbers show that exports in 2016 are slightly ahead of last year's pace as of September.)
That's still less than half of what New Hampshire imports – $9.3 billion – but the import numbers have been falling faster than export numbers have been rising. Last year, imports dropped by 17 percent. Exports contribute roughly 5.5 percent to the state's $71.6 billion gross domestic product.
'Wait and see'
But does trade create or destroy jobs? No one really knows. Critics on the left and right often point to the large number of manufacturing jobs New Hampshire has lost since NAFTA went into effect in 1994, but if you break it out by year, it's no more than 1,100. Other figures suggest that exports support at least 18,500 jobs a year. (Two Plymouth State University economists recently posted a blog on the NH Division of Economic Development's website that credits trade for 184,000 jobs in total, or a fifth of our workforce.)
It's unclear how our current trade policies have affected all this, or how Trump's policies would alter it. But it is clear the state's three top trading partners all could be affected by Trump's proposals.
The top two, Canada and Mexico, are partners in NAFTA, and China has been specifically targeted by Trump as a currency manipulator. Trump has also criticized deals with South Korea, saying it costs American jobs (New Hampshire exports to South Korea have more than tripled this year from 2015.) Exports to Hong Kong might be set back with the ditching of the TPP. Trade with Germany, France and other European nations may be affected by the failure of the Transatlantic Trade and Investment Partnership. Germany – the seventh largest importer of New Hampshire goods and fourth-largest exporter of goods to the Granite State – has given up on such a deal, saying it was unrealistic under a Trump administration.
Tariffs could affect all of our trading partners, but no one knows how. The tariffs proposals, for instance, range from a 20 percent tax on all imported goods, to a 45 percent retaliatory tariff on Chinese imports. But Trump has also said they may never be imposed.
"The 45 percent tariff is a threat. It was not a tax, it was a threat. It will be a tax if they don't behave," Trump explained during a Republican primary debate in Miami.
"The watchword is that we have to wait and see," said Ron Cook, a Concord attorney who advises high-tech firms on trade. "The rhetoric preceding this election was very threatening to trade. But up to this point, you never know. It's nothing specific."
"I see a lot of negatives," said Janet Kwiatkowski, president of MAE Consulting, a domestic and international regulatory firm based in Deerfield. "The only positive thing is that maybe Trump is just bluster and banter, and he surrounds himself with people who are reasonable."
Trump's transition team seems to be taking the president-elect's rhetoric seriously, according to a report on CNN based on a transition memo.
"The Trump trade plan breaks with the globalist wings of both the Republican and Democratic parties," CNN quotes the document, which, it notes, is for discussion purposes only. "The Trump administration will reverse decades of conciliatory trade policy. New trade agreements will be negotiated that provide for the interests of U.S. workers and companies first."
The NAFTA effect
On day one, Trump said he would begin NAFTA reform, studying the ramifications of withdrawing from the treaty and what would be required legislatively to do so.
He said he would notify Mexico and Canada that he wants amendments on currency manipulation, lumber, country of origin labeling and environmental and safety standards. In 200 days, Trump said, he would consider formerly withdrawing from NAFTA and pursue bilateral trade negotiations with each country.
Canada is the state's biggest trading partner, with $546 million in exports and $4.9 billion in imports in 2015, even after a substantial drop in trade in 2015, primarily because of currency concerns. This is true nationwide, with $2 billion in goods and services crossing the border on a daily basis – four times what it was before the start of NAFTA.
"Canada buys more from the U.S. than China, Japan and Britain and almost Germany," David Alward, Canada's Boston-based consul general told NH Business Review. "Trade is not a four-letter word. Trade has benefited both our countries."
But Canada has not just focused on trade with the United States. It just signed a comprehensive trade agreement with the European Union, and more goods might flow in that direction if the United States makes it more difficult to trade here.
Right now, currency headwinds caused by a strong U.S. dollar have made trade with Canada more difficult. In order to make up for the currency shortfall, for instance, Welch Manufacturing Technologies has had to raise the price of its goods by 30 percent in Canada, which dampens demands.
"We just finished trade shows in New York, Michigan and Toronto, and we sold less product in Toronto," Welch said. "We used to make more money with Canadian products. Canadians wanted to buy from us, but they were frustrated that their money was devaluating."
While NAFTA is valuable to New Hampshire exporters when it comes to trade north of the border, with Mexico it doesn't seem to be.
Tom Blais, president of Rokon International Inc., a company that manufactures off-road motorcycles in Rochester, has been on trade missions to Mexico. "We had phenomenal meetings that led nowhere," he said. It seems that there are these ridiculous barriers to that country behind the NAFTA screen."
So renegotiating NAFTA might be a good thing, if it leaves things intact with Canada and changes things in Mexico. Blais said he thinks Trump might do that. After all, his rhetoric has primarily been aimed at Mexico.
"He has actual business experience," Blais said. "We didn't have that with Bush and Clinton. So my hope is that he knows what to do to retain jobs."
But unlike with Canada, New Hampshire has a slight trade surplus with Mexico. The state exported $503 million in goods to Mexico in 2015, 12 percent more than 2014 and 23 percent more than 2013, though so far it's down 10 percent this year. It imported $489 million in Mexican goods in 2015, down 15 percent from 2014.
Trade with China
China sells a lot of goods to New Hampshire than Mexico – $1.15 billion, or 12 percent of our imports in 2015, up 3.5 percent from the previous year. The state exports $282 million in goods to China.
Mexican President Enrique Peña Nieto with then candidate Donald Trump. Unlike with Canada, New Hampshire has a slight trade surplus with Mexico, exporting $503 million in goods in 2015, though that is down 10 percent this year.
In his campaign, and in the transition memo, Trump said he would also submit legislation on currency manipulation, primarily aimed at China, threatening tariffs as high as 45 percent.
The demise of the TPP might indirectly affect Chinese trade as well, and Trump wouldn't have to do much to kill it. Lawmakers in both parties declared it dead right after the election. China, not part of the TPP, is trying to set up its own trade agreement with Asia-Pacific nations that would freeze out the United States.
"That's the concern," said Kwiatkowski. "If the U.S. pulls back, it leaves a void, and you get China, and maybe Russia, a number of major players stepping in. That's why we cannot retract into this nationalist policy. The United States would abdicate its standing in the financial world. China will absolutely take advantage of it, and all eyes would go to China rather than us."
That's also the concern of Greg Knight, CEO of GT Advanced Technologies, a Merrimack company – recently emerged from bankruptcy – that sells equipment to manufacturers for the production of polysilicon for use in solar cells. Most of its customers are in China and other Asian countries.
The U.S. has already imposed a tariff on solar cells from China, which has resulted in a retaliatory tariff against polysilicon. The result, Knight said, was that many more jobs were lost than protected. "If Trump were serious about bringing jobs into the U.S., he would roll back that tariff," Knight said. "It's completely counterproductive."
Fortunately, there was no tariff imposed on GTAT's equipment, but if the trade war escalates under Trump, it could be, and that "would shut us down," Knight said,
Comptus, a company in Thornton that makes sensors for windmills, just picked up its first customer in China. The company increased its international business from 6 percent to 19.1 percent in the last three years, according to its president, Andrew White.
White was already worried what a Trump administration would mean for the renewable energy business, but "his aggressive terms about international trade is a serious risk for our company."
Kwiatkowski said that some of her clients have already felt an effect. As they rushed to close some deals before Trump took office, "they are finding those within other countries hesitate to move forward because of the uncertainty. They are saying, 'Let's just wait and see what will happen.'"
It is the same among state economic development officials as well.
"In this time of transition, it's too early to speculate on potential changes to national trade policies and impacts on New Hampshire businesses," said Jeff Rose, commissioner of the state Department of Resources and Economic Development.
But whatever happens, the trading must go on, he said.
"Regardless of any changes in international trade policy, the Office of International Commerce has programs and partnerships to help New Hampshire businesses maintain their international competitiveness."
This is the first in a series of articles on the effects potential policies of the incoming Trump administration may have on New Hampshire's businesses and economy.
Bob Sanders can be reached at bsanders@nhbr.com.