The state of Concord's business climate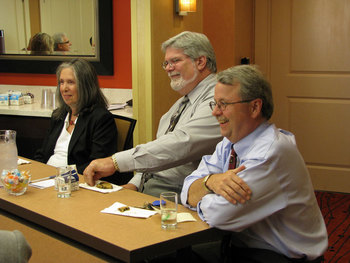 NHBR's editors recently met with Concord area businesspeople at the new Residence Inn by Marriott to get their take on how the area's economy is faring and what their expectations are for the future.The participants were:
• Steve Duprey, The Duprey Companies and owner of the Residence Inn by Marriott
• Tim Sink, president, Greater Concord Chamber of Commerce
• Mike Green, president and chief executive, Concord Hospital
• Pam Peterson, owner, Gondwana
• Paul Rizzi, incoming chief executive, Merrimack County Savings Bank
• Steve Heavener, executive director, Capital Regional Development Council
• Lynn Kilchenstein, president, New Hampshire Technical Institute
• Attorney Meg Nelson, Sulloway & Hollis
• Garry Miller, senior business development executive, Unitil Energy Systems Inc.How are things going economically in Concord?
Paul Rizzi: We've been through obviously a difficult time, but we're seeing some good trends. We're seeing and hearing some good moods, and I think we are seeing signs – and this is both individual and business customers – of less struggling, though the improvement the trend is very gradual.
We're also seeing businesses activity again, both individual and retail. In fact, I was a bit surprised that our commercial loan portfolio hit a milestone – it's larger than it has ever been, and the bank is larger than it's ever been. So we are experiencing growth both on the deposit and the asset side.
We are certainly not out of the woods from our perspective, but things certainly are improving.
Steve Heavener: Let me give this more of a tactical approach. CRDC is more of an enhancement lender, meaning every loan that we make we get brought into by a bank. So by definition the bank is making a determination that it likes this customer, but isn't quite ready to loan them 75 or 80 percent based on the deal, value of the asset or the strength of the company. So all the loans that we make there is kind of a risk implied.
The fiscal year that ended last Sept. 30, we loaned about $6.7 million to 13 companies. This year, starting with Oct. 1, we are tracking 14 loans with only a total of $4 million. Most of the lending we do is real estate-based, but we have changed some of our products, making it more responsive to the market where we have been dealing with more capital loans.
We also are finding that the deals take longer to do. They are a lot more labor-intensive because the appraisals aren't where they used to be. In our portfolio, we have about 140 loans at about $40 million. Of those 140 loans, eight to 10 of them are in some level of struggle – either default or deferrals. So there's more loan servicing activity too.
What I'm saying is our staff is working a lot harder for less money. The new deals that we are doing are substantially smaller. We are finding it's a lot harder to close the deal. There is activity but I don't anticipate it will be better before 2011.
Mike Green: The challenge with Concord is we don't have a diverse economy. We have state government, which is by far the largest employer. Concord Hospital is the second-largest employer, the largest private employer with 3,000 employees.
I've talked to people who have lived through multiple recessionary cycles, and no one remembers a time when state government has shrunk the way the state government has shrunk this time. Because we don't have a particularly diverse economy I think it has affected this community.
I'm optimistic, but I think the growth from this point forward is going to be tethered to whether or not the state can find a way out of its economic doldrums.
Steve Duprey: I think Mike and Paul hit the nail on the head. As the state government grows, or not, so does business.
In the hotel business, a large percentage of our business that is for more than a single night is people who are here on government contracts. For example, the auditing team for the state of New Hampshire, or consultant teams doing a project with Health and Human Services.
As the government has had to deal with its revenue and expense issues they've cut back on outside consultants as well as state employees. And most of those cuts haven't come to the local office in North Conway – they've come here to Concord.
In the last 30 years, I can't really remember the local government shrinking, and it's shrinking now. That is kind of rippling though to the local retail.
Pam, you are in retail. Do you see the same kind of situation?
Pam Peterson: I would say since the fourth quarter of 2008 and certainly through 2009 it has been very challenging for larger and smaller retailers downtown.
We have been able to hold our own, but in 2009 in the Concord downtown there was a net of seven new businesses opening. There were 15 overall that closed. What they've found is the stores that are opening are more on the side streets and upper stories. They aren't filling the vacant storefronts on the street level of Main Street because the rents are high.
In the small-retail climate, as well as the restaurants downtown, we are totally dependent on disposable incomes, and when you've had an unemployment rate like we have for the last year and half, it really affects us.
I think my business has fared fairly well and we are actually growing this year. But I think that in part has to do with us being in business for 15 years. I worry more about the businesses that haven't had a chance to build a customer base over the time that we have. Those companies that are in their first one to four years, where people are just getting to know them, are most vulnerable.
Meg Nelson: I walked from Red River Theatre up Main Street the other day, and I was really struck by how many empty storefronts there are. I think it's the most that I can recall from the 30 years I've been here.
I think from our perspective as a law firm, particularly my partners and colleagues who are doing transactional work, are seeing falling numbers. They are saying there is money flowing, but to put a deal together takes an extreme amount of time.
And there are still a lot of uncertainties and a lot more effort involved in getting the transaction to go ahead. We are still a long way from a full-fledged recovery.
MG: It's really sort of perverse, because I don't think anyone is this room is diametrically opposed to smaller state government. We're just feeling the burden of it. If state government is going to stay small, and this is going to be permanent, than we need to adjust to it.
But if that's to happen the state has to figure out how they are going to not do what they have historically done. And to not do what they have been obligated to do by the federal government. So it's a real conundrum right now.
Lynn Kilchenstein: State support is also down for public colleges. At NHTI, students cover two-thirds of our costs, and the state covers 30 percent. In the meantime, our enrollment is up 14 percent in the fall, so we're educating more students on a reduced budget. We are still trying to provide excellence in education, and students are coming to us in droves, but the model is basically unsustainable. It takes money to educate students.
I do want to add that we could shift our balance and make an effort to bring in students from out of state, but we wouldn't be serving our mission as a community college.
SD: Concord is a benefit and a burden. Because Concord has so much state-owned property, that brings our taxes way up. And we have such a disproportionate responsibility to provide services. The State Prison is here, and when people transition out of prison it's usually here. Same is true with the psychiatric hospital. People who come down from the Mount Washington Valley tend not to go back because they don't have the support services. So there is a benefit to having state government but there is also a cost.
Tim Sink: Yes, we have some vacancies in downtown and businesses are struggling, but at 5.9 percent we have the lowest unemployment rate in New England and one of the lowest in the country. And while I have some concerns going forward, in looking at the rest of New England and around the country, we're in comparatively good shape.
Gary, at Unitil you're providing power to these businesses. What do the numbers look like from your end?
Gary Miller: It's been down the last few years. We have businesses closing, some businesses moving out. It's been heading in the wrong direction. On the flip side, we are becoming far more involved in efficiency projects and supporting the businesses that are here and their new initiatives, such as wind power, solar power, looking at co-generation opportunities. Most of my time right now is helping organizations look at those opportunities and how to develop them more effectively.
MG: When we talk about the challenges we face, we're talking really in relative terms compared to what we've been through in the past. But talking from an absolute standpoint, when compared to other communities, we are very strong here. I'm openly very optimistic about this community and where this community is going.
I think that from the health-care industry perspective, we are extremely well positioned for health-care reform. We aren't necessarily anticipating great growth, but we are anticipating tremendous change in how health care is going to be delivered.
SH: From a resource point of view, we're a collaborative state which is the key to how our success has happened. There is a tremendous amount of collaborative energy in Concord that I don't necessarily see in some of the other markets we work in like Claremont. I think there are still some opportunities there, but I think there's a strong history of collaborative work to get things done.
SD: I think Concord is the cultural capital of New Hampshire. We have the Capitol Center for the Arts, Red River Theatres, which is the only independent film theater in New England, the Museum of New Hampshire History, the League of New Hampshire Craftsmen, the Concord Community Music School, the largest non-urban music school in the country. We have the McAuliffe Center.
In the meeting business, a lot of people think they want their meetings to be in Manchester, but more and more people are coming to Concord because that's where the government is. It's a heck of a lot easier to get someone to come down from Laconia or Hanover to Concord than it is to Manchester.
If you are an organization that does business with the state, why not have your meeting here in the capital? The Grappone Conference Center has had the best two back-to-back years that we've had in 10 years of existence.
TS: As Steve has mentioned, Concord is emerging as a cultural center, a study commissioned a few years back measured the economy and said that over 30 percent of new job creation could be defined in one way or another as arts-related. But it goes beyond art – it's the growth of our economy, so much so that it's the number one priority for the chamber.
PP: In terms of the changing image of downtown Concord, the buzzword is sustainability. Everyone is looking for sustainability projects for the future, protecting the earth, sustainable business practices and services.
Right here in Concord, we have a dozen green businesses that have formed the Green Concord coalition. We expect that there will be a lot more businesses popping up. I think that this is the way of the future, and I think there is a consciousness among the public that they want to support those kinds of entities that are looking at social issues. "Green" has become a word that is not only eco-consciousness but social-consciousness. That's kind of what Green Concord is about.
PR: I want to sort of piggyback on what Tim said. I totally believe and agree that Concord is a special place.
We have had a lot less impact in this economic downturn than other places. When I said that our business customers are struggling less, the reason is that they made the adjustment that they needed to make in response to what happened.
For a long time, the response of small businesses in Concord, as probably everywhere else, was that this is going to pass and the employee base is like a family so we're going to keep them employed. The adjustments that they finally made, in many in most cases I would say, were reducing the hours of employment or the number of employees. That's the reality. That's how their businesses turned themselves around so they are losing less or even making money.
So I guess what I want to say is that the recovery we all read about is a jobless recovery, and that is still a problem for us here in Concord. In order to recover, there needs to be job creation and that's not going to happen soon.
GM: I live in Salem while I work here. Through my position with Unitil I get to travel throughout the territories we have. I since have found it was probably one of the best things in my life to be involved with this community. In the 11 years I've worked here, everything I've seen is collaboration. It's one of the biggest reasons the community is so successful. There isn't anything that happens in this area in a vacuum – everything is a collaborative event.
A project comes to town and everyone is engaged. Everyone comes to the table and everyone is pulled in from the beginning and they decide, "How we can make this the best it can be?"
TS: What's really unique about this community is it has a small feel to it. So it's not difficult for someone like Steve Duprey, for example, to pick up the phone and talk to different people. The atmosphere of collaboration is great.
I want to talk briefly about, and I know it sounds corny, about the quality of life. This is a great place to live and work. We deal with informal businesses, and CEOs of larger corporations. I always ask the question why are you in Concord, why did you choose here? Many of them did not come from here. But many of them like the quality of life here. They've either visited or their parents have a house up on the lake or they like skiing. They came here because they like the community. Good schools, good quality of life and a low crime rate.
Maybe if we could, look a little bit ahead now.
TS: I'd like to be optimistic. I think there are some great opportunities for development in Concord that will make major improvements from the way that the city if viewed from I-93. We're a tight community, but you wouldn't know it unless you got off the highway.
There's a strip of land called the Opportunity Corridor. There are areas that are ripe for development depending on what happens with Interstate 93. But I think with creative developers and a little bit of turnover in the economy we could really change the image of Concord from the highway and make a fabulous presentation of some of the gateway areas. I'm thinking about exit 14 particularly. There's a real effort to get activity with the river. There's a very large dock system that provides access to kayaking, motorboats, things of that nature. I know in terms of my sons, there's a great place to go swimming. You can see it from the interstate, there's usually a ton of people out there swimming jumping off the banks. It's becoming much more recreational.
SH: Part of our challenge in Concord is there isn't a lot of land left to develop. You have the Garden Falls area that I think has some future potential for a business park. Loudon Road, across from the mall, there's a project kind of in the works.
I think we are nearing capacity, so we have to reuse things, like the downtown redevelopment and Steve Duprey's South Main Street project. I think South Main Street has a lot of reused potential.
Other than some of the stuff we are trying to do, I don't think you'll see a fundamental visual dramatic change throughout the city. There might be some pockets of success. Business growth – I still think it won't be until late 2011, early 2012 until we see activity increase, maybe even later than that.
So it will be probably five years until we see new private sector real estate development. I think if you look at the real estate development, including Steve's project, there is some level of subsidy involved. It's not private-driven deals. The deals that are happening are not totally private, there has to be some level of subsidy, and I think that trend will continue.
MG: I think five years from now you'll start to see something really pop in Concord. I think because of the South Main Street project, there will be other projects on South Main Street, and it will really begin to hum, even more than it already hums, because of the number of people that will be employed in that area.
I am really optimistic that the city will begin construction of Langley Parkway North. That will, I think, help and contribute to the continued growth of the health-care sector in Concord.
But one of the challenges we face is where to build the property. I could go out tomorrow and build probably another 10,000 to 20,000-square-foot office building, but I can't find space in proximity to where I want to. That is a challenge in this community.
SD: Since we started the project with the Concord Hospital, we've been approached by a nonprofit agency that wants to move downtown because they want their prominence to be closer to the state capital. And they want 30,000 square feet – that's a big tenant.
If we can get five or six of those and each brings 50 to 100 employees, we'd put 2,000 new employees downtown in a day. But you have to find a site. And while construction is 10 to 15 percent cheaper than it was at the height, that's still not cheap enough compared to what someone could buy an office building for up on Regional Drive. There's a 15 to 18 percent statewide vacancy rate, and you have to be able to compete with those rates.
PR: I think there's no question we're going to see the medical community grow. I think there's a lot of potential for the arts community to grow. The downtown community will grow. I think the one thing that remains to be figured out is, job creation, creating new businesses. That seems to be the thing we have the least handle on. I think there needs to be some thought on how we can make that be a positive in the scheme of things.
LK: I agree with Paul. In order to support the arts and hospitality we have to have businesses. I'm not so sure when it will turn around. I have a feeling that everything will be sort of recast over the next five years, both nationally and internationally. I'm very concerned about the entrepreneurial part. It's very hard to start a new business now. You can get help if you have one, but starting one is still difficult.
However, I am also optimistic by nature and skeptical at the same time. And I recently found that 20 of our 21 technology graduates from 2010 are holding jobs in New Hampshire – IT jobs, in their fields. Some of them have prior degrees and have come back to us and some of them are just starting out. That's hopeful. So that's a good compliment.
MG: I think one of the success factors for this region five years from now isn't just about Concord. It's that Concord is going to be much more of a center for businesses that work around us, particularly to the north, the east and the west. There will be much more of an attractive community for people shopping, dining and enjoying the arts.
MN: I echo what many people have said. It's going to take a lot of all these things to come together. But I think the collaboration and the many different elements of our economy will allow us to weather the storm and be successful.
And I do think that technology, which is something we could probably talk about independently for probably two hours, is going to be such a transformative factor. I know it's transformed how we practice law, where we practice law, how we do it. I think it does give a lot of opportunities to young businesses and entrepreneurs.
I think having access to credit and being able to finance their operations is going to be a good challenge, but we have so many positive elements that should make people want to settle here in Concord, and I think the long-term prospects will be very positive.
PP: I don't know exactly what's going to happen or how many other people in the room know it's in the works. The Main Street Concord has consultants working on changing the traffic configuration on Main Street. They're looking at how it doesn't work well in terms of traffic movement, the angle parking being cumbersome. I think Manchester has changed that configuration and are seeing really good results in terms of traffic flow. That is kind of what Concord is looking at as well for downtown.
SD: Main Street Concord, along with Concord 20/20, are undertaking a process of how we can reconfigure Main Street's traffic to make it more user-friendly. There's a perception among the old school merchants which is the best thing you can do is have more cars driving by. New merchants say it's not the number of cars going by, it's the number of people coming through the door.
Main Street is interviewing every merchant, store-to-store, to find out what their concerns are and what could make business better. The hope is that from this will come an actual plan, which will improve or increase the actual number of people going into stores.
A little example – in Portsmouth, there are lots of sidewalk cafes. In Concord, there's no room because our sidewalks aren't wide enough. So I think it has great promise. Best case is three or four years out. Worst case, more.
PP: In terms of positive things happening downtown, in terms of the creative arts, they're bringing in, there's the arts market, the theater, and so on. That will be very inspiring for the people of downtown. I think as the economy comes back, which I again don't see until at least 2011, and I would agree with everyone here that it is a very slow process, but I think in 2011 we are really going to see those street-level businesses open again. We're going to see entrepreneurs come in. I'm optimistic.