The recipe for opening a successful restaurant
As two new Portsmouth eateries exemplify, it takes confidence, location and money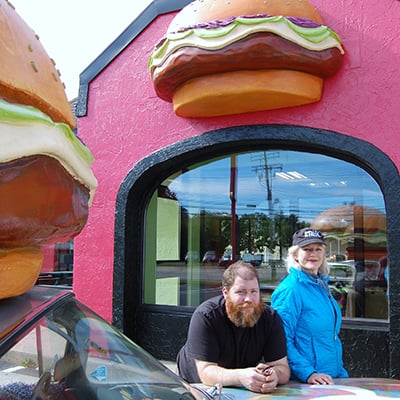 A sign of the New Hampshire restaurant industry's health might be found on Lafayette Road in Portsmouth, where not one but two highly original venues have opened up in former franchise restaurant locations. That is no small achievement in an industry with a failure rate of 30 percent in the first year, and 30 more percent in the second year, according to the National Restaurant Association.
"You need to have solid egos to keep putting them out there," said Michelle Lozuaway, who owns the newly opened Cemita Shack with her husband and chef, Josh Lanahan. "You wouldn't do this without that sort of confidence because this is a business that you don't go into lightly."
Lozuaway and Lanahan gained that confidence because they also own Street, the highly successful Portsmouth restaurant that opened in 2011 and offers a diverse menu of international "street" food. One of the most popular dishes at Street is the Cemita, a Mexican sandwich that comes with juicy fried chicken thigh or veggie burger, avocado, Mexican fried cheese, cilantro, chipotle mayo and pickled onion on a sesame seed bun.
The Cemita Shack was a former Taco Bell that closed in August 2012. Except for the distinctive frame, the building has been completely transformed. The same can be said for Vida Cantina, a modern Mexican cuisine venue that opened earlier this year in a former Friendly's restaurant.
Vida Cantina was the latest venture for the Seacoast region's serial culinary entrepreneur Jay McSharry, who says the new restaurant (which he owns with Joel Harris) is developing its own identity and solid reputation.
But even a veteran like McSharry, who was named the Small Business Administration's 2013 Small Business Person of the Year in New Hampshire, says that continuing to be successful is not easy between escalating commodity prices and the cost of opening up new venues.
"It's gotten more difficult. There are more city regulations, more demands and more expenses," said McSharry, owner of Jumpin' Jay's Fish Cafe and co-owner of Moxy in Portsmouth as well as the Dos Amigos Burritos restaurants in Portsmouth, Dover, Rochester, Concord and Manchester. "We had planned on $90,000 for (Vida Cantina) renovations, and it ended up costing more $210,000."
But McSharry said he has seen revenue growth in each of his ventures over the past five years, and has heard from fellow restaurateurs that good summer weather led to a solid season for the industry.
The restaurant industry in New Hampshire is big. According to a study by the National Restaurant Association, there are around 3,000 restaurants in the state, which employ about 61,000 workers – about 10 percent of the state's workforce and a number that is expected to grow by 8 percent over the next decade. The association estimated that in 2013, the state's restaurant industry would generate an estimated $2.3 billion in sales.
According to preliminary state estimates, the state collected almost $248 million in rooms and meals taxes in 2012-2013, up 3.5 percent from the previous year.
Costly ventures
Economic concerns aside, McSharry said one thing remains constant. "People like to go out to eat," he said.
And they are also becoming more diverse in their restaurant habits. Cemita Shack was founded by the same people who started with an adventurous type of diner in a remote location – Fresh Local by Great Bay – and the Cemita Shack food will be made on the spot with fresh and as many local ingredients as possible.
Likewise, Vida Cantina has taken a chef-centered approach to shaking up traditional Mexican cuisine that also has a fresh and local approach. McSharry says Vida Cantina matches culinary creativity with a goal of "reasonable prices."
Lozuaway says Cemita Shack will also have a diverse, smartly-priced menu. And the owners want to shake up notions of what fast food can be. "It's a fast-food-to-order model order we are taking up," Lozuaway said.
But change can be costly. Lozuaway said the investment was "significant" for massive interior and exterior renovations, all new kitchen equipment, original artwork and a unique cemita bun sign designed and installed by Keene Signworx. "You can't even think of opening up a new restaurant unless you have $200,000," she said.
There are around 3,000 restaurants in New Hampshire, employing about 61,000 workers
But even with small profit margins that require higher volumes to meet, it remains an attractive industry. Mike Somers, president and CEO of the New Hampshire Lodging and Restaurant Association, said he has generally positive feedback from members across the state about the health of the industry.
"I think there's more optimism overall about the general economy," Somers said. "We are a weather-dependent industry, and we had a great summer and spectacular fall." Somers added there continues to be growth in the "usual suspect" areas of the state's southern tier and that more money is being invested. "We are seeing a lot of serious operations," he said.
Of course, location does matter. As they did with Street, Lozuaway and Lanahan intentionally stayed away from the crowded and more lease-expensive downtown Portsmouth district.
But due to a quirk in the lease, the 99 Restaurant next door chose not to allow Cemita Shack to get a liquor license. But Lanahan said they have adjusted and now offer a BYOB option, and will have a wide range of mixes and juices ready for customers to add to their liquor.
One more nod to location. Cemita Shack and Vida Cantina are located in the totally transformed Southgate Plaza area that will soon have a 10-theater cinema complex.