The Pease legacy
25 years later, former air base's redevelopment is a promise kept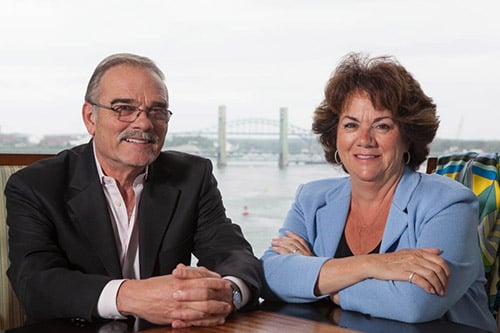 By almost any measure, the transformation of the former Pease Air Force Base in Portsmouth into the globally recognized Pease International Tradeport has been a success that exceeded even the most optimistic hopes of its early supporters.
In retrospect, the over 25-year journey – which has resulted in 250 companies, with a total of nearly 10,000 employees, setting up shop at the tradeport – might be stamped as inevitable, except that it was anything but. In fact, the early chapters of the Pease International Tradeport story were exceedingly modest, given it had the mission to become a powerful economic development engine for the Seacoast.
By the spring of 1991, the Pease Development Authority was created by the NH Legislature. It had a seven-member board and bonding authority of up to $250 million. It would be another year, in April 1992, before the PDA gained full control of 1,703 acres through a lease agreement with the Air Force (the final 1,300 acres were transferred in 1997).
When George Bald came on board as Pease's economic development director in 1994, not a single piece of property had been leased or a job created and very little demolition of hundreds of acres of decrepit property had taken place. Even when he was Rochester's city manager before coming to the PDA, Bald wondered why more wasn't being done with the massive property.
As he came to find out, while the location for a budding commercial and industrial park may have been attractive and the potential was strong, redeveloping a former military base requires patience, patience, and more patience.
"I saw firsthand how difficult it was to develop a former military base," he said. For the first few years, the only source of income for the PDA was through the former military golf course that the Air Force had turned over to the PDA.
First signs of life
Bald has a unique perspective on the Pease legacy. In-between two lengthy stints as commissioner of the NH Department of Resources and Economic Development, he served as executive director of the PDA. In early 2015, he returned as chair of the PDA board.
"When I got here, it didn't take long to see why it would take a while," Bald said. "It wasn't very attractive. So many of the buildings couldn't be renovated because there was no heating, and wiring was obsolete. Almost every building wasn't up to code because the Air Force didn't have code requirements."
According to an economic study from 2015 by Laconia-based Applied Economic Research, the closing of the Air Force base meant the loss of 3,700 military and 400 civilian jobs. The report quotes one of the last departing Air Force members who said in early 1991 that Pease "feels like a ghost town. It's dead."
In fact, the first signs of life came slowly.
One of the first change came when the PDA dismantled the military guard post at the only entrance off the Spaulding Turnpike (a second entrance was later created from Route 33 along with the transportation center and park-and-ride location).
It was a minor step, but Bald believes it was significant. "People wondered what we were doing, but we rebuilt the entrance in part because we wanted people driving in to see that what was coming would be nice," Bald said.
One of the PDA's original ideas was to maintain as much of the natural beauty of the area as possible, and that led to strict zoning planning with sidewalks and natural setbacks.
By 1995, the PDA secured critical federal grants to begin demolishing old buildings.
"Taking down all the base housing was the easiest, because there were no environmental concerns," Bald said. But potential developers had to deal with Federal Aviation Administration use regulations, and the reality that land could only be leased, not bought, as stipulated in the PDA-Air Force lease agreement.
A 'cow pasture'
Starting in 1992, negotiations with Lonza Biologics had been ongoing and were nearing a successful conclusion. Chad Kageleiry of Summit Development Corp. of Dover became the first developer to take the plunge in 1996.
"They came to us and asked for a long-term lease with low rates. We agreed and began renovations," Bald said.
He remembered the joy and relief that the former windowless Air Force data center Force was turned into office space with windows on New Hampshire Avenue.
Redhook Brewery soon followed, opening its complex in 1997. "But not everyone was like Lonza, a business who wanted to build their own buildings. And banks were skeptical about lending money to developers to build on land they didn't own," Bald said.
Enter the Portsmouth development company Two International Group, which decided to take am "If we build it, they will come" gamble.
The firm built three office complexes by 1999, initially on spec and without any tenant agreements. At the start, it wasn't an easy sell.
New buildings can be seen in 2005 at the former Pease Air Force Base. (AP Photo/Jim Cole)
Dan Plummer, president of Two International Group, said the state had yet to recover from the boom-and-bust collapse of the commercial development sector in the late 1980s-early 1990s. "When we started, everybody thought we were crazy," Plummer said.
His wife Renee, vice president of marketing, said many potential tenants saw old buildings and considered Pease "a cow pasture with no future."
But the "cow pasture" was soon filling up fast, because in reality the location was desirable (off the Spaulding Turnpike and a few minutes from Interstate 95) and there were only 600 acres open for commercial and industrial development – the rest was set aside for the airport, wetlands and natural resource protection, as well as the creation of 1,100-acre Great Bay National Wildlife Refuge.
Success formula
A combination of ingenuity and synchronicity also came into play, said Bald.
The former base motor pool was targeted for demolition until an imaginative PDA engineer saw that renovation might be a better option to draw an industrial tenant. Shortly after renovation began, Bald learned of a Massachusetts company that had almost decided on one spot for relocation but was willing to find out what Pease had to offer.
"Within 20 minutes of the visit, they were very interested, and that's how Ingersoll Rand ended up at Pease," Bald said. U.S. State Department visa and passport centers were located at Pease, courtesy of budget earmarks advocated by the late U.S. Sen. Warren Rudman.
PDA Executive Director David Mullen has been at Pease since 1998. By 2000, he said, Pease was touted as one of the most successful military base conversions in the country, even though it was far from fully developed. Mullen said he hosts both national and international officials eager to learn what they can about the Pease success formula.
One tour included a pair of Russian generals who were more than familiar with the former Strategic Air Command base's Cold War mission – and, much to Mullen's surprise, precise bomb bunker locations.
Dan Plummer said that once tenants began to locate at Pease, other developers began stepping up.
Two International Group has been Pease's largest developer, with 19 buildings and almost 900,000 square feet of office and industrial space.
Despite failed efforts to attract a major industrial client, such as Deutsche Airbus, Pease International Tradeport is home to businesses representing almost every economic sector – health care, education, hotel, restaurants, communications, technology, insurance, financial services, military, banking and engineering.
And, Mullen said, there has been synergy between companies, such as Lonza (by far the largest tenant at Pease) and Great Bay Community College (located at the spot of the former base hospital) in providing talent and special designed educational offerings for its workforce.
'A long marathon'
According to the Applied Economic Research study, wages paid to workers at Pease have grown from $208.8 million in 2002 to $583.1 million in 2015. The study said Pease's job creation effect has led to an increase of 31,000 jobs in the Seacoast region from 1991 through 2013. Though only a few acres remain to for development, Mullen believes that at full capacity Pease International Tradeport could be home to 12,000 employees.
Not all has been easy. "When it comes to the airport side, it will be a long marathon rather than a sprint," said Mullen about the challenge of drawing either major passenger or freight traffic to Pease in an era of intense airline volatility.
The base closure has also had a challenging environmental legacy. The Air Force identified 43 hazardous waste sites (most in remote areas), and more recently in 2014, the contamination of a now closed water well led to testing in 2015 of Pease tenants by the state Department of Health and Human Services.
As George Bald looks back, he said there was immense pressure on the PDA to act faster and do more. He remembers rumblings in the Portsmouth community – which had been economically hard-hit by the base closure – that the PDA's redevelopment plan was not working, and that perhaps the non-airport property should become the location for a regional supermall. Or that workforce housing should be built there.
"What was important is that the PDA board held firm to the mission of create a world-class business park that would lead to good, full-time jobs," Bald said.