The growth has been remarkable for Cityside Management
Real estate management firm's 300 employees manage properties throughout the U.S., and beyond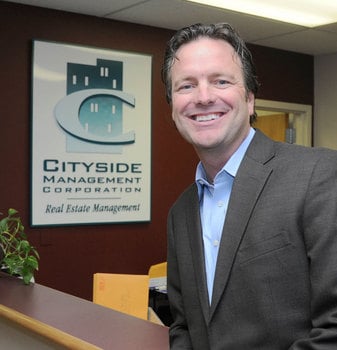 When Cityside Management Corp. was founded in 1998, it was a two-man company operating out of a shared office suite in Merrimack. As the company grew, so did the number of suites it came to occupy in the corporate office park, which, eventually, it took over entirely. Now the national company has outgrown that complex completely, preparing to move this summer to a 15,000-square-foot space on the top floor of a restored mill building in Manchester.
For Cityside, remarkable growth hasn't been limited just to its southern New Hampshire office. In shortly over a decade, the company — which provides everything from real estate brokerage and marketing to property management, improvement and maintenance — has grown to 300 employees and has managed and liquidated more than 500,000 properties in nearly every state of the nation.
In 1998, president and CEO Christopher Dolloff founded Cityside with the goal of building a company that would provide services for the U.S. Department of Housing and Urban Development. When he set out, Dolloff had 10 years of experience working in property management, during which time he'd established key contacts within HUD.
Leveraging his experience and contacts, Dolloff bid for and won Cityside's first round of three contracts in New York state in its first year of business. For a company in its infancy without a proven track record, winning those initial government contracts was huge.
"I had a good relationship with one of the contracting officers that handled New York state, and he knew that I had the experience," said Dolloff. "That gave me the foot in the door."
The company set up three offices in New York and hired about 20 employees to manage its field operations.
"That gave me the opportunity to build experience with this new entity that I had formed," said Dolloff. "The company was successful right away with those contracts."
When a homebuyer defaults on a home backed by an FHA loan, the lending bank forecloses on the property and conveys it back to HUD for reselling. This is where Cityside comes in to repair the property, put it back on the market and complete the sale. It takes about six months on average per property to complete the process.
In 2004, Cityside won a second round of HUD contracts in two territories: Louisiana and Arkansas — which comprise one territory — and New England. Its employee base more than doubled.
"That was a big jump in size for Cityside," said Dolloff.
Managing 12,000 homes
But the really big jump would come in 2010, when the company completed an arduous screening process to bid on several new regions throughout the country.
Dolloff was at a Memorial Day barbecue when he found out Cityside had won seven contracts in areas that covered 37 states and two U.S. territories, Puerto Rico and Guam.
"I was actually scared when I saw the number of contracts we were being awarded," said Dolloff, who set right to work hiring literally hundreds of employees in the 60-day ramp-up period preceding the property conveyance. "To put it in perspective, we went from approximately 50 employees to what is now 300 employees, and that growth happened almost overnight."
Those employees fill a variety of roles within the company, from managers and accountants to property inspectors and contractors. When it comes to hiring, said Dolloff, "my philosophy has always been to hire for attitude, train for skill."
Currently, the company — which also has contracts with the New Hampshire Department of Transportation and private clients — manages about 12,000 single-family homes nationally. And in addition to its New Hampshire headquarters, it also has offices in California, Michigan, Louisiana, and North Carolina.
"We're essentially a nationwide company," said Dolloff, who travels weekly to Cityside's field offices and the HUD regional offices. "We have the ability to provide services in any one of the states with the office locations that we now have."
Giving back is also important to the 13-year-old company, which recently donated $30,000 to Families in Transition, a Manchester-based nonprofit serving the homeless in the Queen City and Concord areas.
As for the company's rapid success, "I think it has to do with Chris's vision and determination to really grow that business and make it a successful model," said Mike Gonzalez, vice president of commercial banking at Citizens Bank.
In the future, Dolloff hopes to expand Cityside's reach to two other governmental agencies that require real estate services: the departments of Homeland Security and Veterans Affairs.
"When you're a government contractor, it opens more doors within the government," he said. "We should be able to leverage our experience with HUD to win contracts outside of, or in addition to, HUD."
Citizens Bank's In Good Company is presented in partnership with NHBR. The series spotlights growing New Hampshire businesses with unique stories to tell.