The gateway to a positive contribution
Renewable energy improves martial arts/yoga studio's vibe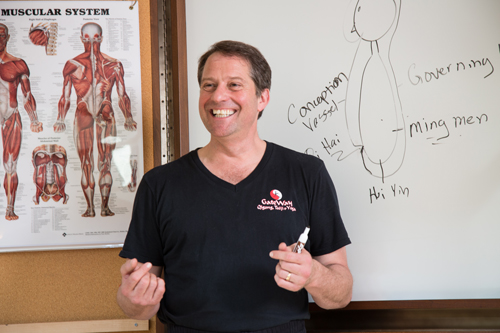 As Bill Buckley approached his 50th birthday a few years ago, he made a dramatic career change, from a high-tech industry executive to running his own martial arts and yoga studio. A little more than three years later, the decision has paid off in multiple ways, with Buckley finding fulfillment as a full-time Taiji, Qigong and Yoga instructor. He has also transformed his Portsmouth-based Gateway Taiji, Qigong and Yoga studio into a model of sustainability.
"We are after lifelong sustainability and seeking a path to stay healthy and be healthy," said Buckley, a former global general manager with Hewlett-Packard who has studied martial arts since the early 1980s. "We are trying to be as good to ourselves and the earth as we can."
At nearly 5,000 square feet, Buckley's studio space is housed in the refurbished furnace room at the Button Factory on Islington Street, built in 1895 and now occupied by local businesses and artist studios.
The centerpiece of Buckley's renovation is a 72-panel, 18-kilowatt solar system located on the studio's top hat roof. Since it went online in January, Buckley says the energy has provided 95 percent of the power needs at the facility (which includes four other shops including a hair salon, a promotions company, day spa, a nail salon and an aesthetician). Buckley's renovations have proven positive for other tenants and his students.
"The clientele we draw cares about this a lot. They like coming to a studio that is making a positive contribution," Buckley said.
On a more practical note, the combination of proper insulation and solar power has significantly decreased energy costs while making the facility cooler in the summer and warmer in the winter.
Buckley said the decision to change careers at 50 came about simply because he couldn't see himself making that decision at 60. He said he wanted to follow his passion and give back to people, encouraging others to do the same.
To do so, Buckley needed to have his studio reflect the values he teaches his students: being mindful of themselves and the environment around them.
"I want to build a community of people who care about each other, who care about the fact that we're being conscious about how the building is used," Buckley explained. "When you have people who look forward to seeing one another, who look forward to coming into this shared space – that's what real success is."
He added: "Having this solar system has done wonders for the studio's energy," Buckley says. "We're hoping it will power us for a long time to come, not only economically, but spiritually as well."
NHBR's Sustainable Entrepreneurship series is run in partnership with the Green Alliance. To learn more about the alliance, visit greenalliance.biz.