The Cornerstones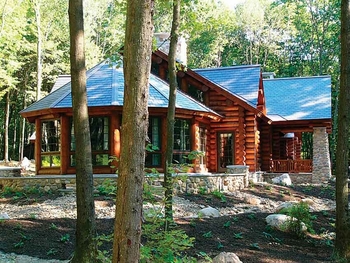 Some 98 awards in 51 categories were handed out last month to builders, remodelers, designers and other construction industry professionals during the annual Cornerstone Awards ceremony.
The two top awards for Best in Show went to John Stanek Custom Builders Inc. of Peterborough for a residential project in Peterborough, and Christopher Cahill Construction Inc. of Nashua for a commercial project.
Produced by the Home Builders & Remodelers Association of New Hampshire's Sales & Marketing Council and held at the Radisson Hotel Center of New Hampshire in Manchester, the awards recognize excellence in all areas of the building industry, including design, remodeling, new construction, landscaping and special features.
HBRANH members nominated 179 projects, which were judged by their peers from the Home Builders & Remodelers Association of Northern Vermont.
Over 350 builders, remodelers, designers and industry professionals attended the gala affair.
Another highlight of the annual Cornerstone Awards is the "Member of the Year" honors, presented to recognize the efforts of members in the building industry and the association. Named Members of the Year in various categories were: John Langill, Cherry Hill Homes, Pembroke, Builder of Year; David Clarenbach, Foremost Builders LLC, New London, Remodeler of the Year; and Dave Chisholm, Builders Insulation Co. Inc., Manchester, Associate of the Year.
Special recognition was given to Dianne Beaton of Secondwind Water Systems Inc. for her volunteer efforts at the local, state and national levels, promoting education and taking many leadership roles. She was recently featured on the cover of National Association of Home Builders' Building Women magazine.
Sponsors of the awards included RIVCO, First Horizon Home Loans, New Hampshire Business Review, New Hampshire Magazine, Plain & Fancy Custom Cabinetry, Dobles Chevrolet, Flooring Associates, Insty-Prints/Bedford, Cobb Hill Builders, JobsInNH.com, The Granite Group, Chick Beaulieu Inc., Dream Kitchens Inc., Secondwind Water Systems and The Benson Companies and Kitchen Craft.
2006 CORNERSTONE AWARD winners
RESIDENTIAL INTERIOR DESIGN UNDER $25,000
Gold: Art Form Architecture, Rye
www.artform.biz
RESIDENTIAL INTERIOR DESIGN $25,000 – $50,000
Gold: Dovetailed Kitchens, Manchester
www.dovetailedkitchens.com
Silver: Village House Interiors, Meredith
www.villagehouseinteriors.com
RESIDENTIAL INTERIOR DESIGN OVER $50,000
Gold: Lori Currier Interiors, Laconia
www.loricurrierinteriors.com
Silver: 3w Design, Inc., Concord
www.3wdesigninc.com
MODEL HOME INTERIOR DESIGN
Gold: The Stabile Companies, Nashua
www.stabilecompanies.com
COMMERCIAL INTERIOR DESIGN
Gold: Dennis Mires PA, The Architects, Manchester
www.thearchitects.net
Silver: Village House Interiors, Meredith
www.villagehouseinteriors.com
Bronze: 3w Design, Inc., Concord
www.3wdesigninc.com
ARCHITECTURAL DESIGN – RESIDENTIAL
Gold: Samyn-D'Elia Architects, Ashland
www.sdarchitects.com
Silver: Dennis Mires PA, The Architects, Manchester
www.thearchitects.net
Bronze: The Stabile Companies, Nashua
www.stabilecompanies.com
ARCHITECTURAL DESIGN – COMMERCIAL
Gold: Samyn-D'Elia Architects, Ashland
www.sdarchitects.com
Silver: Dennis Mires PA, The Architects, Manchester
www.thearchitects.net
MOST CREATIVE USE – MOLDING APPLICATIONS
Gold: Dovetailed Kitchens, Manchester
www.dovetailedkitchens.com
MOST CREATIVE PUBLIC RELATIONS
Gold: Dream Kitchens, Nashua
www.adreamkitchen.com
Silver: The Stabile Companies, Nashua
www.stabilecompanies.com
MOST CREATIVE MARKETING
Gold: The Stabile Companies, Nashua
www.stabilecompanies.com
Silver: Art Form Architecture, Rye
www.artform.biz
Bronze: The Image Factory, Raymond
www.theimage.info
MOST CREATIVE WEB SITE
Gold: The Stabile Companies, Nashua
www.stabilecompanies.com
Silver: Art Form Architecture, Rye
www.artform.biz
Bronze: Brix & Stix Construction, Concord
www.brixandstixconstruction.com
REMODELING – KITCHENS UNDER $25,000
Gold: R House Kitchens, Amherst
www.rhousekitchens.com
Silver: Dovetailed Kitchens, Manchester
www.dovetailedkitchens.com
Bronze: Dream Kitchens, Nashua
www.adreamkitchen.com
REMODELING – KITCHENS $25,000 – $50,000
Gold: Dovetailed Kitchens, Manchester
www.dovetailedkitchens.com
Silver: Floorcraft & Creative Kitchens, Wilmot
www.floorcraftandcreativekitchens.com
Bronze: Dream Kitchens, Nashua
www.adreamkitchen.com
REMODELING – KITCHENS OVER $50,000
Gold: Dream Kitchens, Nashua
www.adreamkitchen.com
Silver: Gulf Brook Renovations, Concord
www.gulfbrook.com
Bronze: Dovetailed Kitchens, Manchester
www.dovetailedkitchens.com
REMODELING – BATHS
Gold: Gavin Construction, Brookline
www.gavininc.com
Silver: Dream Kitchens, Nashua
www.adreamkitchen.com
Bronze: Dovetailed Kitchens, Manchester
www.dovetailedkitchens.com
RESIDENTIAL REMODELING $50,000 – $100,000
Gold: Crossroads Contracting, Londonderry
www.crossroadscontracting.com
Silver: G.M. Roth Design Remodel, Hollis
www.gmroth.com
Bronze: Woodmaster, Hooksett
www.woodmaster-inc.com
RESIDENTIAL REMODELING $100,000 -$250,000
Gold: Gavin Construction, Brookline
www.gavininc.com
Silver: Northcape Design, Sunapee
www.northcapedesign.com
Bronze: Christopher Cahill Construction Nashua
www.ccahillconstr.com
RESIDENTIAL REMODELING $250,000 – $500,000
Gold: G.M. Roth Design Remodel, Hollis
www.gmroth.com
COMMERCIAL
Gold: Christopher Cahill Construction Nashua
www.ccahillconstr.com
Silver: Dovetailed Kitchens, Portsmouth
www.dovetailedkitchens.com
Bronze: Floorcraft & Creative Kitchens, Wilmot
www.floorcraftandcreativekitchens.com
RESIDENTIAL RESTORATION
Gold: Brix & Stix Construction, Concord
www.brixandstixconstruction.com
SPECIALTY ROOMS
Gold: Boardwalk North, Londonderry
www.boardwalknorth.com
Silver: Dovetailed Kitchens, Manchester
www.dovetailedkitchens.com
Bronze: Celtic Construction, Epping
LANDSCAPE CONSTRUCTION – RESIDENTIAL
Gold: Tasker Landscaping, Loudon
www.taskerlandscaping.com
Silver: Landwright LLC, Hampton
www.landwrightllc.com
Bronze: Landwright LLC, Hampton
www.landwrightllc.com
LANDSCAPE CONSTRUCTION – COMMERCIAL
Gold: Landwright LLC, Hampton
www.landwrightllc.com
HANDCRAFTED FINISH WORK
Gold: Grahame Construction, Stratham
www.grahameconstruction.com
Silver: Brix & Stix Construction, Concord
www.brixandstixconstruction.com
Bronze: Celtic Construction, Epping
MOST ENERGY EFFICIENT DESIGN SOLUTIONS
Gold: Associated Concrete Coatings, Manchester
www.concoat.com
MOST UNUSUAL PROJECT
Gold: John Stanek Custom Builders, Peterborough
(603) 924-9927
Silver: Northcape Design, Sunapee
www.northcapedesign.com
Bronze: Celtic Construction, Epping
NEW CONSTRUCTION – BATHS UNDER $25,000
Gold: Floorcraft & Creative Kitchens, Wilmot
www.floorcraftandcreativekitchens.com
Silver: Floorcraft & Creative Kitchens
Bronze: Dream Kitchens, Nashua
www.adreamkitchen.com
NEW CONSTRUCTION – BATHS $25,000 – $50,000
Gold: Gavin Construction, Brookline
www.gavininc.com
Silver: Dream Kitchens, Nashua
www.adreamkitchen.com
NEW CONSTRUCTION KITCHENS UNDER $25,000
Gold: Village House Interiors, Meredith
www.villagehouseinteriors.com
Silver: Northcape Design, Sunapee
www.northcapedesign.com
Bronze: Timeless Kitchens, New London
www.timelesskitchen.com
NEW CONSTRUCTION – KITCHENS $25,000 – $50,000
Gold: Dovetailed Kitchens, Portsmouth
www.dovetailedkitchens.com
Silver: Dovetailed Kitchens, Manchester
Bronze: Dream Kitchens, Nashua
www.adreamkitchen.com
NEW CONSTRUCTION – KITCHENS OVER $50,000
Gold: Floorcraft & Creative Kitchens, Wilmot
www.floorcraftandcreativekitchens.com
Silver: Timeless Kitchens, New London
www.timelesskitchen.com
Bronze: Dream Kitchens, Nashua
www.adreamkitchen.com
NEW CONSTRUCTION – SINGLE FAMILY -ATTACHED
Gold: Dennis Mires PA, The Architects, Manchester
www.thearchitects.net
NEW CONSTRUCTION – SINGLE FAMILY – DETACHED $400,000 – $500,000
Gold: Dennis Mires, PA, The Architects, Manchester
www.thearchitects.net
Silver: The Stabile Companies, Nashua
www.stabilecompanies.com
NEW CONSTRUCTION – SINGLE FAMILY – DETACHED $500,000 – $750,000
Gold: Davis Frame, Claremont
www.davisframe.com
Silver: Gavin Construction, Brookline
www.gavininc.com
Bronze: Douglas Hill Construction
www.douglashillconstruction.com
NEW CONSTRUCTION – SINGLE FAMILY – DETACHED $750,000 – $1,000,000
Gold: Davis Frame, Claremont
www.davisframe.com
Silver: Houghton Builders, Ltd.
North Hampton, (603) 964-3107
NEW CONSTRUCTION – SINGLE FAMILY – DETACHED $1,000,000 – $1,500,000
Gold: Christopher P. Williams Architects, Meredith
www.cpwarchitects.com
Silver: Timberpeg, West Lebanon
www.timberpeg.com
Bronze: Northcape Design, Sunapee
www.northcapedesign.com
NEW CONSTRUCTION – SINGLE FAMILY – DETACHED OVER $1,500,000
Gold: Christopher P. Williams Architects, Meredith
www.cpwarchitects.com
Silver: Customized Structures, Inc., Claremont
www.customizedstructures.com
Bronze: Timberpeg, West Lebanon
www.timberpeg.com
NEW CONSTRUCTION – SPECIALTY OUTBUILDINGS
Gold: Timberpeg, West Lebanon
www.timberpeg.com
Silver: Northcape Design, Sunapee
www.northcapedesign.com
Bronze: Northscape Design, Sunapee
NEW CONSTRUCTION – MODEL HOME OVER $200,000
Gold: Peak Development, Auburn
www.peakdevelopmentnh.com
Silver: The Stabile Companies, Nashua
www.stabilecompanies.com
NEW CONSTRUCTION – COMMERCIAL PRIVATE
Gold: Warrenstreet Architects, Concord
www.warrenstreetarchitects.com
Silver: Cobb Hill Construction, Concord
www.cobbhill.com
Bronze: Dennis Mires PA, The Architects, Manchester
www.thearchitects.net
NEW CONSTRUCTION – COMMERCIAL MUNICIPAL
Gold: Cobb Hill Construction, Concord
www.cobbhill.com
BEST IN SHOW – COMMERCIAL
Christopher Cahill Construction, Nashua
www.ccahillconstr.com
BEST IN SHOW – RESIDENTIAL
John Stanek Custom Builders
Peterborough, (603) 924-9927