The art of food
Block Six at Portsmouth's 3S Artspace breaks the restaurant mold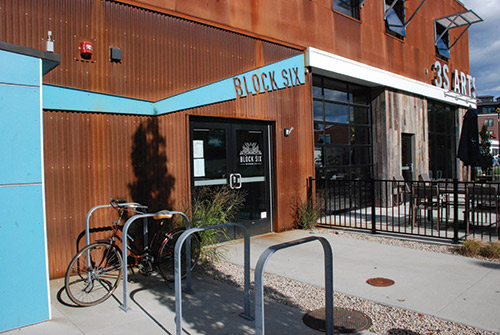 Since it opened in March 2015, the 3S Artspace in Portsmouth has attracted growing audiences and attention. The in-house restaurant Block Six has become one of the more interesting aspects of the nonprofit arts performance venue, which hosts a year-round range of music, dance, film and visual arts year-round.
Sam Ostrow, Block Six's chef, said adding a restaurant to a performance arts venue was no small matter and required as much as five years of detailed planning to find the right model.
Ostrow was working in Boston at the time and was excited about the vision of 3S Artspace's original director, Chris Greiner. "We connected through a mutual friend, and I was excited by his vision of a place where we could showcase emerging artists pushing the boundaries in all fields," said Ostrow, who attended the Cambridge School of Culinary Arts and had worked in a number of restaurants in the Boston-Cambridge area.
Though it took a while to figure out the fine print of integrating a restaurant into a nonprofit performance center, Ostrow said the patience was worth it.
"Over the course of planning the venture, my involvement was up and down," Ostrow said. "I was working other jobs and starting a family, so at best I was consulting on a minimal level. By the time I became more involved and was offered the job of executive chef, the concept had solidified a bit."
That culinary concept, he explained, was to offer "modern American cuisine" at a much lower price point than fine dining. "Essentially, we serve locally sourced food with a fine-dining mindset, but in a comforting and affordable way," Ostrow said.
'Biggest challenge'
Portsmouth is a highly competitive restaurant market, especially in the downtown area, but Ostrow had experience at performing and succeeding in challenging, high-profile environments. He had worked as a sous chef for famed chef Wolfgang Puck and catered events at many of Boston's museums. Before Block Six opened, he had worked in a couple of top Portsmouth area restaurants to get a feel for the diverse market.
Executive Chef Sam Ostrow sits at Block Six's bar. Depending on the type of show at 3S Artspace, the eatery transitions from serving appetizers before a rock show to serving multiple-course meals before a theatre performance or gallery opening.
"At times, I see our role as an arts space within an arts space. Serving warmly executed, delicately plated food. At other times we are an eatery for the performance venue. And at other times we have to be everything in-between. A lot depends on what events are happening within the space," said Ostrow, who oversees a busy staff of around a dozen kitchen and front-of-the-house workers.
"On a night where we have a rock band that begins later in the evening, we are more of a snack before the show restaurant. Whereas if there is a seated theatre performance or a gallery opening we are more of an attractive place for those looking for multiple-course meals and bottles of wine. We are trying to be all of these things at once, and it is definitely our biggest challenge."
It's a challenge that one of the founders of 3S Art Space believes has helped the venue establish a distinct personality.
"Block Six is an integral part of the 3S mission to become a vibrant contemporary art center," said Karil Reibold, interim executive director. "The three spaces – gallery, performance venue and Block Six – are meant to be an integrated experience of the senses. Our goal is to weave sight, sound and taste into a complete sensory experience."
Block Six takes the farm-to-table philosophy seriously and made it into a daily reality by working closely with local fisherman and the Three Rivers Farmers Alliance, which provides a steady stream of fresh produce and meats. Emphasizing local connections is also a part of the 3S operating ethos. "Sam and his team source their food from local farmers, breweries and fishermen," Reibold said. "His ability and diversity as a chef allows guests to enjoy unique house made dishes such as house-made ice cream or amazing fish tacos."
The "Heirloom Tomato", a dish that consists of Vermont creamery "cremont", sweet corn, cucumber, smoked tomato and gochujang vinaigrette basil. Block Six's menu changes regularly, often to complement the type of event being held at 3S Artspace, a nonprofit arts performance venue.
'Commitment to local'
Ostrow freely admits it hasn't been easy to raise Block Six's profile. Its Vaughan Street location is literally across the railroad tracks from the nearby downtown hustle and bustle.
"Our location seems to be more of a challenge than how many restaurants this town has," Ostrow said. "Those that know about us have become huge fans of what we do at Block Six, but it has been a tough road. We are a few blocks from downtown and across the train tracks, and that minimal physical barrier seems to separate us from the greater Portsmouth scene and deter walking business more than we expected. There are a lot of people in Portsmouth that have no idea that we are even here or what we are doing."
But Reibold said that Block Six has helped solidify 3S Artspace's growth and acceptance in the community.
"The commitment to local spans beyond the food and drinks," Reibold said. "Block Six presents a free live music series that brings local artists and the community together. We see people coming to 3S to hear music, enjoy a beverage and grab a bite to eat."
The ebb and flow of the menu matches that of the available locally sourced products. The changing menu can be a challenge, said Ostrow, but it helps his staff constantly upgrade their culinary skills and boost morale and productivity. (Turnover has been minimal since opening, he said).
Regular customers have embraced the diverse offerings and the restaurant walls highlight local artists. "What we are doing is unique and different compared to what most restaurants are doing," he said.
See more photos below.