Tech sector employment continues to grow in NH
Report says companies contribute $10.6 billion to state's economy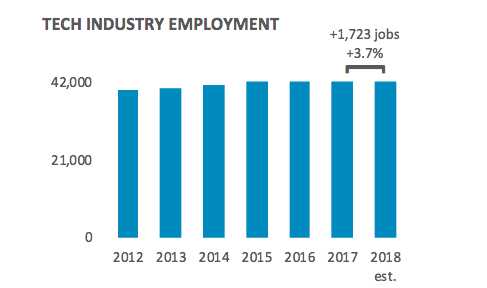 Employers in New Hampshire's technology sector continue to see year-over-year growth, adding 2,819 new jobs in the past year – a 4.2% year-over-year increase, according to the Cyberstates 2019 Research Report.
The rate was the third-fastest growth in the nation, according to the report.
The report, which is based on the Computing Technology Industry Association's analysis of data from the U.S. Bureau of Labor Statistics, provides detailed national, state and city analysis of the U.S. tech industry and workforce.
According to the report, New Hampshire's tech sector accounted for 13.8% ($10.6 billion) of the state's gross domestic product in 2018 – an increase of 1.2% over 2017. It also employs some 10% (70,000 people) of the overall workforce in the state – the seventh-highest percentage of concentration of tech workers compared to the overall employment base.
The report also found the average annual wage for a tech industry worker in New Hampshire is over $78,000, which is 80% higher than the median state wages, according to the report.
The report also found that the leading jobs in the sector in New Hampsihre are custom software services, tech engineering services, telecommunications and internet services and packaged software.
"The trajectory of New Hampshire's economy continues to bend heavily toward technology and advanced manufacturing, said Taylor Caswell, commissioner of the state Department of Business and Economic Affairs, in response to the report. "The result has been the acceleration of an ecosystem with new, younger workers coming to the state faster than any other state in the Northeast, a new generation of entrepreneurs and homegrown capital access with no capital gains, sales or income taxes."