Tale of a 19th century pharma giant
Pharmaceutical manufacturing firm Parker J. Noyes founded in 1868 is still very much alive today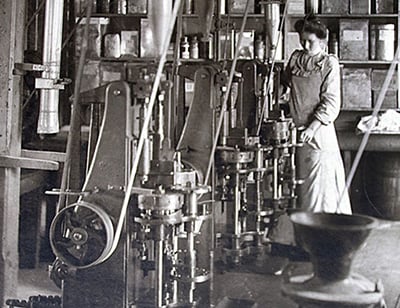 In 1868, Parker Jewitt Noyes opened an apothecary shop "on a very modest scale" in a building at the corner of Main and Bunker Hill streets in Lancaster, then a town of some 2,200 people. By the turn of the century, the P.J. Noyes Manufacturing Company was among the largest manufacturers of pharmaceutical products in the country.
Today, a century and a half later, after changes of fortune, ownership and name, the company operates as a contract manufacturer of over-the-counter pharmaceutical products, nutritional supplements and personal care items for a variety of markets around the world.
One of five children and four brothers, Noyes was born in 1843 to a farming family in Coos County and, following the death of his father, moved to Barnet, Vt. During the Civil War, he served in the 8th Vermont Infantry as a second lieutenant with the second regiment of the Corps d'Afrique, an infantry unit of free blacks and escaped slaves formed in 1863 from remnants of the Louisiana Native Guard – the first black soldiers to serve the Union. Originally assigned to the defense of New Orleans, in 1865 the regiment joined General Phillip Sheridan's campaign in the Shenandoah Valley of Virginia, capped by the battle at Cedar Creek.
Years later, in the preface to a collection of short stories, Noyes called his literary venture "the maiden effort of a man of 67 years of age, who never went to school (any to speak of) but whose educational advantages were sacrificed by being four years at the front during the war."
Despite his lack of formal schooling, Noyes quickly became renowned for his "genius of invention in both chemical processes and mechanical appliances." And the growth of his business reflected his prowess. By 1890, the original 1,200-square-foot, two-story building had grown more than tenfold to 15,000 square feet with the addition of an extension, basement and third story.
Moreover, the building was joined to the building next door, which served as an annex to the firm's laboratory and also housed a print shop, where Notes published a bimonthly magazine. Along the way, Noyes purchased the goodwill and inventory of Kent & Porter, one of three apothecaries operating in town before he arrived.
Coating pills
The growth of the enterprise paralleled its evolution from an apothecary shop to a manufacturing firm. On July 3, 1889, by an act of the state Legislature, the P.J. Noyes Manufacturing Company was incorporated with capital stock of $100,000 to engage in manufacturing, wholesaling and retailing of "any and all kinds of pharmaceutical preparations and products, medical chemicals and surgeon's supplies."
"Our stock of extracts, elixirs, tinctures, medicinal wines, pills, tablets, granular effervescent preparations, etc., etc.," one advertisement proclaimed, "are being constantly renewed, so that everything we dispense is fresh and of recent production."
Noyes sought to distance himself from the makers of patent medicines and practitioners of quack medicine. He explained that he wrote his short story — "Why Doctor Dobson Became a Quack" — "to stimulate the substitution of common judgment and common sense for the blind, unthinking credulity which is responsible for the distinguishing disgrace of this country and age — Medical Quackery."
In 1895, Noyes patented the first machine for making and coating tablets in a single process, which produced 5,000 pills an hour coated with sugar or chocolate. The machine was built by Charles Wright Sleeper of the Thompson Manufacturing Co. of Lancaster. An advertisement in the Journal of Medicine and Science read, "in the product of this machine is realized every factor requisite to perfection — accuracy, stability, firmness, solubility, pleasant to the taste, beauty and elegance — a pleasure to the physician and a comfort to the patient."
The company deployed some two dozen salesmen throughout New England, selling medicines and remedies primarily to country doctors. Noyes promoted his products in the pages of his magazine, touting Noyes Pectoral Syrup with Heroin — a mix of cherry, squills, blood roots, ipecac, tartaremetic — as "no better remedy for a cough."
A picture of pharmacist Parker J. Noyes's family. Noyes settled in Lancaster after serving as a lieutenant in the Civil War.
Noyes Menthol Throat Tablets, containing menthol, benzoic acid, oil anise, eucalyptus and cocaine provided a "pleasant and efficacious remedy for a sore throat" for a dime a bottle.
Meanwhile, Noyes played an active role in the community. He is credited with bringing electricity to the town in 1885. He was a Mason and an Odd Fellow and served as commander of the Colonel Edward Cross Post of the Grand Army of the Republic. He and wife Clara divided their estate between their daughter Gertrude and the town of Lancaster to support "an annual course of free lectures and entertainments" that engages the community to this day.
Changing marketplace
Noyes retired in 1910 and died in 1912. Ownership passed to a group of local shareholders, and management fell to James Dow, who led the company until his death in 1959. The company's fortunes were at their peak, serving a large share of the New England market with some 500 products and operating four retail pharmacies, including one in Lancaster, where the soda fountain remained a popular gathering place for years.
However, during Dow's tenure the pharmaceutical industry underwent significant changes with the proliferation of new prescription drugs, tighter regulatory requirements and changed distribution channels.
Few company records remain from this period, but by all accounts while continuing to produce an array of medicinal products, the company did not adapt well to the changing marketplace. Many of the original formulas could not pass regulatory muster, but rather than invest in research to develop new products, which required laboratory testing and clinical trials, the company chose to forego virtually all production of prescription medications. Likewise, the traveling sales force remained the vanguard of the marketing program.
Business turned up in the 1950s after B.F. Skinner, the celebrated and controversial behavioral psychologist at Harvard University, asked the company to produce precision food pellets for animals used in behavior modification studies. The P.J. Noyes Company pioneered the precision food pellet industry, fast becoming the largest manufacturer in the world and enjoying a preeminent presence in an international market.
With purified ingredients tailored to the physiology of specific animals and the requirements of different experiments, the company produced more than 200 varieties of pellets supplied to a variety of institutions conducting behavioral, pharmacological and biomedical research. "Noyes Pellets" became the standard reward for behavioral research and were increasingly used in nutritional and medical studies.
Although the pellet business carried the company through the 1960s and 1970s, by the 1980s the company found itself hard-pressed to sustain its market share, improve its manufacturing productivity and maintain its employment level. The company was then owned by a small group of local stockholders, including former and current employees, among whom Arnold Haynes, the longtime sales manager who held half the shares.
'Room for improvement'
The plight of the firm intrigued Winthrop Wilbur, a successful car dealer and avid yachtsman from Hyannis, Mass., who kept a home on Cabot Mountain in Lancaster for 35 years. Wilbur called his son-in-law, David Hill, then pondering a career change, who remembered he began "Hey, there's this little company up here in Lancaster."
Together Wilbur and Hill, along with his wife Sarah, purchased the company from the remaining shareholders. And in January 1985, Hill, then 27, a graduate of Duke University with an MBA from Vanderbilt University, became president.
"I ran it from day one," he said. His wife, who as a psychology major handled Noyes Pellets, also played a significant role in managing the company.
Hill said when he arrived there were just seven employees. "There were two or three computers in the office," he recalled, "but they were still using typewriters because no one knew how to use them."
He said that records were kept in three-ring binders, but since there was only a single-hole punch, each page was punched three times. To bottle a lotion, employees spread jars across a table then filled them from a pitcher. Five years had passed since the company last printed a catalog. "There was certainly room for improvement," he said.
Hill began by recouping the company's share of the food pellet market. He invested in capital equipment, product development and marketing programs and built on a contract with NASA to supply calcium-deficient pellets for rhesus monkeys engaged in space flight.
Larry Vars, who managed pellet production, told the Caledonian-Record of St. Johnsbury, Vt., "Now we can say for sure that our pellets are out of this world."
By the 1990s the National Institutes of Health was using Noyes pellets in studying Alzheimer's disease and AIDS and the company had regained its position as one of two major players in the market. Moreover, as avid scuba divers, Hill and his wife developed "Fishin' Chips," a pellet for feeding fish, along with a package to attract the fish and a dispenser to serve them.
At the same time, Hill spruced up the marketing of other products and developed some new ones. He explained that the inventory included items like "Lydia Pinkham," an herbal compound for hot flashes, "Sweeta," a liquid saccharine sweetener, and "Flowing Velvet," an overnight cream, all widely sold in drug stores without bearing the P.J. Noyes name.
Selan, a protective moisturizer sold to hospitals and nursing homes, was rebranded Skin 1st, repackaged and introduced to the consumer market and distributed through the AARP pharmacy services program.
As the company regained its financial footing, Hill turned to investing in expanding and improving its manufacturing capacity.
"We saw a need among marketing companies in the pharmaceutical and nutritional industries for high-quality contract manufacturing services." Often pictured alongside machinery in the local press, Hill scoured auctions and travelled abroad to outfit the business with modern manufacturing and packaging equipment.
The P.J. Noyes Manufacturing Company from humble beginnings to 21st century manufacturing giant.
In 1991, the company left its home on Route 3 south of town, where it had moved in 1984, for Bridge Street, where it remains today. Manufacturing space more than doubled to 12,500 square feet and the facility housed a testing laboratory for quality control purposes. Another 7,000 square feet was added in 1993, another 5,000 rented in 1995 and another 10,700 built in 2001.
By the start of the 21st century, sales had more than tripled while the payroll had grown to more than 50 full-time employees.
By that time the company was producing about 50 products, including food pellets, over-the-counter pharmaceuticals, personal care items, nutritional supplements and surgical instrument cleansers in tablet, liquid, gel and powdered forms.
"We had become a contract manufacturer," Hill said. Products manufactured by the company appeared on the shelves of CVS, Rite-Aid, Walmart and many other retailers, bearing some 200 different labels. "We supplied non-prescription products to Johnson & Johnson, GlaxoSmithKline and other Big Pharma companies," Hill said.
International ownership
To concentrate its resources and investment to manufacturing and packaging pharmaceutical products, the company sold its food pellet business in 2001. Hill said that a line of flavored glucose tablets, taken by diabetics to counter hypoglycemia and athletes to boost energy, developed in the 1990s and, subsequently supplemented by other hypoglycemia treatments, represented a growing share of output and sales. The company also manufactures a range of organic dental products — toothpaste, mouthwash, gum irrigant and breath freshener — for the Dental Herb Company, which are distributed under the Truly Natural brand through dental offices.
By 2007, on the eve of the Great Recession, Hill said the company counted 150 employees working three shifts.
"We had a lot of highly skilled jobs, a significant payroll and were the town's largest property taxpayer," he said. Although sales slowed and employment shrank somewhat during the recession, the company continued to grow, purchasing an additional 53,250 square feet of office and warehouse space in 2008 and acquiring the Dental Herb Company in 2010.
In 2013, the Hills announced the sale of P.J. Noyes Company to Nipro Diagnostics Inc. of Fort Lauderdale, Fla., a wholly owned subsidiary of Nipro Corp. of Osaka, Japan.
Hill said they had received many offers for the company, but this was the first they believed was "truly beneficial" for the stakeholders of the company. He said that as a major manufacturer and distributor of blood glucose monitoring and diabetes management products, Nipro represented a good fit. At the same time, the firm had expressed a commitment both to the growth of the company and the interests of the region.
The Hills retained ownership of the Dental Herb Company, which is headquartered in Lancaster, where its products are made as they have always been.
Three years later, Nipro Corporation was acquired by the Sinocare Group of Changsha, China, maker and marketer of diagnosis and testing products. Nipro Diagnostics was renamed Trividia Health and the P. J. Noyes Company became Trividia Manufacturing Solutions. The company has capacity to produce and package 10 million tablets and fill 120,000 bottles or 100,000 tubes a week.
"I worried for years about changing the name of the company," Hill remarked. He not only kept the name, but revived and preserved the company, which despite its new ownership and moniker will forever remain the legacy of its founder.