Taking the initiative with Tom Metzger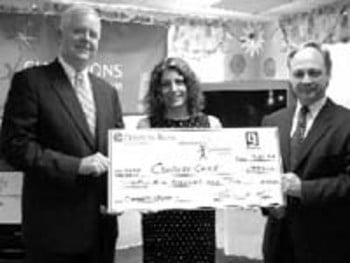 In the 15 months since Tom Metzger took over as chairman, president and CEO of Citizens Bank New Hampshire, he's certainly made himself at home.
In fact, Metzger – a 30-year veteran of the banking industry, including eight years as a bank examiner – hit the ground running. He immediately reached out to the sprawling Citizens Bank network and its more than 1,200 employees and did the same with the community, both in Manchester – where the bank is based – and beyond. In his short time in the state, he has become involved in a number of organizations, serving on numerous boards including the New Hampshire Business Committee for the Arts, the Business & Industry Association of New Hampshire, the New Hampshire Bankers Association and Heritage United Way, for which he is chairing the 2004 campaign.
He recently talked about what it's been like settling in in New Hampshire – he spent much of his career in his home state of Missouri – and offered his impressions of his new home.
Q: What's the settling-in process been like since you first arrived at the bank last year?
A: I would say my biggest apprehension was "How am I going to be accepted?" I know we have a good bank here, and New Hampshire is a great state, but how was Tom Metzger going to fit in? I have to tell you, 15 months, I've found the people to be very warm, very friendly. I think, like most places, you have to take a little initiative yourself, and once you take a little initiative, they respond. They went out of their way to make sure my wife and I felt welcome, and I was able to get into the mainstream of things kind of early on in the process. That's been a real pleasant surprise. Not that I expected anything negative, but things went even better than I expected.
Q: What kind of initiative did you take?
A: You've got to reach out. You have to get involved in a few things. I've gotten to meet some great people. If I count my own board, I'm involved in seven different organizations and activities, and that's given me the chance to meet people that otherwise might have taken a lot longer to meet. If you reach out yourself a little bit, people respond. I've found that in every place I've been in my career.
Q: What was that process like, getting to know your employees?
A: Early on, my process was definitely to focus on our colleagues. I also toured every one of our locations throughout the state, all 75 of them in the first few months. One of the things we did was to have a series of town hall meetings, where we got together 30 or 40 of our colleagues, and had about 10 or 12 of them, and it was an opportunity basically for me to get up and tell people who I was. I was able to get out and in front of people right away. What I hoped that did was create an atmosphere where people felt very comfortable.
A lot of people at least got a read of me, and as we know, first impressions are sometimes the lasting impressions.
Q: By touring all of those branches you got to see a lot of the state. What do people tell you about the economy up there?
A: They would love, obviously, to get some big employers, but being realistic I don't think they totally expect that to happen. Obviously things like the federal prison in Berlin will be good. I've seen that in other communities that have lost an economic anchor and that could be a real plus for the economy. It's not just a prison, it's all the additional business services that come into play.
Q: In New Hampshire there is a lot of collaboration among for-profit businesses and non-profits and government – they regularly team up on different initiatives and programs. Is it like that in places like Missouri?
A: It happens, but it's not as widespread or as quick as it happens here. Somebody can make three or four phone calls and we'll all be sitting around the table like we are now. I would say the relationships here are very good across the board. We work with over 80 non-profit organizations. We're on a first-name basis with them, and vice versa. You won't find that in other states, not to this degree.
The bigger the state, the less likely it is to happen. We don't need to study things to death – we sit around, look at all the pros and the cons in a reasonable period of time and make the decision. That's another thing I like.
Q: Just as a New Hampshire resident — you live in Bedford – what do you think of the way education is set up in New Hampshire?
A: It's a little different than what I've seen in other states. The biggest difference is, using Missouri as an example, the state had a formula for each school district. Now keep in mind that Missouri has an income tax and a sales tax, although the property taxes aren't as high as they are in New Hampshire. But if you go to districts there, they are starved for resources too. They always need more.
Trying to find a formula that kind of fits all is very difficult to do. I don't know how you can come up with a plan where everybody's a winner, not that there has to be losers, but under any formula there are some areas that are going to be favored more than others. I don't know how you determine how you can level that out completely.
Obviously we hire a lot of people who have been educated in various school systems around the state, and I will tell you the quality of people we hire stacks up as well against any I've seen elsewhere.
Q: Since you started your career as a bank examiner, what do you think of bank regulations from the other side of the window?
A: Anytime you have a public trust at hand, I think you have to have regulations. I think they're all well-intended, but there may be some that maybe you'd like to ease or something. You always have a few bad apples, and when that happens, you'll see an extra push on regulations, and they'll push too far the other way. But that's one of the hazards of being a bank.
I don't think we're overburdened, there's a lot of extra reporting, but I can't sit here and tell you that I have any complaints about the level of regulations on us.
Q: That's not the answer I would expect from a banker.
A: It's all in the way you approach it. If you approach it and say, "Gee, they're coming in here looking for something" or "We don't want to show them anything" you start to create an adversarial relationship. We have a very above-board, very direct relationship with our regulators. They know exactly what we're doing.
If you go in there with a negative attitude, believe me, it can be very unpleasant.
Q: How is Citizens addressing the changing competitive environment, now that Bank of America has acquired Fleet?
A: Remember, Fleet's got a different presence in the different states. They're the third-largest bank in New Hampshire, so the fact that BofA has come in is not going to change anything that we do.
I do think that initially at least, they're going to focus more on Boston than others – not that they won't focus on New Hampshire, but they'll focus more on the major areas first.
The difference is that their focus is more on the national level. They talk of themselves as the "bank across America," which they are. Our focus is more local. We don't care about being across the country, but there'll be good competition. They didn't get to where they are by not doing some things well.