Taking flight
Can NH become a commercial drone manufacturing center?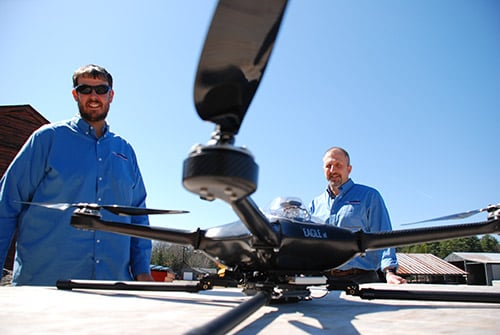 A former lumberyard in Nottingham seems like an unlikely location for a cutting-edge company in the drone, or unmanned aerial vehicle (UAV), industry. But longtime New Hampshire entrepreneur Jim Cooper has dodged retirement to start a manufacturing firm that could become a leader in commercial drone use.
UAV America is the product of almost six years of evolution that began with Cooper's fascination with the potential of UAV photography. After doing his own research on the internet and learning how to build his own UAV, Cooper's company has begun to establish itself as an innovator in combining light but strong 21st century materials, payloads and flight time.
"I enjoyed building, learning about them and creating custom kits. Most were flying for fun and to take cool photography and video," said Cooper, a former U.S. Air Force helicopter mechanic who has also founded education software and video production companies.
One early client was in South Africa and used the UAV equipped with long-range control video on an animal preserve to catch poachers. "While we got some interesting assignments, some of these projects were getting too complex for me because the technology was rapidly changing."
Cooper brought in Matt Koestner as his engineering guru. Koestner had extensive experience designing and implementing remote control sensing and electronic control systems for aeronautical and specialized automotive industries. They continued to work on ever more complex, custom UAVs.
In 2013, Cooper officially established UAV America as an LLC, and the Barrington resident determined that the manufacturing field for commercial UAVs was wide open. "Some of the birds were getting quite expensive, and we decided to start designing our own line of multi-rotor UAVs," Cooper said.
A game-changer
In the past two years, the company moved from Cooper's Barrington home to Nottingham, a location they are already outgrowing. In the past year, Cooper has added seven employees for a total of 10. The result of patient and extensive testing of materials and technology led to the unveiling late last year of the Eagle XF, which the company believes is a game-changer in commercial drone use.
The four-rotor UAV is built with light and strong carbon fiber materials (some of it supplied by nearby Durham Boat Company) with a seven-pound payload (for optical, thermal or other sensors) and up to one hour of flight time depending on conditions.
"Very few U.S. companies are in the business of building drones. Because we have a much different design approach, we have an opportunity to really excel," Cooper said.
These are not hobby kit devices. They have molded fiber carbon frame with minimal parts and hardware and pack to a small portable. UAV America also claims the Eagle XF has flexible platform capabilities with sensor pods and can be run through a computer or smartphone. Starting price is $20,000.
Cooper said the company has poured every penny it can into R&D and has listened to the ideal requirements of customer to develop the Eagle XF.
Fast-growing
While there has been a lot of mainstream and social media buzz about military, law enforcement and consumer drone applications, commercial applications have barely registered.
Cooper said his drones are perfect for pipeline, power line and wind turbine inspections; wildlife search and rescue; environmental contamination detection; for crop maintenance; or for real estate photography. "Anything that lessens the danger and cost for our end users," Cooper said.
What has also gone mostly unnoticed is how fast the industry is growing and changing.
The Federal Aviation Administration granted UAS (unmanned aerial system) exemptions to 16 New Hampshire businesses in 2015 for 38 different types of operations, according to a recent report by the Association for Unmanned Vehicle Systems International.
The unmanned vehicle industry "is poised to be one of the fastest-growing sectors in the U.S., and these numbers demonstrate that New Hampshire businesses are eager to take advantage of this technology," said Brian Wynne, president and CEO of the association.
An economic impact study released earlier by the association said the unmanned aircraft industry will create nearly 650 jobs and have a $514 million economic impact in New Hampshire in the first decade of drone incorporation into the economy.
'Secret sauce'
Fred Depuy, the CEO and founder of Media Wing in Portsmouth, is both an enthusiastic customer of UAV America and a serious investor.
Media Wing is a UAV photography and video production company that serves a wide range of utility, telecommunication, public safety and transportation companies
"The [Eagle XF] differentiator is flight time and innovative technology. It's a startling application, and it's great that this technology is being created here in New Hampshire and not Silicon Valley," said Depuy, who bought 30 percent of the company from Cooper during an early round of fundraising.
Above: Sean McCracken (sitting) assembles a drone while Chief Technology Officer Matt Koestner (right) examines the Eagle XF drone in the Nottingham facility.
"I have a choice in my investments and have an incentive for them to succeed, but the secret sauce here is Jim [Cooper] and Matt [Koestner]. They were so sensible in taking two years to develop the innovative flight technology and the chasse and frame."
Depuy said Media Wing has had successful beta tests with the Eagle XF and will use it extensively with five clients for projects beginning in early May. He said he believes commercial drone use is still in its infancy and will soon explode when its potential is realized by a wide range of heavy-use industries, from mapping to civil engineering – and dangerous infrastructure inspection of bridges, wind turbines and power lines, where "safety is a priority."
But Depuy admitted he's not Nostradamus when it comes to predicting the future economic path of the UAV industry. "It's so fragmented now, and we don't know who's going to be around or not," he said. More chaos is certain to come if aviation giants like Boeing or Lockheed get into the commercial drone market.
For his part, Cooper is focused on getting the Eagle XF to market, securing another round of financing to grow the company and enjoying "Fly Fridays" with his employees.
"We want to be a player. Right now, we are a startup company with 10 employees doing 10 different things and everybody enjoying what they do," Cooper said "I am 68 years old and basically retired. I decided to jump back in because I was having a good time. It's the best hobby to have."
See more pictures below