Sustainable energy comes to the home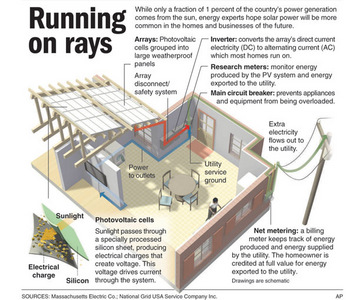 Forget about a hybrid in every garage. How about:
•A windmill in every backyard
•A solar space heater in every family room
•A geothermal or wood-pellet furnace in every basement
•High-tech compressive energy audits for every house, with interiors coated with green (as in environmentally correct) paint.
These are no longer the fantasies of environmental idealists. They are all part of the dream of a growing sustainable home energy industry.
Just a few years ago, only homeowners with environmental passion even considered most of these alternatives for their homes. Most people might weatherize or splurge for insulation, but few would invest thousands to save few bucks on their utility bills.
But with the price of home heating oil climbing to more than $3 a gallon, those few bucks have added up to hundreds — if not thousands — of dollars of savings each year. Combine those economic factors with increased concerns over global warming and the growing perception that the carnage in the Middle East is related to our dependence on foreign oil, and you have a perfect storm that is starting to sweep away all resistance against investing in a more sustainable home.
Add a few rebates and tax breaks, and suddenly an investment in your home might not only feel good, it might earn a lot more money in energy savings than you would ever get these days on the stock market.
On Dec. 1, representatives from the sustainable energy industry met at a conference in Manchester. But before they did, the Business Review tracked down many of them and asked them about their business, only to hear words like "skyrocketing" and "taking off."
Geothermal
Water Energy Distributors sells geothermal heat pumps to more than 200 installers, architects and engineers throughout New England and New York. The company just moved into an 8,000-square-foot building in Hampstead, double the space it occupied in Plaistow.
Business is growing some 50 percent a year, said Carl Orio, chairman and founder, and the biggest growth has been in residential business, which accounts for about two-thirds of the thousand pumps distributed last year.
Thermal pumps mine the energy under your home. The earth is warmer than air in the winter and cooler than it in the summer. While the temperature differential might not seem as high as what you would like, by using large enough ducts, water can be heated to 130 degrees, enough to make any house feel comfortable, Orio said.
Geothermal furnaces are not cheap – Orio says that they would cost at least $12,000 installed in an average home – and the energy is not free. You have to pay for the electricity to pump out that free energy under your home. The electric load at least is off peak, because the pump does use up less energy than central air conditioning.
And the operating costs are a third the cost of burning oil, Orio says. For some homes, that would add up to as little as a five-year payback, even less if you already have a well that can be used for this purpose.
Wood
Demand for wood pellets "is just skyrocketing" said Charlie Niebling, general manager of New England Wood Pellet in Jaffrey, which will go from producing 40,000 tons of pellets to 200,000 in just three years.
But while pellet stoves are all the rage, Niebling says that the real growth of the future is in furnaces. Right now, most people still consider pellets as a backup, not wanting to take time to load their furnace and clean out the ashes. But only half of that perception is true. Pellets can now be delivered in bulk into an automatic feeder to your furnace, much in the same way that oil is delivered into your tank. You still have to clean out the ash, but it might be worth it, because with the efficiencies of the new pellet furnaces, wood is one of the cheapest heating fuels around, according to a spreadsheet supplied by Niebling.
The up-front costs — $5,000 to $12,000 installed, estimates Niebling – are lower than most geothermal furnaces. Pellet furnaces do depend on electricity for that efficiency, though it doesn't use up nearly as much as a thermal pump.
While you are still burning a carbon-based fuel that could go up in price, pellets also have a feel-good aspect to them. First, emissions are lower than burning oil. Second, wood is renewable and pellets are created out of the leftover and scrap wood from trees that probably would have been cut down for their timber value anyway. Finally, wood has to be local, because it would be too costly to transport otherwise.
"This way, production is closer to the point of consumption," said Niebling. "It's like buying local food."
Wind and solar
OK, let's say you've got that renewable heat source. But you are still dependent on electricity to run those sources, plus supply energy to that EnergyStar washer-dryer, your three computers, and (wipe that guilty look off your face) your new big screen TV. How do you lessen that dependence, or even get off the grid altogether? There are two major alternatives: wind and solar.
At least a dozen firms manufacture personal windmills, mounted on 40-foot towers, said Mark Weissflog, president of KW Management in Nashua. The smallest ones, which sell for some $15,000, produce some 1.7 kilowatts, enough to make a substantial dent in a utility bill, but for $60,000 to $70,000 (with perhaps a few conservation measures) you can go off the grid completely, says Weissflog, either through storage or net metering, which means you can sell the power back to the utility produced on a windy day to offset the power used on a calm day.
Using solar to get off the grid is even more costly. A 10kw system would cost $85,000, Weissflog says.
"You spend a little bit more," said Weissflog, "but your life cycle is longer," since solar is not mechanical and relatively maintenance-free and could easily last 30 years while a windmill might have to be replaced after 20 years.
This might make economic sense, says Weissflog if capital costs are incorporated into a 30-year mortgage or a home equity loan, particularly when combined with federal tax breaks, and various incentive programs when available.
"It's the pre-purchase of 20 to 30 years of energy," says Weissflog. "What is the payback when you pay for your oil bill?"
And homeowners are more than willing to listen.
"It used to take two or three years from the first contact to the purchase," he says. "Now the average is six months."
There are some much lower-cost solar alternatives. KW and GroSolar — in White River Junction, Vt. — offer solar hot water heaters for less than $9,000, not including rebates, which can knock the cost down to $7000, and a tax break might get the cost down to $5,000.
Or you can install a $2,000 solar hot water space heater, which can keep a well-used room warm on a cold sunny day. This is one of GroSolar's hottest sellers.
GroSolar – which installs solar systems throughout most of New England and New York and distributes systems nationally — received some $2.25 million in venture capital in 2004, and is now growing at a more than 80 percent clip a year, says co-founder and CEO Jeff Wolfe.
The key to his firm's success is that it hasn't been selling solar on purely economic terms, Wolfe said.
"Why do people buy new shoes when they have dozens in their closet? Because it makes them feel good. We can do it on payback, but that's confusing," Wolfe says. "We are selling free energy," he said. "And it's free energy that they want now."
Closing the envelope
The real payback, everybody agrees, is not in how you produce energy, but how you conserve it.
But stuffing fiberglass in the attic and caulking a few windows is not going to do the job. And that's where the home auditors come in. Take Margaret Dillon, the owner of Peterborough-based S.E.E.D.S., who considers her home-based business "a mission."
Dillon spends most of her time doing "performance testing" on houses, using infrared and other technology to see exactly where a house is losing heat and air. Her audits, which range from $400 to $600, provide a detailed analysis of what can be done in the short term for under $1,000 to save the most energy quickly, what can be over a longer term (cost: $7,000-$15,000) for serious conservation and finally what can be done ($30,000 to $50,000) to make the house as sustainable as possible, including what form of energy to use.
In addition to the audits, Dillon also works on certifying new (or completely rehabilitated) homes according to the U.S. Green Building Council's LEED (Leadership in Energy and Environmental Design) ratings. The council started the program for commercial properties but is expanding it to residential via a pilot project.
Certification cost $2,000, and one contractor estimated that it would cost another $2,000 to bring the home up to standard, but green certification in this day and age is a major selling point, resulting in a net gain to the developer, said Dillon.
Final touches
So now you're off grid, using renewable fuels, conserving energy. Can you now just go down to Home Depot for your interior paint and kitchen cabinets?
Even here, there is a green alternative, according to Meredith Gonzales, the owner of Your Home, Your World in Concord. "If you are building a super-tight home, it doesn't make sense to bring in harmful chemicals," she says.
Gonzales' storefront has been open for only about a year, yet she is already doing a brisk business selling non-toxic paints, which she says cost no more than premium paints, but without the VOCs that could make you (and the workers who make it) sick.
There are wool alternatives for carpets, linseed oil-treated wood rather than vinyl and American clay plaster, which insulates better and retains passive solar heat.
"Building is slowing down, but green building is huge right now," she says.