Susan Strickler, 2012 Outstanding Woman in Business
Director and CEO, Currier Museum of Art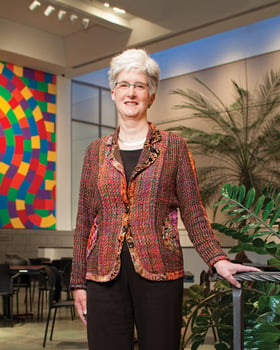 Susan Strickler is a self-proclaimed "migrant worker" of the museum world, starting out as a college intern actually helping to install artwork on the museum walls.
Being in such close contact with art objects inspired Strickler, who has worked in museums ever since. Throughout her career, she has curated collections at museums of all sizes across the country, and has organized major exhibitions ranging in subject from Impressionism to watercolors to Native American art.
But the Baltimore native has finally put down stakes in New Hampshire, where she has served as director of the Currier Museum of Art in Manchester since 1996.
Since Strickler joined the state's largest independent art museum, she has worked doggedly to expand its reach beyond Manchester to communities statewide, offering outreach programs to the Seacoast, Monadnock, Capital and Nashua regions.
Strickler also spearheaded the planning of and fund-raising for the museum's $21 million, 33,000-square-foot expansion, which made the museum 60 percent larger and immediately brought a major uptick in attendance.
David Jensen, Strickler's nominator, wrote that "the Currier expansion would not have been possible without Susan at the helm."
The expansion — which added additional galleries, classrooms and an auditorium — was completed on time and within budget just months before the recession hit.
Responding quickly to the downturn, Strickler cut the Currier's operating expenses without disrupting its core activities. As a result, the museum's operating budget has maintained a surplus in each of the last three years, while membership has continued to rise.
Q. How did you end up where you are today in your career?
A. In my senior year in college, I met the widow of an important artist who helped me to get a job at the Delaware Art Museum, which is about the size of this one. It's very unusual to get a job at a museum with just a B.A., so I had a chance to try it out, and really fell in love with the notion of being able to work with art objects.
From that I decided that's what I would like to do in greater depth, so I went to graduate school and have been working in museums ever since.

Q. What have been some of the biggest challenges to getting where you are today?
A. Trying to understand what I do and how it's perceived by staff — it can be a very public job, and you have to be more self aware all the time.
Also staying focused can be a challenge. We had a wonderful bequest that came our way here, and there was the opportunity for us to get off track. You could easily see an organization morphing, but we stayed on focus.

Q. Did you have a professional mentor, formal or informal?
A. Here in New Hampshire, several of our board members have been terrific. Kim Zachos and Dave Jensen have both been terrific in terms of leadership and management — they've just been good mentors, and sharing experiences or helping figure out what is it we really want to accomplish.

Q. How do you balance your personal and professional lives?
A. I think that's something that comes perhaps with maturity. When I was a young curator, my life was my job and I loved it, and I produced a lot of exhibitions and publications. As I've found other interests — and I am a single person, so I could spend my entire person doing my job — I'm not my happiest when I'm finding that work is it.
I've made it a more definitive part of my life to take a trip somewhere outside the States every year.

Q. What advice would you give to young women just starting their careers?
A. Try to find something you love that can sustain you through good and bad times. Listen to your colleagues and peers — what their challenges are — and take a holistic approach, listening as well as not feeling afraid to voice your opinions. The balance of listening to what others have to say and contributing to the conversation is important.