Susan Duprey, 2012 Outstanding Woman in Business
Attorney at Devine Millimet & Branch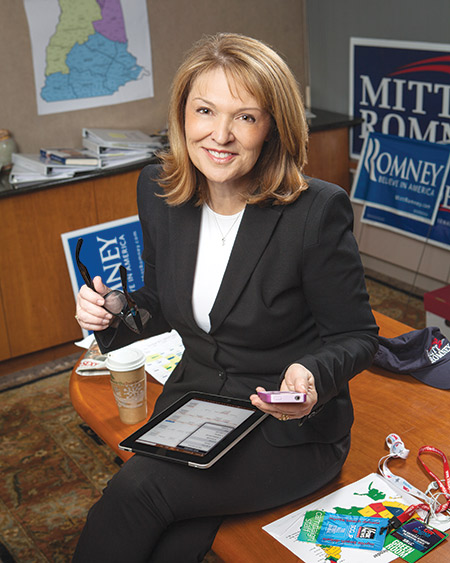 Susan Duprey was always enthralled by politics, but it wasn't until she moved to New Hampshire by happenstance that she found herself at the heart of what she calls "the political center of the universe."
Over the years, Duprey has worked on the campaigns of Congressman Charlie Bass, former Gov. Steve Merrill, President George W. Bush, U.S. Sen. John McCain, and Congressman Frank
Guinta. This primary season, she has reprised her role as a sought-after political consultant as Ann Romney's chief of staff.
For many people, those roles would constitute a full-time job,but Duprey is also an attorney and shareholder at Devine Millimet, the largest law firm in New Hampshire. There, she is a noted attorney whose expertise in land use and zoning law has landed her inclusion in The Best Lawyers in America every year since 2007.
Duprey is also a past president of Devine, where she has worked since the start of her law career. During her eight-year tenure as head of the firm, Duprey was instrumental in establishing its reputation as one of the best in the state. She even oversaw the firm's physical transformation, with an historic renovation of the firm's downtown Manchester building.
The wife and mother of three boys is a strong community servant as well. She currently sits on the board of Harvard Pilgrim Health Care, has chaired the boards of Heritage United Way and the Greater Manchester Chamber of Commerce. And she has served on many, many more.
Duprey's accomplishments have certainly not gone unnoticed by her peers. As fellow Devine attorney Teresa Rosenberger — a 2011 Outstanding Woman in Business — wrote, Duprey is "a shining example of how to lead and support."
Q. How did you end up where you are today in your career?
A. I wanted to go to business school, and my parents frowned on it. I should have gone, because I had more interest in business than in lawyering, but I think that's what caused me to work my way up to becoming president of the firm.
I think the very best lawyers are the ones who earn a seat at the table of the clients. If you get to know them and their business well enough, you wind up having some insight into what they do.
Q. What have been some of the biggest challenges to getting where you are today?
A. One my biggest challenges is sufficiently believing in myself. It took me a long time to believe I was any good at what I did. I think women always look at themselves as not doing as much as they actually have, whereas men think they've done more than they have.
Confidence is such a major factor, I didn't have enough of that, and I see that as being somewhat consistent for women.
Q. Did you have a professional mentor, formal or informal?
A. My closest mentor was a man named Norman Stahl, who is now a U.S. Court of Appeals First Circuit judge. Norman was a mid-level partner when I joined the firm, and he just opened up all kinds of opportunities. He let me go with him everywhere — he took me to everything. I got to observe how things got done and met people through him. I was unusually fortunate.
Q. How do you balance your personal and professional lives?
A. I can't say I've ever tried to be balanced — I would say I shifted my focus — but whatever I was doing, I was really doing it whole hog. When I was working, I was working all the time, and when I took six years off, I did that 120 percent.
When I was managing the firm, my kids didn't get as much from me — they got more from my husband, Steve. Then when I wasn't president of the firm anymore, I went to every single game and smothered them.
Q. What advice would you give to young women just starting their careers?
A. To reach for the brass ring. I think it's important to set big goals for yourself, then try to obtain them.