Subject of unusual custody case mourned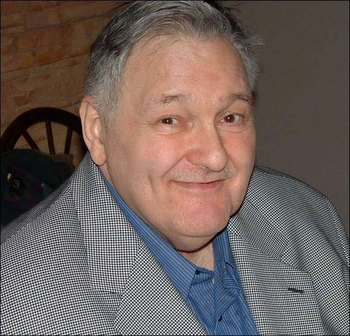 NASHUA – A. Richard Tuniewicz had a good relationship with his adult children, even as he fought them in probate court for the right to live on his own, his son said.
Still, the elder Tuniewicz in death had a surprise in store for his son and daughter. After their father passed away last month at age 70, they discovered on his laptop computer a 150-page memoir he had written about his life.
A memorial service for Tuniewicz will take place today at 10 a.m. in Greeley Park.
Tuniewicz will be remembered with full military honors. The service will include a musical performance and eulogies by family and friends.
"My relationship with him continued to be very close before, during and after the guardianship matter," said his son, Mark Tuniewicz.
In 2006, A. Richard Tuniewicz made national news when he went to court to fight for his independence.
He had been the ward of his children, Mark, then of Nashua, and Sandra Tuniewicz, of Seabrook, since 2003, when a judge determined that he was incapable of caring for himself. He was living in Nashua public housing when he was hospitalized for a foot wound related to his diabetes.
After a series of stays at hospitals, rehabilitation centers and nursing homes, Tuniewicz was referred for psychiatric evaluation. He was admitted to the geriatric psychiatric unit at Nichols House, a Fairhaven, Mass., nursing home where lived until his death.
While in Fairhaven, Tuniewicz filed suit and contacted the media, arguing that he was capable of living on his own and caring for himself. But family members argued that he failed to control his diabetes or take his medicine when he lived independently, and that he was unable to accomplish basic personal and home hygiene.
Tuniewicz was computer savvy and knew how to grab media attention, but he personally shied from publicity, his son said.
That's why the elder Tuniewicz abruptly canceled a probate court hearing when reporters he had contacted to tell his story showed up to cover the proceedings, Mark Tuniewicz said.
"For someone who had reached out to the media, he wasn't too keen on having the media present in the courtroom," his son said.
Later, he quietly re-filed. A probate judge ultimately ruled in favor of keeping guardianship with his children. Sandra eventually surrendered her role as guardian, leaving Mark with full guardianship over his father.
In the ensuing two years, Tuniewicz suffered a series of health setbacks, including a heart attack that, although mild, "took a lot of wind out of his sails," Mark Tuniewicz said.
He died in a New Bedford, Mass., hospital following a two-month stay.
Mark knew his father was keeping a journal. But he was surprised at the detailed autobiography he discovered on his father's computer.
A. Richard Tuniewicz was a machinist, certified mechanical engineer and small business owner. He also was something of a philosopher, subscribing to Socrates' tenet that "the unexamined life is not worth living," his son said.
That philosophy was evident in the detailed writing his father left behind, Mark Tuniewicz said.
A. Richard Tuniewicz described anecdotes from his childhood, including walking to school as a young boy and getting his boots inextricably stuck in mud. He had to wait until an older boy passing by lifted him to freedom.
The writing is full of such memories, Mark said. It includes stories from his military service as an M.P. with the Marines and of the Bouvier des Flandres dogs he raised and was often seen walking in downtown Nashua.
Mark Tuniewicz, who drove from his Pennsylvania home Friday to attend and speak at today's memorial service, said he found the memoirs to be "personally inspiring."
He added, "This is a wonderful example he set for his family."