Sturm Ruger faces 22 percent decline in year-over-year revenue
Attributes second quarter drop to retailers overstocking in anticipation of Clinton win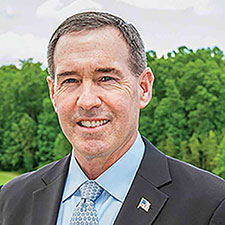 Gun sales have gone so soft that Sturm Ruger and Co. closed down its Newport, NH plant for two weeks, an opportunity for some much-needed maintenance, said CEO Christopher Killoy in a post earnings call on Thursday morning.
The shutdown happened in July, which was after the Connecticut-based firearms manufacturer's disappointing second quarter, the results of which were announced Wednesday after market close. But it's no surprise that slowdown continued, since not only were second quarter sales down by more than a fifth compared to last year but quarterly future indicators — orders and backlog — declined even more.
Ruger still sold $131.9 million of firearms and casting for the second quarter, resulting in $10.2 million profit, or 57 cents a share.
That's a 22 percent decline year-over-year in revenue and a 53 percent cut in net income, even though the company had to pay less than $8 million dollars in taxes compared to last year. Ruger ended the quarter with $44 million, slightly over half of what it had at the end of 2016.
More ominously, orders for the first half were down by approximately 50 percent and ending backlog was about a third of what it was a year ago. The company not only took the opportunity to shut down its New Hampshire operation for two weeks but also its plants in North Carolina and Arizona, though those were only for one week.
Killoy also took the opportunity to announce that Newport Plant Manager Tom Sullivan has been promoted to oversee manufacturing at all the company's facilities.
"No doubt about it, Q2 was a tough quarter," said Killoy. But, he added, "it was not all doom and gloom" and the company was "certainly not panicking."
Part of decline was to be expected, as retailers overstocked last year expecting a victory by Hillary Clinton, a strong advocate of gun control. All of 2016 was "supercharged" because of the election, said Killoy.
As the election fades, Killroy was hoping that people "get back into buying guns for fun, not because they might be banned in the future."
However gun sales, on the whole, have only gone down, by 7 percent, according to the National Instant Criminal Background Check System. Ruger's comparable figure, its unit sell-through from independent distributors to retailers was 13 percent. Killoy attributed this partly to his competitors' tendency to slash prices and loosen payment terms, while Ruger held firm, which might cost the company in the short term, but will help it over time.
The election had its advantages though. Whereas previously there was talk of new gun control, now there is a congressional act that would loosen the regulations on silencers. Advocates of the "Hearing Protection Act" say that far from being an aid for assassins and other criminals to shoot people undetected, silencers are really to protect the ears of those going to the firing range.
Ruger, which contributed an "insignificant" $2 million to the National Rifle Association in 2017 (according to its quarterly filing with the US Securities and Exchange Commission) and has a seat on the board, supports the silencer act.
Ruger's introduction of the 10.2 Integrally Suppressed Barrel at the NRA show "was very well received," but many would be buyers are still on the "sidelines" while they wait to see what congress will do about the Hearing Act. If passed, it would boost Ruger's sales, he said.
New products usually do boost Ruger sales, accounting for 29 percent of all sales in the first half of 2017. But one new product — the Mark IV pistol — became a bit of a liability at the beginning of June, when the company discovered that it could discharge unintentionally. Killoy said he was not aware of anyone getting hurt so far, but issued a voluntary recall that could include some 80,000 guns. It is currently going through its backlog at a pace of a thousand a day. Killoy said that the recall cost the company $2.5 million in total, all charged to the second quarter —but it also cost the company about $5 million in quarterly sales.