Study says gender pay inequality worse in NH
Women earn 76 percent of men in Granite State; it's 79 percent nationally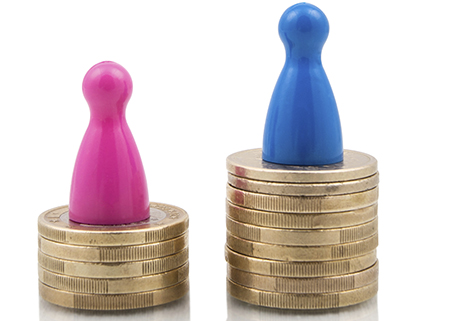 New Hampshire women going to a Works Bakery Café restaurant on Tuesday to get their 21 percent "discount" in recognition of Equal Pay Day might want to ask for an additional 3 cents off.
That's because, on average, women in New Hampshire earn 76 percent of the amount men earn, giving the Granite State the dubious distinction of having the largest pay gap in New England, according to a study based on 2014 Census date that was released Monday by the National Partnership for Women and Families.
Indeed, New Hampshire – despite its female governor and three females in its four-person congressional delegation – is among the 12 states nationally with the biggest pay disparity between the sexes — 24 cents on the dollar.
Louisiana had the largest gap (35 cents) and Washington, D.C. had the smallest (10 cents). In New England, Maine (21 cents) Massachusetts and Rhode Island (18 cents) and Vermont (16 cents), all had smaller gaps than New Hampshire when it comes to economic gender equality, according to the study.
The study found that New Hampshire women who hold a full-time, year-round job earn a median average salary of $42,052, some $13,565 less than their male counterparts , who make $55,617. (Both make more than the national median of $50,383 for men and $39,621 for women.)
Take that gap and multiply it by the number of women working full time in the New Hampshire workforce, and it adds up to $3 billion a year – an amount that would buy each woman employee food for two years, seven months of mortgage and utility payments or 14 months of rent, according to the federal report.
Pay equality would make a big difference to the 24 percent of the state's female headed households who currently live below the poverty level, says the report.
And the gap is even greater in certain careers. In sales, for instance, women are paid 62 percent of the amount men are paid and 66 percent the amount in production jobs. In addition, the study finds, women with master's degrees earn 72 cents of the amount paid to their male counterparts. The study doesn't take into account the "hours gap," since the data does not include the pay of part-time workers.
Women-owned businesses
NH Citizens Alliance and the Granite State Progress Educational Fund are organizing the "Stand With Women" campaign to highlight pay inequality in the state, promoting the New Hampshire Women's Discount at the four Works cafes and at Vibes, a burger restaurant in Concord which will offer a "women's unhappy hour"
Zandra Rice Hawkins, CEO of Granite State Progress, a related organization, said she's not sure why the pay gap is wider here than elsewhere, but she said there are a number of things the state could do to narrow the gap.
One – preventing retaliation against workers who reveal their salary so that pay wage gaps would be more out in the open – was made into law in 2014, but it was not enacted in time to affect that year's data.
Measures that other states have include requiring employers to post a salary range when advertising a job as well as forbidding employers from inquiring about salary history (so not to perpetuate unequal pay practices) and requiring that employers keep pay records "to protect both the employer and the employee," she said.
But those measures could face stiff resistance from the business community in the NH Legislature.
Increasing the state's minimum wage would also help, she added, since a greater percentage of women are in low-paying occupations. Currently, New Hampshire is the only New England state with the federal minimum wage of $7.25 an hour.
Meanwhile, the Equal Pay Day study comes following Amex's State of Women Owned Business Report, which was released last week and found that New Hampshire ranks 51st in the nation in terms of growth of the number of women-owned businesses from 2007 to 2016.
The number of women-owned businesses in New Hampshire did grow 14.1 percent, to an estimated 40,600 this year, but nationally it went up much more – 45.2 percent, to 11.3 million.
Sales of those businesses rose 8.1 percent, to $6.6 billion, in New Hampshire, as opposed to 18 percent nationally, to $1.6 trillion. And employment by women-owned businesses in New Hampshire fell 3.2 percent, to 35,800, compared to an 18.4 percent national increase, to nearly 9 million.