Students show their colors in Destination ImagiNation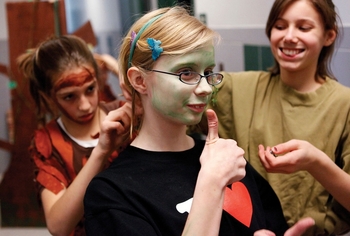 All participants in the Destination ImagiNation regional competition at Nashua High School South on Saturday had their creative energy pumping as they got ready to explore their imaginations.
"There's no other activity like it," Emma Close said.
Close, along with Elizabeth Degroot, Sara Swabowicz, Emily Choate, Mandy Graves and Noam Eshed, are seventh-graders at Hollis Middle School, and their Destination ImagiNation team is called "The Funky Fishes."
"It's really fun to work with your friends and be creative," Graves said.
All of the girls in the group were sporting clown fish hats to go along with their fish-challenge theme.
"You get to use your imagination," Degroot said.
Back in November, "The Funky Fishes" got to choose a topic for one of their performances. After they made a decision, they had strict guidelines that needed to be followed.
"Everything is different, which makes it really fun," Choate said. Groups got to choose the type of challenges in which they wanted to be involved. Some groups, such as "Back 2 D.I." of James Mastricola Elementary School in Merrimack, decided to do all improv."You don't practice the same thing over and over again," said Anna Correia, a fourth-grader.
Being an improv group competing in "Challenge D: Private DI," they didn't know what they would be doing until 30 minutes before they perform, and another difficulty would be added only a minute before they go on.
Within the short time given, they needed to create a six-minute skit.
"We have to think on our feet," Correia continued. "We have some funny people on our team."
The other members – fifth-graders Connor Bergin, Danny Hoffman and Andrew Trimper and fourth-grader Kimberly Ortega – are 50-50 when it comes to backstage jitters before their performance.
"We all know when you get nervous," Hoffman said about Correia.
"You laugh like this," he added as he mimicked her laugh.
A huge reason why Destination ImagiNation is such a great experience for kids from preschool all the way through high school is that they learn skills they can use in all aspects of their lives. And one thing gained through years of being involved in the program is learning what your skills are and what you can contribute to a team.
"I like building; it's one of my talents," Trimper said. "It's become a tradition for me. I do it every year."
There is a lot of team-building, strategizing, communication, problem-solving and many other characteristics that one could use in a variety of ways on a daily basis.
"It's fun to work as a team," Ortega said.
"I think all of us like to just 'do,' " Bergin added.
Some of the students are planning to stay in D.I. until they age out.
"I like being around my friends," said Corey Hawkins, a member of "The Problem Busters" and a fourth-grader at Main Dunstable Elementary School in Nashua.
"We do a lot of things I like," said Jack Leatherman, also a fourth-grader. "I like acting."
Hawkins, who was still wearing his cat makeup – three whiskers on each cheek and a black dot on his nose – and Leatherman have been competing together for four years.
"We get to see what people do with different problems," Leatherman said.
One of the things some groups had to do was called "A New Angle" – to build a structure out of only wood and glue that would be able to hold weights without breaking, as well as create a story about merging two forms of art – baton twirling and structure, for example.
That task was tough for team "Operation: Find Girl With a Pearl Earring" from Pinkerton Academy in Derry.
Their structure didn't even hold the base on which the weights rested.
"We did good bouncing off each other," senior Sarah DelCore said. "Considering all that went wrong, we did OK."
DelCore and her only teammate, freshman Ryan Guest, didn't crumble like their structure; but instead, they handled the disappointment with ease, creating comic relief with their improv skills.
"It either works or it's not going to work," Guest said.
When joining these groups at a young age, kids are not noticing what skills they're gaining; they just think it's fun. There aren't a lot of programs that teach problem-solving and compromising with others by using imagination.
"There is no wrong way to solve a challenge," said Wayne Kurtzman, head of media relations for New Hampshire's Destination ImagiNation program. "Eventually, it will lead to success."
Kurtzman has been involved with D.I. for 15 years, and said the kids enjoy doing the challenges because they set a plan and in the end it will be successful if they focus on the goal.
"You learn more missing the mark than getting it right the first time," he said.
"It's an awesome program," DelCore said. "If it was up to me, everyone would do it."
The state finals will be held March 26 at Sanborn Regional High School in Kingston and the global finals will be from May 20-23 at the University of Tennessee in Knoxville. There will be an expected 20,000 students from each state and about 17 countries.
For more information on Destination ImagiNation, visit www.nh-di.org.