Store cards and prepaid bank cards could be the gift that results in misgivings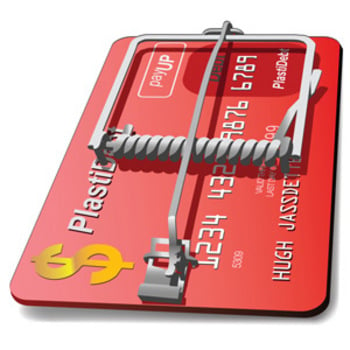 'Twas the day after Christmas and all through the store, shoppers were using their gift cards galore. But what to their wondering eyes should appear, but fees, expiration dates and exclusions — oh dear!
Skyrocketing in popularity over recent years, gift cards and prepaid bank cards — sometimes also called "stored value cards" — can be thoughtful holiday presents giving recipients the opportunity to purchase exactly what they want. However, some — but not all — cards come with surprising fees, rules and expiration dates. What's more, although cards may look alike, how and where they can be used can be very different.
"Stored value cards can be either 'open' or 'closed,'" said Jerry Little, president of the New Hampshire Bankers Association. "Open" stored value cards tend to be the prepaid bank cards. "They are analogous to American Express traveler's checks. You can use these open-loop cards at all different stores," he said. "Closed" cards are what we typically think of as gift cards — cards good for use at an individual retailer.
Whatever their status, the cards remain "a wildly popular product," said Little. But just how popular?
According to RetailTraffic.com, an online trade site, stored value cards generated $80 billion in 2006, with $100 billion estimated for 2008 — $36 billion of that for retailer gift cards alone.
While most people think of gift cards as the modern version of the gift certificate, unlike their paper brethren, today's plastic cards can be much more sophisticated, sometimes allowing the user to add more funds to the card, called "reloading."
Under New Hampshire law, a gift certificate or gift card is a "written promise given in exchange for payment to provide the bearer, upon presentation, goods or services in a specified amount." And, the law states, gift cards valued at $100 or less cannot have expiration dates nor dormancy or latency fees — fees charged after a certain period of nonuse.
If merchants choose to "expire" gift cards that are greater than $100, they must comply with New Hampshire's abandoned property laws, said David Rienzo, assistant attorney general in the consumer protection division of the New Hampshire Justice Department. "This would require filling out a report" after a period of approximately five years, he said.
Complicating matters further, prepaid bank cards can have expiration dates and fees.
Issued by banks and typically backed by a major credit card company, such as Visa or MasterCard, prepaid bank cards work similarly to debit cards or credit cards — they can be used anywhere the endorsing credit card company is accepted.
The subject of a federal suit involving Simon Malls, the state of New Hampshire tried to classify prepaid bank cards as gift certificates under state law, but a federal court ruled in August 2006 that New Hampshire "law was pre-empted by the National Bank Act, and therefore does not apply," said Rienzo.
He also said that it appears the law doesn't apply to prepaid cards issued by state-chartered banks either, "because that portion of the law within the Consumer Protection Act does not cover state banks."
But just because a prepaid bank card was purchased at a local bank doesn't necessarily mean that local bank is the actually issuer of the card. Only the fine print on the terms and conditions statement will clarify this.
Although prepaid bank cards are typically purchased through a bank, they are not backed by a checking or savings account. They are not credit cards — no interest will be applied to balances. And often they are not reloadable.
Different state laws
While bank cards can technically be redeemed just about anywhere, they still may not always be accepted.
Some merchants, such as restaurants or pay-at-the-pump terminals at gas stations, often submit a temporary transaction of a certain amount — which could be as little as $1 and as much as $75 — to ensure the true transaction goes through. If that temporary amount is greater than the balance of the bank card, the card may be declined.
Prepaid bank cards also are subject to replacement fees if lost or stolen, which can be as much as $10. There are also fees, as much as $15, to replace an expired card.
While gift cards do not present the same issues with fees or expiration dates that bank cards do, they can have rules that can have an impact on both the purchaser and the card redeemer.
First, which state's laws applies to the terms and conditions of the card can depend on where the card was purchased, not used, said Rienzo.
"Cards purchased in New Hampshire are subject to New Hampshire law," he said. "If you buy an Uno's Restaurant gift card in New Hampshire and send it to someone in Chicago, they should not have any expiration date or fees applied" as per New Hampshire law. "However, if you receive one purchased in Chicago and use it here in New Hampshire, Illinois law applies, and those fees and dates could apply," Rienzo said.
It's also important to understand what type of gift card you have and what purchases it entitles you to make.
You can purchase gift cards online that can be used in the store and on a retailer's Web site, but often online gift cards can only be used online — not in stores.
For instance, online gift cards from Wal-Mart, Target and Barnes & Noble can only be used for online purchases through the companies' Web sites.
And just because you have a gift card doesn't mean you have carte blanche with your purchases. There are often some exclusions to what you can actually buy.
For example, gift cards typically cannot be redeemed for cash, used to purchase other gift cards or make payments on store credit cards.
iTunes gift cards have a minimum age limit of 13 in order to be redeemed, and these cards cannot be used to purchase products from its Apple Online or retail stores.
Unlike many prepaid bank cards, some gift cards may be "reloaded" or updated with a new value, but the policies differ among merchants. For example, Best Buy, Target, Wal-Mart and Starbucks cards may be reloaded. In fact, Starbucks has a very sophisticated program allowing for automatic reloads. Applebee's gift cards, however, cannot be reloaded.
Security features and terms for replacing lost or stolen gift cards also seem to vary by merchant.
While Target said it can replace a lost or stolen card for the remaining amount with the original receipt, Wal-Mart and Barnes & Noble say they will not.
Becoming more and more popular is the concept of "registering" a stored value card. This can help in preventing unauthorized use if stolen and sometimes aid in recovering unused funds from stolen cards.
TD Banknorth, Simon Malls and Starbucks cards have registration programs for their cards. Others, like Best Buy and Barnes & Noble, offer security codes similar to the ones used by credit cards.
Whatever card you may give or receive this holiday season, it would be smart to make sure it's redeemed sooner than later, since in the troubled economy, some retailers have gone bankrupt, leaving customers with gift cards and nothing else.
Cindy Kibbe can be reached at ckibbe@nhbr.com.