Steeplegate Mall, Regal Cinema under new housing proposal
Property to be replaced with retail and 625 housing units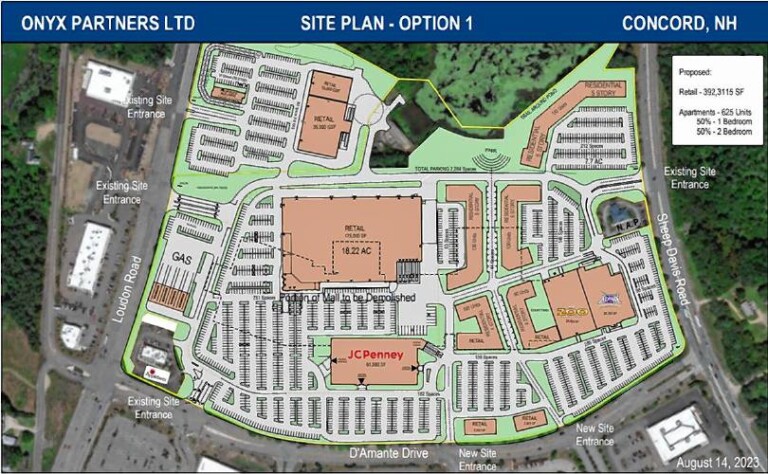 The owner of the Steeplegate Mall submitted plans to the city of Concord proposing to tear down most of the sprawling shopping complex as well the Regal Cinema next door, creating a large mixed-use development of retail buildings and 625 residential units in their place.
Steeplegate Mall Realty submitted to the city an application for a Comprehensive Development Plan, which is like a concept plan. It is scheduled to be heard by the Planning Board at its meeting in October.
Details are still in flux but the sweeping proposal would replace most vacant portions of the mall, leaving the JC Penney as a stand-alone structure and the current trampoline park as well as the current health club as another standalone. The Zoo Health Club would have to be moved to empty space most recently occupied by a charter school that was once part of the Bon Ton store. The Regal Cinema building would also be demolished.
The plan calls for five residential buildings to be built throughout the property, each four or five stories tall, with a total of 625 units. Half would be one-bedroom and half two-bedroom.
A 173,000-square-foot retail building would be built approximately where the main entrance leading to the former food court with the large clock now stands. That is about one-third the size of the current mall. Several other stand-alone retail units are proposed in the plan, including one replacing the Regal Cinema. Most of the property would remain or be turned into pavement or buildings, with hundreds of parking spaces shown.
Andrew Pinard, owner of Hatbox Theater, said little information has been provided to the few tenants left in the mall.
"We would love to stay. I'm glad that something is being done with the property. I'm actually cautiously optimistic that when I do talk to the developers, they'll realize the value of having a theater," Pinard said. "It's really frustrating when we've programmed performances through August of next year … and not been able to get communication out of anybody."
Steeplegate Mall opened in 1990, near the tail end of the nation's mall-building boom, with room for about 60 stores, including four anchor tenants and a large food court. It has struggled for a decade and now has just one anchor tenant, JC Penney, while the food court has been shut for several years.
Steeplegate Mall was sold in 2016 to Namdar Realty Group of New York, which has been looking for alternate uses for the slowly emptying structure for years. The interior of the mall was shut in September 2022, evicting the five remaining tenants. The tenants that remain such as JC Penney, the Zoo Health Club, Hatbox Theater and a new pickleball complex, all have separate entrances.
The nearby Applebee's restaurant and TD Bank building are separate properties and would not be affected by the proposed redevelopment.