State olympiad starts second year with strong results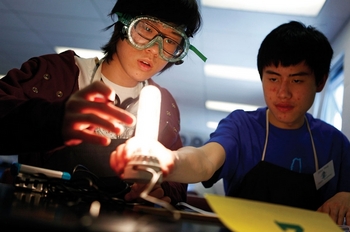 Milford High School was well represented at the second annual New Hampshire Science Olympiad at Hollis/Brookline High School on Saturday, wearing bright green shirts with "Team Spartacus" on the back.
"We did not vote on that," senior Dan Sinkiewicz said of the team name, smiling.
Sinkiewicz was on the Science Olympiad team last year when there were only four teams competing – three of which were from Hollis/Brookline.
"We got quite a few medals anyway," he said.
Megan Landale and Courtney McCarthy, also seniors at Milford, were new to the competition this year.
"I wish I did it the past year," McCarthy said. "We get to meet other kids who like science."
The three Milford students said the program is a positive experience.
"It's a friendly competition," Sinkiewicz said.
A few of the events in which students can participate are astronomy, in which students identify deep-sky objects and answer questions; fossils, in which students identify, describe and specify fossils; and herpetology, in which students are tested on their knowledge of amphibians, turtles, crocodiles and other reptiles.
Gina Bergskaug, chemistry teacher at Hollis/Brookline and co-director of the New Hampshire Science Olympiad, said that even though the program is new, the response has been great.
"Once kids are here and a part of it, they really have a good time," she said.
Bergskaug taught for seven years in Massachusetts, where she was also a Science Olympiad coach, and when she started teaching at Hollis/Brookline four years ago, she discovered that the Science Olympiad was nonexistent in New Hampshire.
While trying to get her school to compete in Maine and Massachusetts, it was recommended she start the program in New Hampshire.
"We're trying to get the word out," said John Boucher, a Hollis/Brookline physics teacher and co-director of the Science Olympiad. "We anticipate numbers of participants going up."
The program went from having two schools and four teams in 2008 to 10 teams from eight schools in 2009.
Among the newcomers this year were 15 students on two teams from Nashua High School South, called the Science Club.
"We think we did OK," said John Usseglio, who said he wouldn't mind the bragging rights if his team won. "There are a lot of different areas of science."
Usseglio, Derek Brickey, Neeraj Sirdeshmukh and Smit Patel were among juniors at Nashua South who are planning to compete again next year.
"It's a fun experience," Brickey said. "You get to learn a lot."
Meghan Gervais, a Hollis/Brookline junior, decided to try the competition this year because of her interest in science. "This is the only science club offered," she said. "I might as well try it out."
Gervais, junior Rachael Filer and sophomore Lasya Thilagar signed up for the program in October and had occasional meetings ever since in order to prepare.
"It's fun being around your friends doing science," Filer said.
"I like winning," Thilagar added.
Two groups from Hollis/Brookline High, Team Boucher and Team Bergskaug, revealed a playful rivalry between the co-directors.
Boucher admits that because he and Bergskaug have classrooms next to each other, he will stick his head in her classroom from time to time to poke fun at chemistry.
"We are fortunate that we work well together," Boucher said.
The excitement seen in the cafeteria and the studying that went on between events shows an optimistic future for the fresh program.
"They know what they're doing now," Sinkiewicz said. "Last year was the trial run."
For more information on how to get involved or what the New Hampshire Science Olympiad has to offer, www.hbhs.k12.nh.us/ScienceOlympiad/index.htm.