Star Island seeks funds to protect its future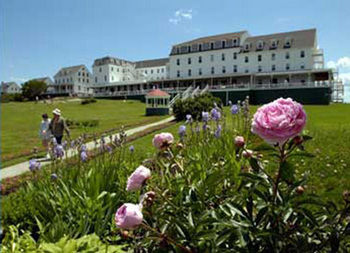 Star Island, the educational and religious conference center on the Isles of Shoals off New Hampshire's Seacoast, is among a dwindling handful of places in the region where people can find a quintessential New England getaway.
Free of traveling nuisances, most notably traffic, the island is known for its traditional environment. It also offers a rare glimpse of the grand hotel era when Star Island – home to the Oceanic Hotel — attracted such notable artists and writers as Childe Hassam and Nathaniel Hawthorne.
The island reopened its facilities to guests and visitors on July 22, following a delay of more than a month as necessary life safety upgrades were completed.
Faced now with a budget gap that represents twice the annual fund-raising dollars required in a normal year to support the operation and maintenance of the island's historic buildings and grounds — the Star Island Corp. has begun a fund-raising campaign to make up for an anticipated budget shortfall of $1.1 million. The nonprofit corporation has owned and operated Star Island for religious, educational and related purposes since 1916.
"We are excited to see the return of so many of our beloved guests and longtime visitors with the reopening of the Oceanic Hotel and grounds," said David Boynton, of South Hamilton, Mass., a longtime guest and acting executive director of the Star Island Corp., in announcing the fund-raising effort. The campaign, he said, will "ensure guests will be able to come back year after year for a tranquil family retreat, a religious or educational conference or to simply reflect on the days gone by."
While Star Island is founded on the liberal spiritual ideals of Unitarian-Universalism and the United Church of Christ, people of many denominations and faiths (including none) attend conferences regularly.
A frequent conference location for university educators and religious leaders, the island is a place for stimulating intellectual exchange. The Oceanic Hotel's lobby is adorned with reupholstered furniture and card tables, enticing visitors to relax and socialize in multi-generational games of scrabble, puzzles or hearts.
The Pink Parlor attracts artists who display their musical and theatrical talents for other guests in the evenings. Meals are served in the main dining room of the hotel when the porch bell tolls. The snack bar is open for hotel guests and day visitors. The Rutledge Marine Lab offers bird walks, botany walks, star gazing and touch tanks for visitors. A silent walk to the stone chapel is a time for reflection. And, the Pel Shows hosted by the seasonal staff are also a favorite past-time for most.
For more information about Star Island or its fund-raising campaign, visit starisland.org or contact Karen Muldoon at kmuldoon@starisland.org or at 430-6272.