Stanford study sees a renewable future for NH
Researchers predict state could have 100% of its energy supplied by wind, solar and hydro by 2050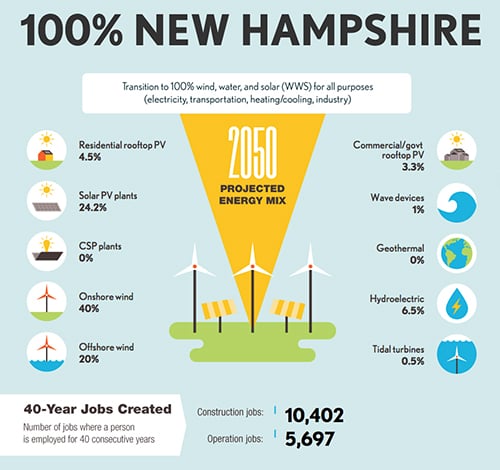 New Hampshire could feasibly have an energy portfolio in 2050 that is entirely made up of wind, solar and hydropower.
That's according to a new study by Stanford University professor Mark Jacobson and colleagues that outlines exactly how all 50 states can run entirely on renewable energy by 2050.
The study calculates how the energy needs of each state can be divided among wind, water and solar (WWS) methods of electricity production. The researchers also examined how the transition to renewable energy would effect energy costs, public health, available jobs in each state and energy demand.
If followed, the researchers argue, the plan would eliminate U.S. greenhouse gases, saving projected annual costs of up to $3.3 trillion by 2050. The steps outlined would also send the country well on its way to its current goal of reducing carbon emissions by 26 percent below 2005 levels by 2025.
The study contains a detailed roadmap to describe the steps that should be taken to make the plan a reality.
In New Hampshire, 60 percent of the state's possible energy mix in 2050 would be made up of wind-powered energy, with 40 percent onshore and 20 percent offshore. Solar would make up 32 percent and all water-powered electricity would contribute 8 percent of the state's hypothetical energy production.
Though 13,662 jobs are predicted to be lost in the traditional energy sector in New Hampshire, the study estimates that 16,099 new jobs would be created between the construction and operation of renewable energy systems. The study also predicts that using only WWS energy would reduce energy costs in New Hampshire by 0.2 cents per kWh. Additionally, New Hampshire's energy demand is projected to decrease by 3.2 gigawatts.
The study also features "information specific to each state that can hopefully be helpful in educating the public and policymakers about what is available and possible in terms of a transition," said Jacobson.
Jacobson said the goal of the report was to determine whether a full conversion to WWS energy was possible.
"The conclusion was that it is feasible," he said. "Having this information may reduce the barriers in each state to convert but won't guarantee a conversion. Only the collective will of people in the state can affect a complete conversion."