Souhegan River washing sand downstream at rapid rate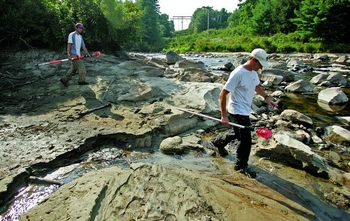 There's something missing from the last mile of the Souhegan River these days: sand – lots of sand. "I knew it was going to change, but I didn't realize it would change so fast," marveled Adam Pearson, of Illinois, standing atop the thin remnants of a 5-foot-tall sandbank that once was the bottom of a slowly moving river.
Much of the sand has been swept away in the last two weeks by a new, lean and mean Souhegan River that was born after the Aug. 6 destruction of the Merrimack Village Dam.
"This used to be a lake; now it's a real New Hampshire river . . . with boulders instead of a sandy bottom," said Boston College geology professor Noah Snyder, sounding almost giddy at the change. "I wonder who'll make the first descent" in a kayak.
Snyder, whose specialty is the geology and morphology of rivers, is leading a research team studying changes in the Souhegan River as a result of the dam breach. Pearson, one of several students in his group, is planning a master's thesis around the study.
Team members spent much of this week stretching lines across the Souhegan at a dozen locations between the F.E. Everett Turnpike and the edge of the Merrimack River, scrambling up banks while trying to avoid poison ivy or wading through thigh-deep water and knee-deep mud, as they positioned surveying equipment laden with lasers and GPS monitors.
The were measuring width and depth from bank to bank at a variety of locations both upstream and downstream of the dam ("monumented cross-sections," in the lingo of academic fieldwork), and compiling data on such details as the average size of sand grains. Other groups will study what happens to insects, fish and plants as the area changes.
Snyder's group began this process two years ago and will continue through next year, producing an unprecedented look at what happens to a river when you make a huge change in its flow by removing a dam.
One question they'll want to answer is: Where did this new, lean and mean Souhegan River take the sand that had been slowly deposited behind the dam over the last two centuries?
A lot of it has been carried out into the Merrimack River a few hundred yards downstream, where it has disappeared into the sandy bottom of that much larger river.
But some has landed just downstream, below the bridge carrying Route 3 over the river, creating a broad, sandy area on the south bank across from the former New England Chemical factory. Synder says it isn't clear whether that instant beach will last; it may get sculpted away during natural high water next spring, or it may slowly become vegetated and serve as a permanent floodplain.
"There's a lot we don't know about a situation like this," Snyder said during a sampling session at the river Monday. "This is a chance to test our theories . . . to see what change actually occur. It can be very complicated."
The Merrimack Village Dam study involves a variety of state, federal and academic groups and will cost about $20,000 a year over a five-year period. It is drawing attention because it's the first to follow new guidelines on monitoring what happens when dams, culverts and other stream barriers are removed.
"This has a lot of regional interest, and I think it will spread farther than the region as it becomes known," said Matt Collins, a hydrologist with the National Oceanographic and Atmospheric Administration's restoration center in Gloucester, Mass., who was the lead author of the guidelines.
Officials want to known all these specifics about what happened to the Souhegan and its surroundings after the Merrimack Village Dam for three reasons:
It will help them decide whether to go ahead with removing other dams, or whether to take remedial action as removing some sediment in advance.
It will help them give specific answers to questions from the public when permission is sought to tear down other dams.
It's really, really interesting.
"From the science point of view, this is fascinating," Snyder said. "We can actually test our theories."
Normally, rivers in the bedrock-filled Northeast change their shape and their flow over years, decades or centuries as the land alters. A dam removal allows a speeded-up view of the process – what Snyder called an "unnatural natural experiment" that provides a controlled situation to study the natural result of an unnatural event.
"There have been no huge surprises," Collins said. "Nonetheless, you still stand there going 'Wow!' because it's just such a big difference."