Soucy seeks to up New Hampshire minimum wage to $10 an hour
Senate president's proposal would be a flexible 'starting wage'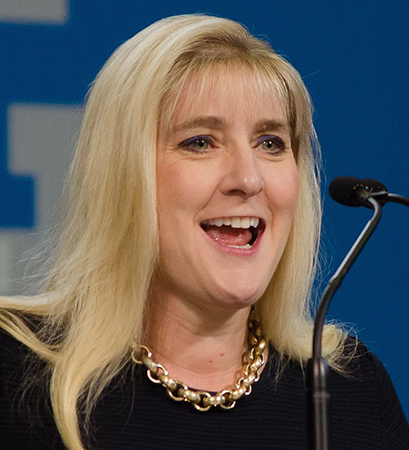 NH Sen. Donna Soucy wants to hike New Hampshire's minimum wage to $10 an hour.
The Manchester Democrat has proposed minimum-wage legislation for the last seven years, but Democrats were in the minority. This time, Soucy does so as president of the NH Senate, and her party controls both the Senate and the House.
Senate Bill 10 – so numbered after the $10 "starting wage" – won't go into effect for almost a year, so it would give employers "plenty of time to ramp up," Soucy told NH Business Review. When and how much the wage will go up after that has yet to be determined, but the "ceiling" will be based on a "sliding scale," depending on economic conditions. The language determining how that will work was not available at deadline.
Employers would also be able to meet the minimum in other ways besides money, she said. The proposal will count some benefits, such as paid sick days, as part of the wage package. The package would not include paid family leave, which is being introduced as Senate Bill 1, to indicate that it is Democrats' top priority.
The parameters of what other benefits – if any – the package might include would be spelled out in her bill, she said.
New Hampshire got rid of its state minimum wage in 2011 so it now defaults to the federal minimum of $7.25 an hour.
"I never thought that was right," said Soucy. "New Hampshire always had its own say about what the minimum wage will be."
Other minimum-wage bills
In the past, Gov. Chris Sununu has opposed the state setting its own minimum. Any increase, he has said, should be done at the federal level. But he did not mention the minimum wage in his inaugural address, and it is not clear whether he would veto an increase or if such a veto would be upheld.
All of New Hampshire's neighboring states are in the process of increasing their minimum wage, which as of New Year's Day, were at least $10 an hour. Massachusetts is scheduled to reach $15 an hour in 2023. Maine and Vermont will go up to $12 an hour by 2020.
In the past, Soucy proposed a $12 minimum wage. Nationally, the progressive wing of the Democratic Party has championed a $15 minimum.
Soucy's bill is not the only minimum wage proposal. A measure sponsored by Rep. Howard Moffett, D-Canterbury, would increase the wage to $9.50 by 2021 and $12 by 2022. Rep. Peter Schmidt, D-Dover, would increase it to $10 an hour 60 days after passage. And Rep. Richard Komi, D-Manchester, would tack on $2 an hour to an hourly worker's regular pay for night work (between 10 p.m. and 6 a.m.). Rep Kristina Schultz, D-Concord, also has a minimum wage bill, but its language was not available at deadline
Business organizations have generally been against increasing the minimum wage – but opposition to it has lost its urgency, since most have to pay a lot more than minimum to attract workers.
"It's not a high-priority, go-to-the-mat, do-everything-we-can-do, to defeat it," said David Juvet, senior vice president of public policy at the Business and Industry Association of New Hampshire.
It is of more interest to those who employ lower-wage workers.
"We are always concerned about wage issues, because the only ones who don't pay more can't afford to, and it puts a burden on them," said John Dumais, president of the NH Grocers Association. And even those who pay more will be affected, because it becomes a domino effect," he said.