SoClean turning former EMS offices into 'employee-centric' HQ
Growing firm expects to top 200 employees in 2020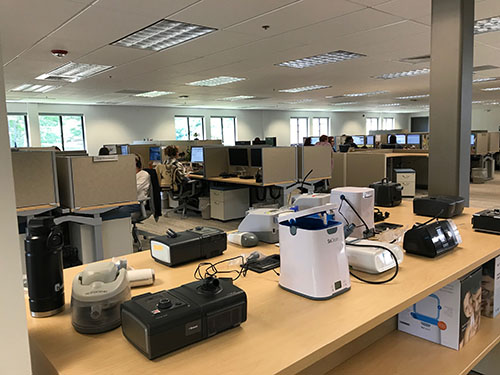 SoClean, developer of the first automated CPAP cleaner and sanitizer, has completed the first phase in its renovation of the first headquarters, storefront and warehouse of Eastern Mountain Sports in Peterborough.
The company said the 126,000-square-foot, 50-year-old building is being completely renovated. SoClean completed phase one in May and expects to complete the entire renovation in 2021.
In July 2018, SoClean and its 50 employees relocated to Peterborough from Oxford, Mass., occupying space at 12 Vose Farm Rd.
"We looked at many properties in the area and also visited companies across New England to see how they re-envisioned office space that included modern call centers and high-quality employee amenities," said Eric Burbank, vice president of business operations at SoClean. "We knew we needed to be creative to meet our needs locally and once we were able to let our imaginations run, realized that the EMS building could be reconfigured to include all of the elements required to grow SoClean locally and attract talented employees to the region."
He said product sales have increased significantly and are now global. The company currently has 126 employees and projects the number to increase to 150 at the end of 2019 and to top 200 by the end of 2020.
"As a company that has been growing rapidly, we're excited to offer new career opportunities in the Monadnock Region in a facility that is being re-envisioned around our employees. We believe that by providing employee-centric features and services on our campus in combination with great benefits, we should be able to attract more people to this community," said Katrina Kramer, SoClean's director of human resources.
SoClean CEO Robert Wilkins said the build-out emphasized bringing in natural light and creating areas of the building designed for relaxation, privacy and group breaks. The call center features LED lighting, white noise ambiance, adjustable desks and soundproofed cubicles. Employees are equipped with wireless headsets so they can take calls anywhere on the campus, he said.
"The company was founded on the principals of collaboration, and we wanted to create a space that reflected that culture," said Wilkins. "The building was designed to give employees everything they need to achieve a work-life balance. This includes a fitness center, a café where people can eat, enjoy coffee or hang out with a beer, or play a game as part of our efforts to design a space that is community-oriented and inviting, as compared to the nine to five, traditional workstyle office environment," he added.