Social service nonprofits reveal expansion plans
The Way Station and MWV Supports Recovery ask selectmen for help with grants, developing transitional living space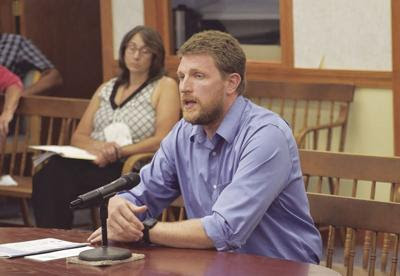 The Way Station and MWV Supports Recovery, nonprofit programs that support the homeless and those with drug addictions, respectively, recently told selectmen of plans for offering new services and asking for help getting grants.
On July 26, Pastor Nathan Hall of the Lutheran Church of the Nativity, which is located on Grove Street in North Conway, noted that the Way Station started about four years ago when the church began letting people take showers in the rectory.
From there, it expanded to providing people with groceries, gas cards and laundry cards. Gas cards become important in winter because many people sleep in their cars. The Way Station also has mailboxes and help people register their cars. It serves about 30 people per week. 
"We try to pick up all the little pieces that people need help picking up when they find themselves homeless," said Hall. "What we're requesting of you guys is that you could, on our behalf, request one of the Community Development Block Grant planning grants."
The Way Station wants to qualify for a $25,000 grant to get an architectural design update on the old rectory to provide better services, such as more accessible showers, more washers and dryers and transitional housing upstairs.
The Way Station would not only give people a place to get back on their feet but also provide case management to help them "stabilize" and reach their goals such as independent living. 
In response to a question from Mary Carey Seavey, Hall explained that the Way Station can't apply for the grant directly but has to go through the town.
Town Manager Tom Holmes, who was working his last meeting before retirement, said selectmen would have to find out if they can sponsor the grant, as they have already sponsored one for the Bluebird Project, which is trying to increase the housing stock in Conway, as well as Avesta. 
"They're piling up, so we've got to make sure we have all our ducks in a row before we we sponsor anything," said Holmes, who asked selectmen not to take a vote on the Way Station's request until more research could be done. The board agreed.
Next up was MWV Supports Recovery President Janice Spinney and Director Rose Normandin. They seek to add transitional living to their 7,000-square-foot property at 1620 East Conway Road in Center Conway.
"People who live in transitional housing usually stay for three to 18 months, until they're stabilized and until they are able to matriculate back into the community," said Spinney. 
On one side of the horseshoe-shaped property is Endeavor House, a sober living facility for up to nine women. In the center is peer-to-peer support services, and on the other side are private apartments, but those will be vacated around the second week of August.
Spinney said there are eight bedrooms and a loft extension. Once the space is reconfigured, MWVSR could house about 15 people in the transitional living space. 
"It's a very big space, and we want to be able to use it in a way that will benefit the community," said Spinney, adding that MWV Supports recovery is seeking grants from entities like HUD and the Ham Foundation. 
Spinney said she would like a letter of support from selectmen for the project. "The housing crunch in this community has really created this gap of people that have no place to stay," she said.
She later told the Sun that the transitional housing will be similar to Endeavor House but will be open to men, women and families and also as a "short-term" housing solution for 3-6 months.
Center Conway Fire Chief Glenn Merrill said the building would need sprinklers. 
MWV Supports Recovery also is applying for a number of local, state and federal grants.
Selectman John Colbath asked what the neighbors thought and also wanted to know about a police call on July 23 in which officers responded to the MWVSR apartments. A tenant thought his house has been invaded, but it was a false alarm. 
Spinney and Normandin stressed that the apartment will be vacated. Normandin said that the neighbors were supportive during the police call.
She said young families can't afford to stay in town, so MWVSR is trying to help them plant roots here. 
"We're just trying to break the ice, trying to get people to have a stable home for three to 18 months, and let them have a chance to move ahead," said Normandin.
This article is being shared by partners in The Granite State News Collaborative. For more information, visit collaborativenh.org.