So far, Merrimack dam removal a success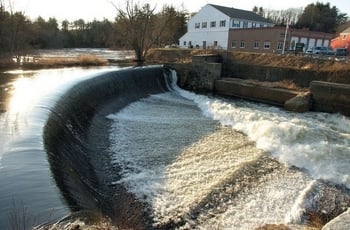 MERRIMACK – Under a corner of shade overlooking the newly free-flowing Souhegan River, a crowd gathered Thursday to celebrate what's been deemed the largest dam removal project in New Hampshire in the last decade.
As water skated past a pile of rubble that was once the Merrimack Village Dam's spillway, 50 or so people on higher ground lauded the removal project, which has been in the works for six years.
Those discussions surfaced because dam owner Pennichuck Corp. did not want to fund expensive and necessary fixes to a dam that had long outlived its function as a mill power source.
Pennichuck then went on to commission studies, gain permits and plan to the nines the dam's demolition, which finally began in July.
In that whole time, pointed out Steve Densberger, Pennichuck's executive vice president, there have been three Patriot Super Bowl victories, two Red Sox World Series wins and three new grandchildren in his own life.
"I'm pleased to say we don't own anything anymore," Densberger said with a laugh and a nod to the river.
He and many other speakers commended the efforts of nearly a dozen organizations on the federal, state, local and private levels that were involved.
Tom Burack, commissioner of the New Hampshire Department of Environmental Services, called the project the most complex to have been undertaken by the state's dam removal and river restoration program, which formed in 2001.
That's because more studies, more partners and more money – $590,000, provided by Pennichuck and a combination of grants and other funding sources – have poured into this dam removal than any other, Burack said.
But he and many others at the ceremony said the results would be worth it.
Opening up 14 miles of river will provide a better habitat and freer movement for fish, such as shad, eel and herring. It will also afford more recreational opportunities to kayakers and other water sports enthusiasts.
Peter Shelley, of the Conservation Law Foundation, said commercial fishermen would eventually be beneficiaries because fish in the Souhegan and Merrimack rivers are prey for cod and haddock.The project has also garnered attention through a Webcam, which has been documenting the removal and posting images to the Internet. A film crew from the Smithsonian's National Museum of Natural History also taped footage for an interactive documentary to be on display at a kiosk in the museum late next month.
And even after demolition is complete – estimated for mid-September – folks will continue studying the changing river.
Noah Snyder, a geologist and professor at Boston College, is heading up sediment monitoring efforts, and a couple of his students are using the project for their thesis work.
"This is a great opportunity from a research perspective because it's a major change that would normally take decades or centuries to see," he said. "(The change) is going to happen in one season."
The dam was a vital part of the town for many years in its industrial age, said Town Councilor Tim Tenhave. It was also one of the most photographed spots in Merrimack.
But now, with Watson Park taking shape across the street and trail systems being planned in the same area, the removal is "a piece of a new day for Merrimack," he said.
Early on, some folks concerned with preserving the historic dam were against its demolition. They lobbied town leaders to take over ownership but to no avail.
Florence Brown, head of the town's heritage commission, said Thursday that her thoughts had changed.
"A lot of people worked hard to do it, and they've done a wonderful job," she said.
In short, she said, it was "a happy day. Let's go fishing."