Smuttynose founder Peter Egelston
Peter Egelston, founder of Smuttynose Brewing Company, has been overseeing construction of a new $22 million, LEED-certified facility in Hampton project that will allow the company to triple its beer production.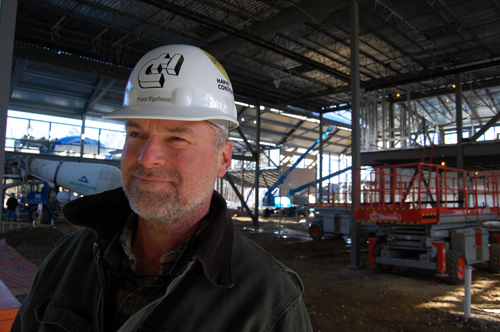 The almost decade-long journey to build a new and modern production facility for Smuttynose Brewing Company was, to paraphrase the old Grateful Dead song, "a long strange trip" of disappointment and detour.
Since 2004, Smuttynose owner Peter Egelston saw potential expansion plans fall through in Newmarket and Portsmouth. When the company finally found a suitable location in Hampton, it was 2008 and the economy tanked, making the work of securing financing for the $22 million project a challenging labyrinth of private and public sources.
During a recent tour of the construction site on Towle Farm Road, Egelston said he believes the journey will end up being worth it. "This is the right place for us," he said. The 42,000-square-foot production facility will include on-site brewing and bottling, a 95-seat restaurant and LEED Gold certification.
Egelston, who co-founded the Portsmouth Brewery brew pub and restaurant in 1991, said the company's perseverance led to the right confluence of support not available first in Newmarket (too costly) and then, in a highly public zoning battle with the city of Portsmouth. He found a local bank willing to be a major finance partner and compliments local organizations such as Rockingham Economic Development Corporation and Coastal Economic Development Corp., which were crucial in helping secure tax credits, loans and grants for the various aspects of the project.
When the new facility hits full production capacity, it will be able to produce three times the amount of beer it does now. Expected production in 2013: 45,000 barrels, or 720,000 cases, said Egelston.
"Our new brewery, which is being built on a beautiful piece of land, is going to be a showpiece, embodying the art and romance of what we do, as well as the technology," he said.
The new facility is scheduled to be ready and fully operational in time for Smuttynose's 20th anniversary in 2014.
Egelston said he wasn't impressed with a New Hampshire legislative proposal to raise the beer tax because he sees it as an inefficient and an unfair revenue path to fund otherwise worthy substance abuse programs. And in principle, he supports another proposal for New Hampshire-made craft beers to be sold in state liquor stores, though he said the details and involvement of all stakeholders would be critical for success.
Q. How does it feel to watch the new brewery complex go up?
A. There is a large chart on our office wall that lays out the construction schedule for our new brewery, step by step, and on the bottom right corner is a date indicating when we expect to have our certificate of occupancy, which will enable us to move into our newly built facility, assuming all goes according to plan in the meantime.
The journey we've taken as a company to get to this point has been long and challenging, punctuated along the way with setbacks and disappointments. Are we seeing light at the end of the tunnel? To the extent that our building is under construction at this very moment, with a scheduled completion date, the answer is yes. However, between now and then, there is still a lot to do, and at the very same time we move in, we'll be planning our next expansion, while at the same time working on the best use or reuse of the existing plant.
Beyond that, once we've moved to Towle Farm we will be operating a restaurant on site and figuring out how to make the best use of the new facility and its grounds, from the standpoint of public visitation and hospitality.
That's just what's going on inside the company. At the same time, our corner of the beer industry is rapidly evolving, and we are challenged with evolving along with it or falling behind.
Q. What did you learn about yourself as a businessman during this effort?
A. As a company, we have always been very self-reliant by necessity, operating in a do-it-yourself environment, which I believe has served us well. However, over the years, as Smuttynose and the Portsmouth Brewery have grown, I have become more and more aware of my own limitations as a manager. We have a great staff, each of whom can do his or her job much better than I can. One of my biggest challenges is to take advantage of that pool of talent and energy, providing guidance where appropriate, and knowing when to stay the hell out of the way and let them do their work.
I've found that the line between being a leader and a human speed bump can be blurry.
Q. How do you think the new brewery will change Smuttynose?
A. Although we are now one of the better-known craft brands produced in our region, we believe that moving to our new facility will raise our public profile considerably, and that will take some adjustment. Our building, which we have designed and built to be LEED-certified at the gold level, is full of very sophisticated technology. It's doubtful that you'll find us on the roof cutting holes to install vents, like we've done on Heritage Avenue over the years.
Q. What's your assessment of the craft beer industry as you look back of the more than 25 years you've had in the business?
A. Having been in the industry since its early days, I've seen some significant changes. When we opened our first brewpub (in Northampton, Mass.) in 1987, craft beer was barely visible on the beer industry's landscape. That year, there were 74 craft breweries in the entire country, of which 29 were brewpubs like ours.
By 1994, the year Smuttynose started, the total number of craft breweries had risen to 537, of which 329 were brewpubs. Today, there are over 2,100 operating craft breweries in the U.S., about half of which are brewpubs. And although about 80 percent of craft beer volume is produced by the nation's approximately 85 regional craft breweries, like Smuttynose, the remaining 2,000-plus brewpubs, micros and nanobreweries have changed the face of craft brewing dramatically, especially in recent years.
I have witnessed the early growth of the industry, followed by the crash in the late '90s, when many wholesalers, retailers and consumers wrote off "micro" beer as a fad whose day in the sun had come and gone. Keep in mind that the big beer industry has been driven largely by fads and demographics since the first baby boomers came of legal drinking age in the mid-sixties. That was their frame of reference, so when the craft beer market began to slow down and correct itself in the mid-1990s, they saw it as the passing of another fad, like dry beer or ice beer.
What many did not understand at the time was that craft beer was part of a much more profound shift in consumer preferences. The appeal of craft is connected to a desire for authenticity, quality and tradition. We were slow food before there was a Slow Food movement. We were local before the term "locavore" was coined.
In terms of today's market, I see opportunity balanced in equal measure with challenges. Craft beer still represents a small part of the overall beer business, about 6 percent in terms of volume, 12 percent in terms of revenue, so there is a lot of room for growth. Demographics favor us, as there is a growing number of Millennials entering their prime beer-drinking years, and they tend to seek out the very things that craft beers offer, flavor, authenticity and a good narrative.
A growing number of craft beer consumers are women, who, when it comes to big beer, have been either ignored or used as props to sell beer to young men. Women are not afraid of flavor, which is one of the reasons many have gravitated towards wine and eschewed the bland, fizzy yellow beer their husbands and boyfriends consume.
It warms my heart to go to beer festivals now and see the audience equally divided between men and women, whereas twenty years ago the mix would have been mostly male, with a handful of reluctant girlfriends dragged along.
The craft segment is very crowded these days, and getting more crowded all the time. Will there be another shakeout? It's impossible to know for sure, but it would not surprise me. I find the growth of small breweries to be both exciting and a little exasperating, especially when "new" and "cute" begin to trump quality and consistency.
But this is part of a natural cycle. Our challenge is to leverage our strengths and find ways to grow where the market favors those strengths.
Q. What's the most interesting fact about Smuttynose that the general public has no clue about?
A. I find it interesting that many people who have not visited our facility think we're either much bigger or much smaller than we actually are.
A few folks have asked me if all of Smuttynose's beers are brewed downtown at the Portsmouth Brewery on that brewpub's tiny seven-barrel system — which, incidentally, does not have enough capacity to produce all the beer served there.
Most people, I think, believe we are much bigger than we are. I like to hear that, because I think it is an indication of the strength and reach of our brand. The fact is, Smuttynose is a small company that employs about 45 people. We have come a long way since 1994, but we still have a long way to go.